Once you are on a trip to Halong Bay, cave visiting is always an offer along with your cruise around the Bay. Thien Cung, one of the best caves that open to public and you please, don't miss it. Thanks to a unique system of stalactities and stalagmites, Thien Cung Cave or Heavenly Palace Cave is widely known in Halong Bay for its splendid beauty. Once coming to Halong Bay, Vietnam, travellers cannot miss this glittering and mysterious grotto. Thien Cung Cave makes the visitors the impression of being in a heavenly world indeed like its name.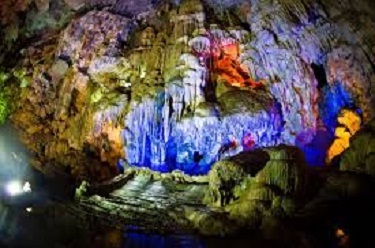 Real fantastic scenery of Thien Cung
The opening entrance to Thien Cung Cave is perched in the middle of the mountain which requires the visitors extra efforts hiking up here. The original inhabitants of Halong Bay have also told an ancient story about Thien Cung Grotto over many generations. It is widely understood that Dragon Prince was fallen in love with "Nang May" – Ms. Cloud. A lavish wedding party had already been organized inside the grotto for 7 days and 7 nights. Wedding celebration was wonderful and bustling like on the real heaven. Therefore, the cave's center stands four large pillars propping against the "roof of heaven". Walking around the grotto, tourists will feel like visiting an art museum with variety of sophisticated statues and reliefs.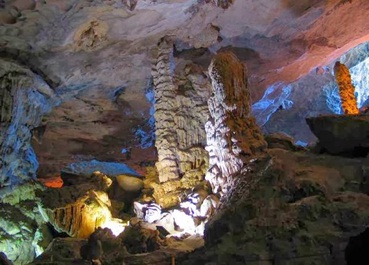 Make sure that you're fully using your imagination to create pictures of fish schools, flocks of birds, and the daily life of people from a giant naturally sculptured rock pillar inside your mind when you come to the center of the cave. The further you walk, the more beautiful formation of stalactites comes to your eyes. Let's come and enjoy the best heaven ever that Halong Bay has to offer.
The Indochina Voyages team.