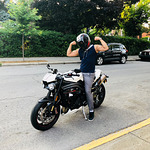 Hoang
Canada
An extraordinary service, fast and efficient!
I had the pleasure of working with Nam Ngo from Indochina Voyages to plan my trip to Vietnam which lasted 21 days! It's all about planning quickly with fast and efficient service, despite the fact that we had 12 hours of time difference between him and me since I'm from Canada. The planning was super easy, and Nam was able to meet all my needs. He has been helpful and has always been there to suggest the best places to visit. With no worries, all my days were planned in advance and I just had to follow my route. It was simple and easy and most of all very pleasant and if there were ever a few things, the company was always there to help us and answer all our questions. Knowing that I could trust them, my trip respected my initial budget.
My trip started in Phu Quoc for 3 days, then I spent 4 days in South Vietnam to visit Saigon and Mekong. I continued my journey northbound through Hoi An, Danang, Hue, which lasted about 10 days and then ended my trip to Halong Bay and Hanoi. A real pleasure to travel without hassle. I highly recommend Indochina Travel Services for your trip planning to Vietnam, it's a great investment. I really liked my experience and thank you so much for making me discover Vietnam!