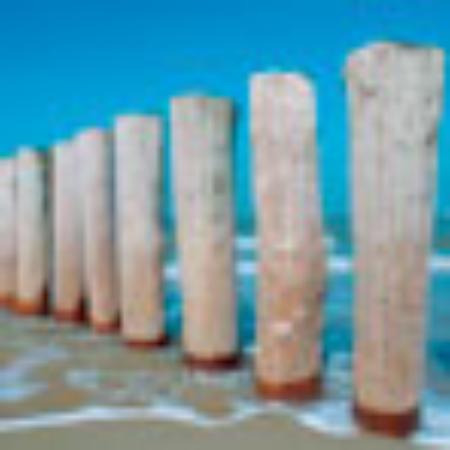 Shantha
Australia
Visit to Vietnam and Cambodia organised by Indochina Voyages
Indochina Voyages are an excellent company which organised a private tour for our family to visit Vietnam and Cambodia. Dan and his team were excellent. Always checking at every stop that we were comfortable with all the arrangements.We had an excelled 17 day trip. Every thing was organised so well with all the small details taken care of. The hotels were first grade and the placed chosen for the itinerary made sure we did not miss any important place. Ha Long bay and Ho An is a must see places.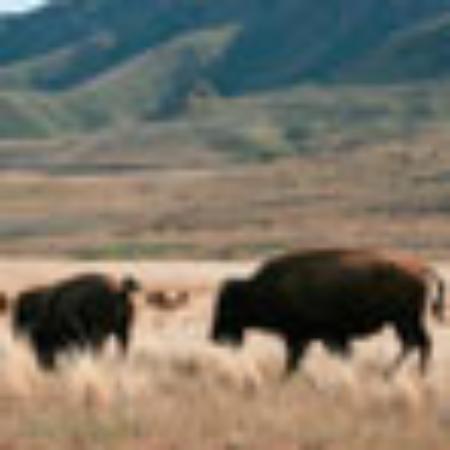 Fran
Our first trip to Viet Nam, won't be our last!
When I began researching for our last minute, 2-week trip to Viet Nam, I had a month in which to plan and book flights. TBH I knew zero about the geography or popular travel spots, so asked my friend Google for help.
Google in turn directed me to the endless source of all travel wisdom and knowledge: TripAdvisor Forums. Huge thanks to everyone who generously offers their wisdom there. It was there that Ross recommended planning a trip to Viet Nam, with the assistance of one of many Vietnamese tour operators, and then he mentioned a few.
I went back to Google with my new info, sought out a few more VN tour operators, then contacted three directly.
In the end it was a battle between two excellent tour companies. Both consultants were pleasant, polite, patient and very capable, but for our particular requirements, Dan (Tram) from Indochina Voyages seemed to more fully listen and understood what we wanted, so we thought it only made sense to go with him.
I looked to TA Forums for advice on everything, including whether to take a train or bus to Sa Pa, and which were the best train/bus companies. As I went back again and again to Dan to share my new found info and tell him of my frustration and confusion, he explained the ways the transport companies worked, what they offered, the reason for pricing, etc. and together we settled on what turned out to be ideal for us.
I read about how some VN tour consultants follow you up whilst you're travelling to make sure all is going well. Dan was one of these very attentive consultants. He met up with us the day after we arrived, and was never more than a WhatsApp call away, responding el pronto to any concern or enquiry.
We were met promptly at all times by drivers and tour guides, picked up promptly, transported promptly, accommodation and tour guides were great!
When we travel overseas we normally spend a month or so away, and spend enormous amounts of time pre-planning, booking accommodation and feeling exhausted before we've even left home. This time it was only a 2-week trip to Viet Nam. We wanted to relax, enjoy and leave the planning to others. That's what we got! We loved our trip. We loved Viet Nam and its wonderful people (and food). And we loved spending time with Dan on our last night in Ha Noi!
Btw, we are very much into zero waste, and searched online for somewhere we could donate clean, unwanted clothing/footwear in Ha Noi. We discovered that there were two charity clothes booths for the poor where these items could be dropped off, we mentioned this to Dan, and he kindly offered to take our small bag of clothing to a booth which was not far from his office. The following day, Dan WhatsApp'ed a photo of our garments in the clothing booth. See related photos/information attached.
We highly recommend Dan and Indochina Voyages, and we anticipate using him/their services again in the very near future.
Thanks, Dan!

Erika Margaret Koolloos
Australia
Excellent Experience
I just came back from a 16 day trip to Vietnam and Cambodia that I booked through Dan at Indochina voyages. It was terrific the guides were great and the tours fantastic I couldn't fault the service from Dan from start to finish. Everything was perfect from the pick ups and transfers to the standard and position of the accomodation. The only thing I would do differently is spend 2 nights in Halong bay as it was a highlight and the boat was beautiful. Thanks Dan I will be highly recommending Indochina voyages to my friends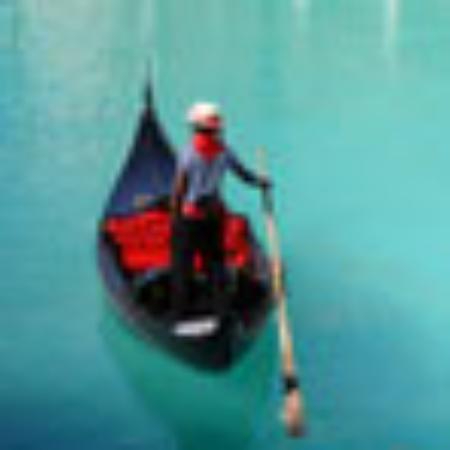 Mike
New Zealand
Great Trip Through Vietnam
Four of us have just returned from a 12 day trip through Vietnam organised by Linh Chu. Linh was great in responsiveness and very helpful/friendly in the preparations and even made the effort to meet us in Hanoi. We had personal english speaking guides in Saigon (Mr Thanh), Hoi An/Hue (Mr Tho) and Hanoi (Mr Nam) who were all great and punctual in meeting us with the driver. The tour went like clockwork and we also had our own time to relax or explore ourselves. I would thoroughly recommend them for anyone wanting to travel through Vietnam.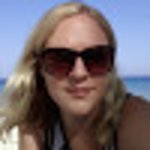 Melissa
New Zealand
The BEST customer service from a travel agency, hands down!
We recently used Indochina Voyages to customise us a 10 day itinerary of Vietnam for our honeymoon in August. We had two amazing travel agents looking after us (Thao Vu and Linh Chu), both of whom were incredibly responsive and really listened to what we were interested in. Some of their suggestions (particularly the all you can eat/drink night time food tour of Saigon and Hanoi on the back of vespas) were things we wouldn't have even thought about ourselves but ended up being some of the highlights of our trip. Aside from getting great advice prior to leaving, one of the most amazing things was having Linh as a contact on Whatsapp once we arrived in Vietnam. She checked up on us on our way around to make sure everything was going smoothly, she changed a pick up time for us at late notice and made alternative arrangements for us when my husband got sick and couldn't do some of the activities. Their attention to detail made the whole trip effortless. We also appreciated the fact that they must have told everyone it was our honeymoon because we were made a fuss off everywhere we stayed. I could not recommend using this service enough, particularly if you want something tailored to specific timing requirements or interests.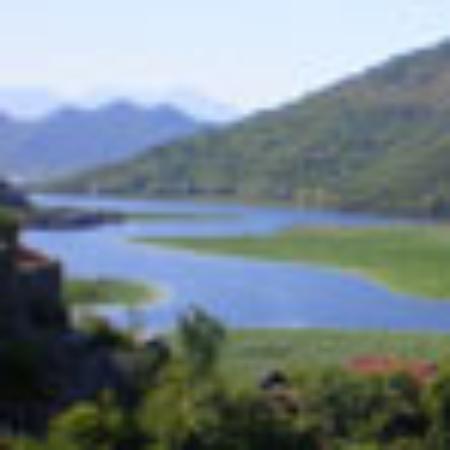 Pebble Florida
Florida
Incredible trip to Vietnam & Cambodia
We used Indochina Tours for our recent trip. They were excellent in every aspect. Our excellent consultant Dan was extremely thorough, prompt, and easy to communicate with. We toured multiple cities including while we were on a cruise in the middle of the vacation. The guides were always there waiting, spoke english, and were truly nice people! Indochina handled flights, tours, hotel reservations, transfers and our trip to Ha Long Bay, all without a single hiccup! Sometimes we had a little difficulty understanding our guides because of accent but they did their best to make sure we understood. Our only complaint was the hotel Tara Angkor in Siem Reap, Our daughters room was full of ants and our room was extremely musty (I think mold). Reviews overall are good for this hotel. That being said I cannot recommend this company more. Top Notch!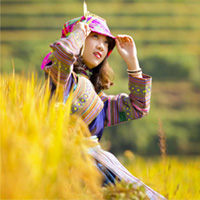 Paul Woods
United States
Great tour of Vietnam and Cambodia
Dear Mr. Lee,
I am writing to you on a matter I should have contacted you sooner on. My wife and I are organizing our second trip to Vietnam and are using your company again to help us with this. I wanted to let you know how happy we have been with Linh's help both on this occasion and in particular for our visit last October. She is very efficient and knowledgeable and we would always recommend her to colleagues if they want to do a similar trip.
Also, we thought your drivers are very kind people who did not take advantage of us. Ancsa can't stop talking about them.
Kind Regards,
Paul and Ancsa.

Fendy
Australia
Great Services and Nice people
Me and my friend took a one day cruise at Halong Bay.
Ms. Huyen and Ms.Thao which were our travel consultant during our visit to Hanoi, were very nice and very accommodating.
They helped us to arrange the trip neatly. The trip was including a return pickup service from our stay in Hanoi to Halong Bay. The driver arrived on time as scheduled and the bus were clean and comfortable.
The cruise itself was very great, very clean and bright. lucky for us during that time there just the 4 of us on board. so we can enjoy the board privately just like our own lol… they also served us a full course from appetizer to dessert which were delicious and the ingredients were very fresh.
So far, it was a great experience for us with Indochina Voyages. They are very prompt in response, accommodating, friendly and nice. We wouldn't enjoy our trip to Halong Bay without the help from them.
Would love to recommend them to all of the people who are planning to go to Hanoi 🙂

Rachel Down
United States
Wonderful cruise on the Dragon Legend
Hi Huyen,
I just wanted to thank you for the wonderful cruise on the Dragon Legend with my family. It surpassed all expectations and your organisation and attention to detail was amazing.
How can we review your brilliant service on trip advisor?
We have already recommended your company to friends and will never forget the fabulous experience.
Kind Regards
Rachel Down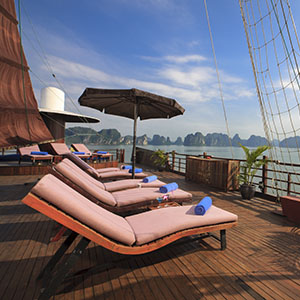 Ana M Bennett
United States
Excellent cruise ship on Halong Bay
We found Indochina Tours on line, and couldn't have been happier. We only had time for nine days and eight nights in Vietnam and it made sense to use a tour company. We opted for the 'Tonkin Elegance Tour', which gave us four nights in Hanoi, one in Sapa and one on the 24-hour cruise at Halong Bay, plus two nights on an overnight train, which was an enjoyable adventure. Our contact, Ms Huyen Nguyen, was excellent. She answered all our questions very quickly, in a very friendly manner, and in faultless English. She offered us a choice of a three-star tour at $710 per person and 4-star at $875. We chose the latter, and this gave us two nights in Hanoi at each end of the trip in the superb La Siesta hotel in heart of the old district. A small supplement also got us onto the excellent (and apparently best) cruise ship on Halong Bay, the Dragon Legend.
The tour was well thought-out and superbly managed. Guides and drivers showed up exactly as scheduled. We had a private car or minibus for all transfers, and a guide to ourselves, which meant we could have interesting and detailed conversations with them. The two overnight train trips from Hanoi to Lao Cai (the train station nearest to Sapa) were rattly but clean, and we enjoyed them. On our last full day we added an optional trip to Ninh Binh province, which made an interesting contrast to eh Vietnames highlands. Our Indochina Voyages contact, Huyen, was very clear about charges and conditions, what was included and what would be extra, and we were extremely happy with the service we received. If we are lucky enough to be able to visit Vietnam again, we won't hesitate to contact the company.

Jaminnlexky
United States
The 2 day 1 night Ha Long Bay cruise on the Red Dragon was marvelous
Dear Mr. Lee,
The 2 day 1 night ha long bay cruise on the Red Dragon was marvelous.
Great food, drinks, and the scenery was spectacular. Tuan, the first mate, along with the rest of the crew were excellent. Spent the night on the water in a small secluded cove where we were able to swim and relax before dinner
Kind Regards,
Jaminnlexky.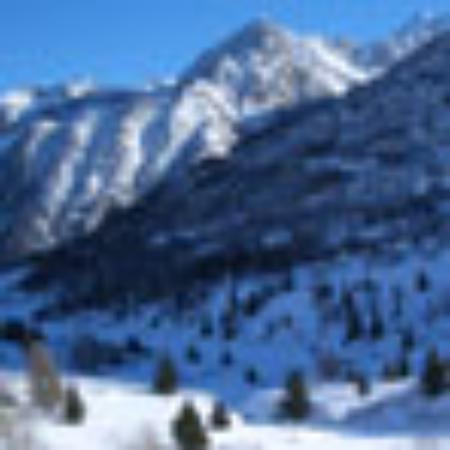 Jeffrey
USA
Excellent Tour Planning!
We cannot speak highly enough about our wonderful trip to Vietnam with Indochina Voyages. Nam planned our trip for us and he was truly a joy to work with! He listened to our ideas for the trip and what we were looking to see and made amazing suggestions for things that we would have never considered doing (and we are so glad we did!). We literally showed up at the airport in Hanoi and Nam took care of every detail of our trip—we were able to completely relax and enjoy our trip without worrying about all of the complications that come with traveling to a new place. Our itinerary was an excellent mix of guided tours and time to explore independently. Our individual guides and drivers in each city were truly wonderful—especially Thanh (Hanoi + Ha Long Bay), Thuy (Sapa) and Long (Hue and Hoian). Our travels changed us and brought new and wonderful friends into our lives. We are so thankful for Nam who is a truly exceptional planner, project manager, teacher, and friend!