Travel and experience are gradually a chance for us to discover the world and enjoy our lives the best. During the journey in Vietnam, from South to North, you should stop for a few days in Halong Bay – the UNESCO World Heritage Site. Here is our suggestion for top 5 best budget Halong Bay cruises for you. Let's find out now.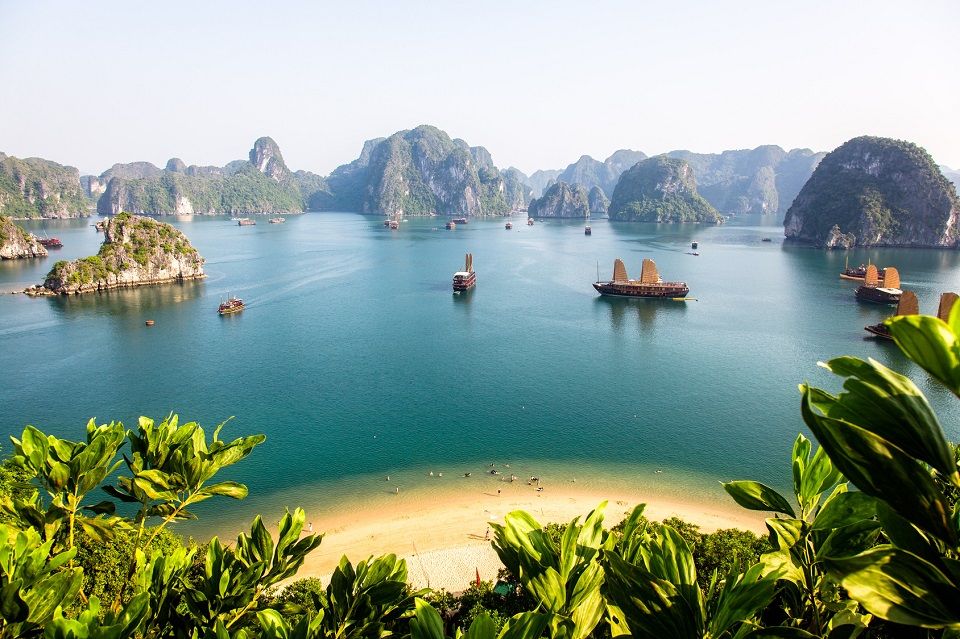 Renea Cruises Halong
Launched in 2018 by a team who have about 10 years of experience in tourism, a boutique wooden Renea Cruises Halong is one of the best budget options offering an off-the-beaten-track Bai Tu Long route. All cabins here have a wardrobe and a private bathroom with a shower, free toiletries and a hairdryer.
This classical boutique wooden vessel in traditional design offers you delicious and authentic cuisine, helpful crew team. Titov Island and Sung Sot Cave (Surprise Cave) are  the highlight attractions in the tour on the Northeast from Halong bay. All of that will make your time with Renea Cruises be remarkable; and one of the best experience during your time in Vietnam.
Here, the chefs who are skilled in the art of food preparation and design are ready to serve you many delicious Vietnamese dishes. If you have any special requirements, you are free to ask the chef to prepare your own dietary. If you do not want to take time on thinking what to do, you can join in the activities offered by Renea Cruises Halong in and around Halong City like kayaking and fishing. Sunset party is also offered for you to experience the wonderful sunset in Halong Bay.
Here, you do not need to concern about who can assist you in your trip; as there are always guide on boat and staffs who are fluent in English, French, and Vietnamese at the reception; ready to give you information and helpful advice on the area.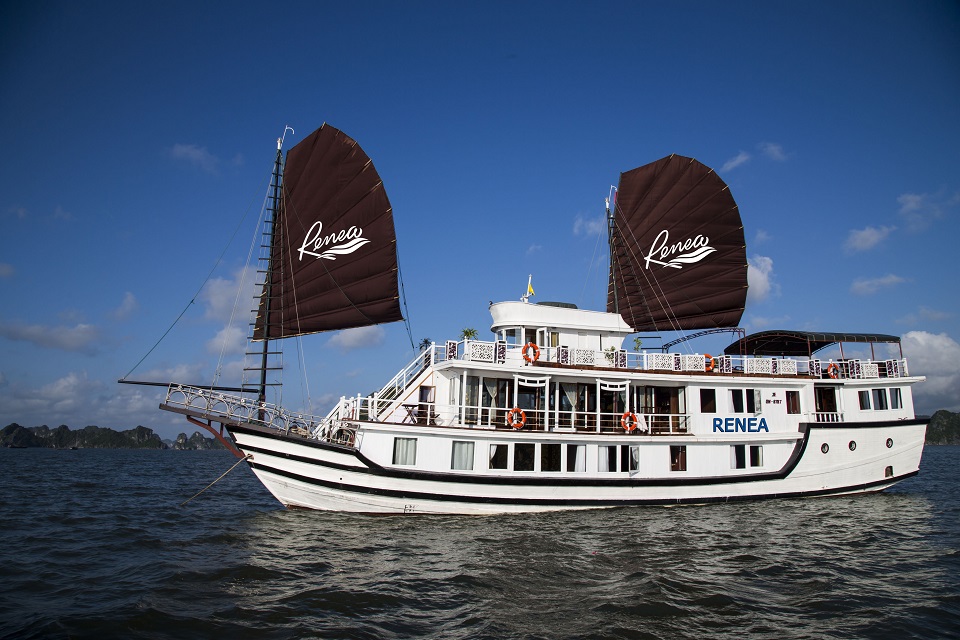 Book Renea Cruises Halong right here for price from US$121 (was US$149) to stay in this wonderful location with your friends or your lover this summer.
>>https://www.halongjunkcruise.com/budget-cruises/renea-cruise-halong/
Calypso Cruise Halong
Calypso Cruise Halong – A wonderful option for your journey
One of the most interesting ways to enjoy your journey in Halong is to use Calypso. With this journey, you will not only get the most comprehensive information but you also be severed cave visiting services. Together with swimming and kayaking, cave visiting is the perfect way to explore the beauty of Halong from the inside.
A traditional wooden boat with full equipment must meet your requirement for a perfect cruise to explore in Halong. What is even more special is that most Calypso boats are designed and built in line with the typical tide system of Halong between day and night as well as following the season.
Book Calypso Cruise Halong now for price from US$119 to have the best cruising experience in Halong Bay ever.
>>https://www.halongjunkcruise.com/budget-cruises/calypso-cruise/
Oasis Bay Party Cruise
The Oasis Bay Party Cruise is the newest edition of Halong Cruiser tour with one of the largest boats in Halong Bay. There are many fun activities for young travelers 18 – 35 years old offered on Oasis Bay Party Cruise; such as kayaking, boat jumping, water trampoline, water mattresses, swimming, cooking demonstration, cliff jumping, playing football, volleyball, etc. That must meet your expectation as a young traveler; who looks for a journey to enjoy the top 7 of the world's greatest natural wonders.
Oasis Bay Party Cruise offers you not only rooms with air conditioning and free Wi-Fi; but also a terrace and bar. An awesome party with your friends or partner will be, without a doubt, a special memory in your travels through Vietnam. If you are searching for beautiful scenery, adventure, and the opportunity to make friends or enjoy your time to rest, Oasis Bay Party Cruise of Halong Bay must be one of the highlights of your days trip.
This cruise welcomes you with the boat of 3 decks wide, 30 en-suite deluxe bay view cabins, sundeck, a bar,dining area, restaurant, and Jacuzzis.  The professional, loyal and dedicated of staffs here is also another plus point.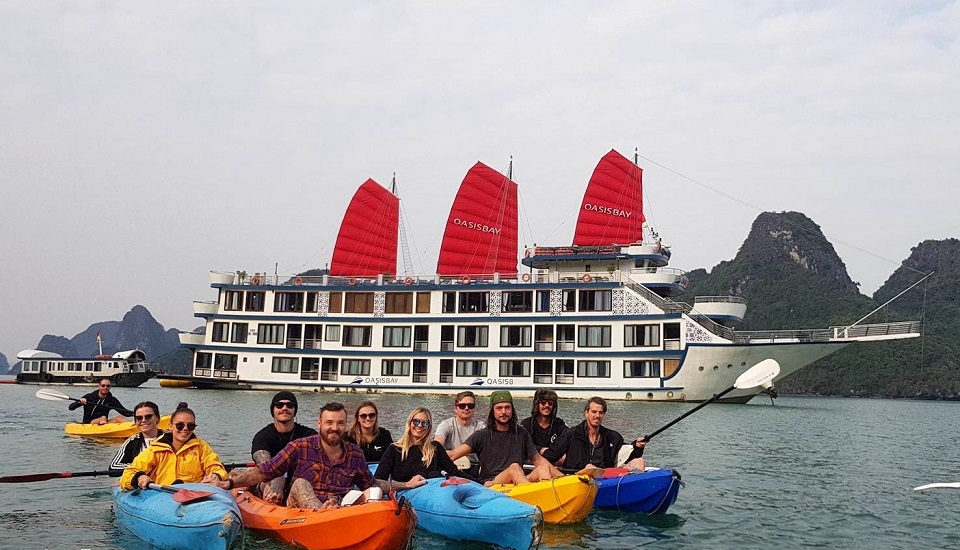 For only from US$129, you will surely have great chances to enjoy beautiful scenery, discover amazing adventure and have lots of fun with new friends.
>>https://www.halongjunkcruise.com/budget-cruises/oasis-bay-party-cruise/
Glory Legend Cruise
Among others, a perfect option to your journey is Glory Legend cruise. This cruise departs from the Tuan Chau passenger ship port with a private lounge serving drinks while you are waiting to board. To get here, you will have to take a 30-minute drive from Halong City.
Located on Halong Bay, Glory Legend Cruise is a traditional Vietnamese yacht with air-conditioned and sea views for every room. Each room is fitted with wooden furniture, a seating area as well as a private bathroom with a hot shower, a hairdryer and free toiletries.
Recreational facilities include kayaking, doing Tai Chi on the sun deck above and watching cooking performances. As scheduled, you can also swim and visit the famous caves, beaches, and floating villages as well as pristine areas of Halong Bay.
To make your journey more enjoyable, Glory Legend serves you with meals in both Vietnamese and Western-style together with drinks and snacks at Bar & Lounge.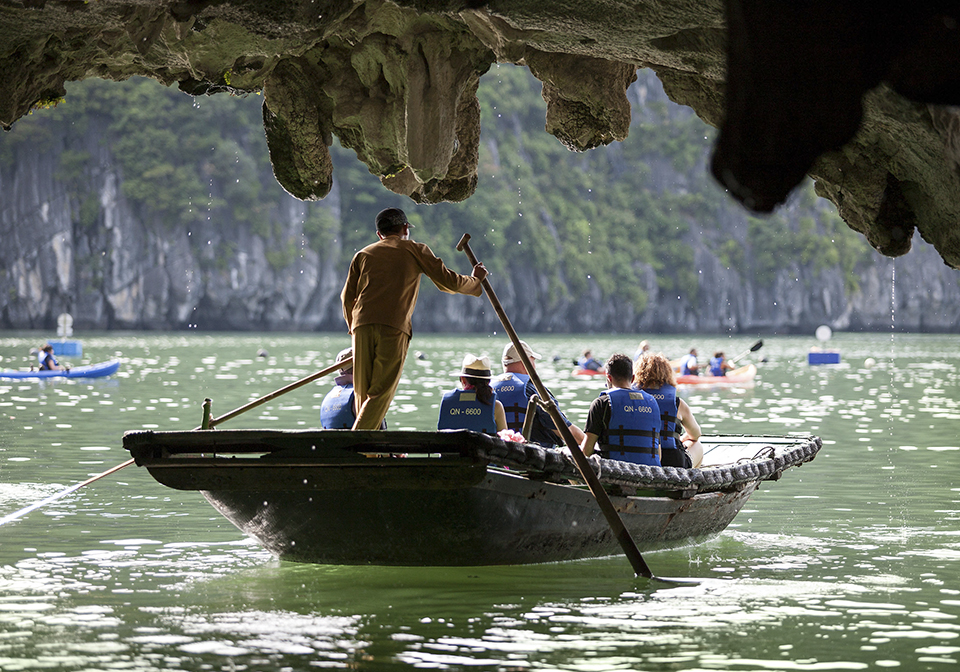 For what it offers, you only have to pay from US$105 for 2-day 1-night itinerary on Glory Legend Cruise. It is worthy for you to try, right?
>> https://www.halongjunkcruise.com/budget-cruises/glory-legend-cruise/
Swan Cruises Halong
Established at the beginning of 2015, Swan Cruises Halong have successfully brought approximately 50.000 visitors to beautiful Bai Tu Long bay in the past 3 years. Swan Cruises Halong is the traditional wooden boat with friendly and helpful staff. Indeed, the cruises captain here is well training and certificated by Vietnam marine institution. Chef is carefully selected from reputable vocational school; who have a passion on cooking, and understand the western and oriental cooking. Bar tender, waiters and housekeeping from different part of country are well training, honest; which makes you feel the warm hospitable of Vietnam and high quality services.
Other than dining at the on-site restaurant and taking a drink at the bar, which is even more special about this place is that it also offers special diet menus. As a result, you can stay healthy while enjoying your journey in Halong the best.
Just by staying in Swan Cruises, you can have the chance to discover pristine Bai Tu Long Bay and many other pristine destinations. How wonderful that is!
The same as in Glory legend cruise, you can participate in activities; such as kayaking, watching the sunset and cooking performances.
With all the above wonderful services it offers, the price for Swan Cruises is only from US$112 (was US$138).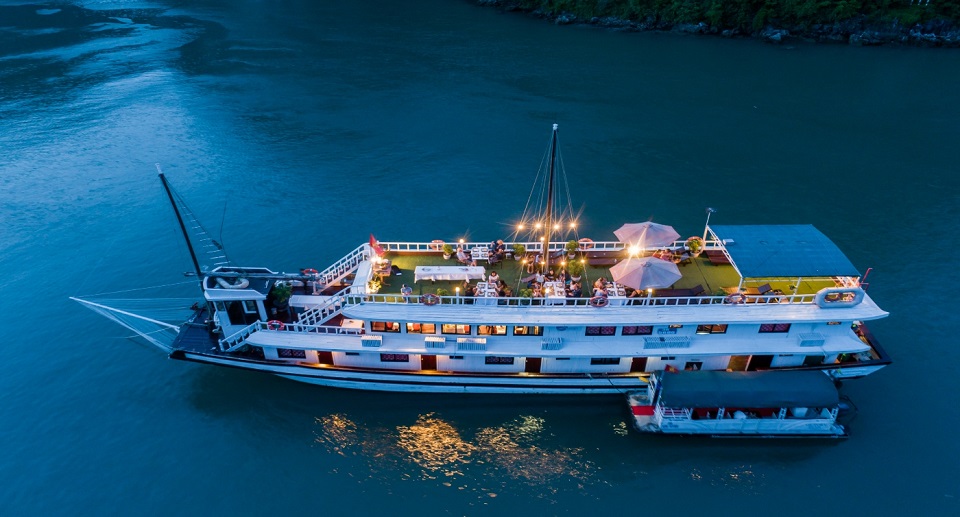 Let's book now for best summer promotion >>https://www.halongjunkcruise.com/budget-cruises/swan-cruise/
That is all you need to know about the best budget Halong Bay cruises to have the best time in Halong Bay. Get to Halong now and have your own wonderful experience.
Phuong Dao – Travel Lover