Halong Bay is one of the must-visit destinations in Vietnam. Most people traveling to Vietnam put the scenic bay into their destination list. There are many things to do in Halong Bay: cruising, kayaking, swimming,… to keep you constantly excited and energized the whole day. Among them, squid fishing is one unique activity that can bring a refreshing travel experience.
Squid fishing starts earning popularity among travelers in recent years. It's simple and fun. You only need to skim through our article to get the basic information about squid fishing.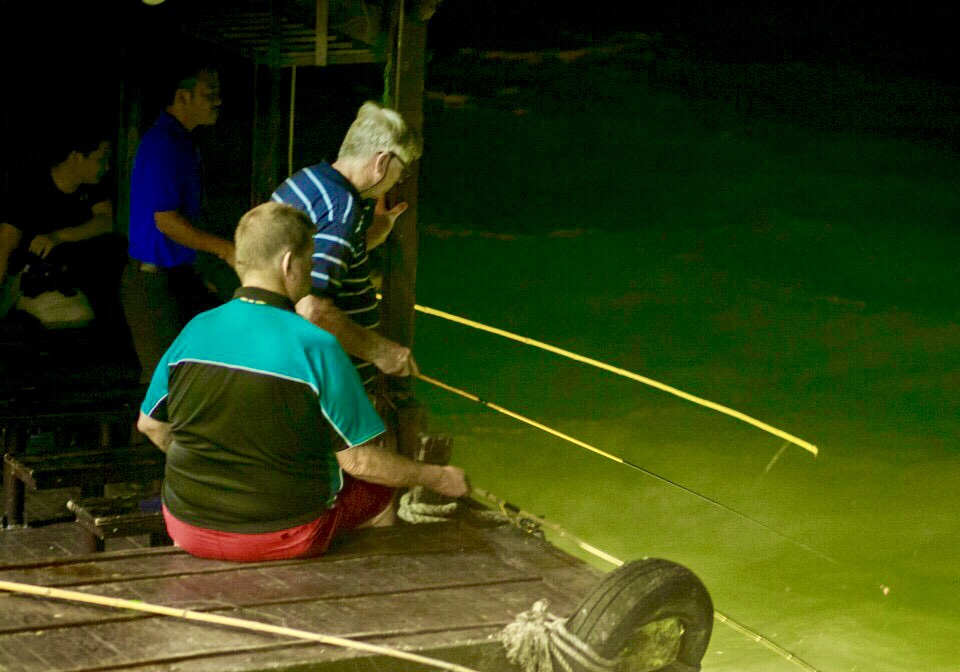 Squid fishing season in Halong Bay
The best time for squid fishing is from November to February, this is also the best Halong Bay weather to visit in general. At that time, the weather is cool with temperature falls in approximately 20 degrees Celsius. Thus, you can not worry about the heat when doing outdoor activities. After 8 p.m is also the perfect time for fishing and every squid fishing activity operates during these hours.
As many experienced fishers share, the night that we cannot see the moon is the best time for squid fishing. Without the moon, squids are totally attached to the light of fishers. Your job will be much easier than at night with a clear moon. However, besides the natural condition, the outcome of fishing also depends much on the luck.
Tips for choosing the best artificial bait for squid fishing
The quality of artificial baits can decide whether you can get many squids for the yummy night snacks afterward.
The artificial bait is made from rubber in the shape of shrimp. Moreover, it was attached to a fishing hook. This kind of bait is odorless and its color is the same as a real shrimp. The artificial bait is tied directly to the fishing line. When being thrown into the sea, it will sink slowly and attract squids.
This kind of bait will move like a real shrimp. Squids will attack it by using their antennas to surround the bait. And it's time for you to pull.
There are many brands of artificial bait to choose from. One of them is Yo-Zuri from Japan. This will be more effective for fishing because, besides the bait, there is a luminescent system that can attract the squids. The average price for this kind is about US$ 3-4.3 per one.
Another kind of artificial bait is from China. The upside is that it's cheaper. However, it will not be as efficient as the two mentioned earlier.
You can prepare the artificial bait before or buy it on the boat. The fishers are always ready to introduce all kinds of bait for you to choose from.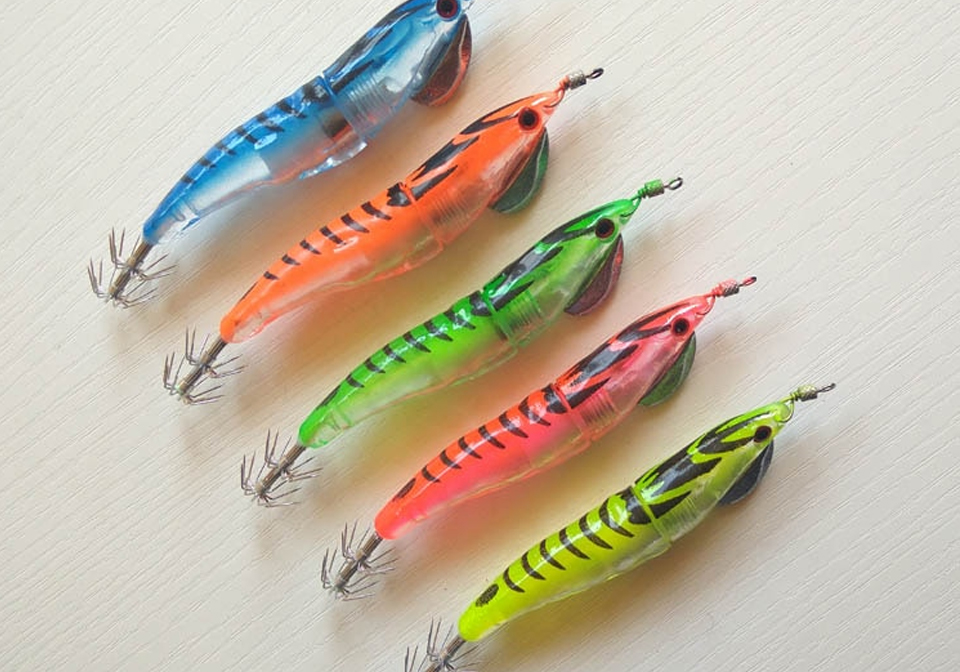 How to choose the best fishing rod
You should choose the fishing rod around 2-3 meters in length. The fishing line should be from 20 to 25 meters. Actually, you need help from someone else on the boat to connect the artificial bait with the fishing rod.
Squid fishing technique to get the most squids
Fishing squids is not easy. For those who don't have any experience in fishing, it takes time. First, you need to remember some tips.
You have to drop the line gradually. Do not drop it fast.

After that, bring it closer to the boat and pay attention.

If squids try to eat the artificial bait, you will feel the fishing rod heavier and see the movement from the surface. At that time, you have to pull it up. It has to be quick but not too strong.

If 5 minutes after dropping the line, nothing happens, you should pull the line and clear the artificial bait. Then, continue to try again.
But you do not need to worry so much. Friendly local fishermen will help you with the techniques and I'm sure you can do it easily. The most important thing is to enjoy the beautiful moments, right?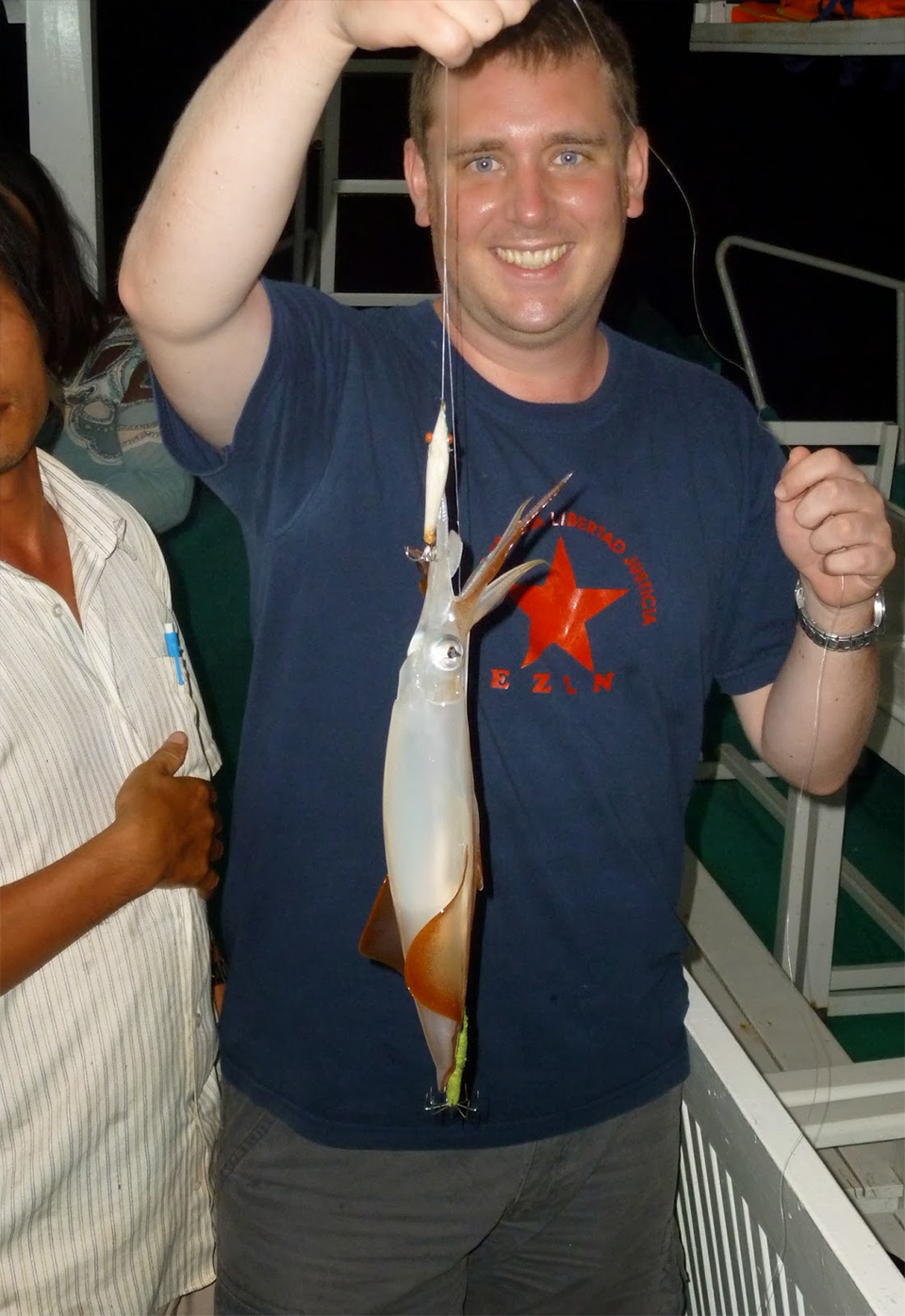 Some notes for your health and safety
I do not think squid fishing is a risky activity at all. However, there are some tips to help you stay awesome during the activity:
Firstly, because the time for fishing is at night, you need to remember to bring along a thin coat in order not to get a cold.

Secondly, you shouldn't stand too close to the side of the boat.

Thirdly, you have to wear a life-jacket and follow the guide of staff on the boat.
How to take part in squid fishing in Halong Bay?
Lots of Halong luxury cruises include squid fishing in their itinerary. All you have to is find your perfect cruise depending on your tour duration, budget, and cruising areas. Then check your ideal Halong Bay cruises from available options if they have squid fishing.
If you decide to go on a day trip to Halong Bay, unluckily, you can not squid fishing. Squid fishing is only available to a two or three-day Halong boat tour.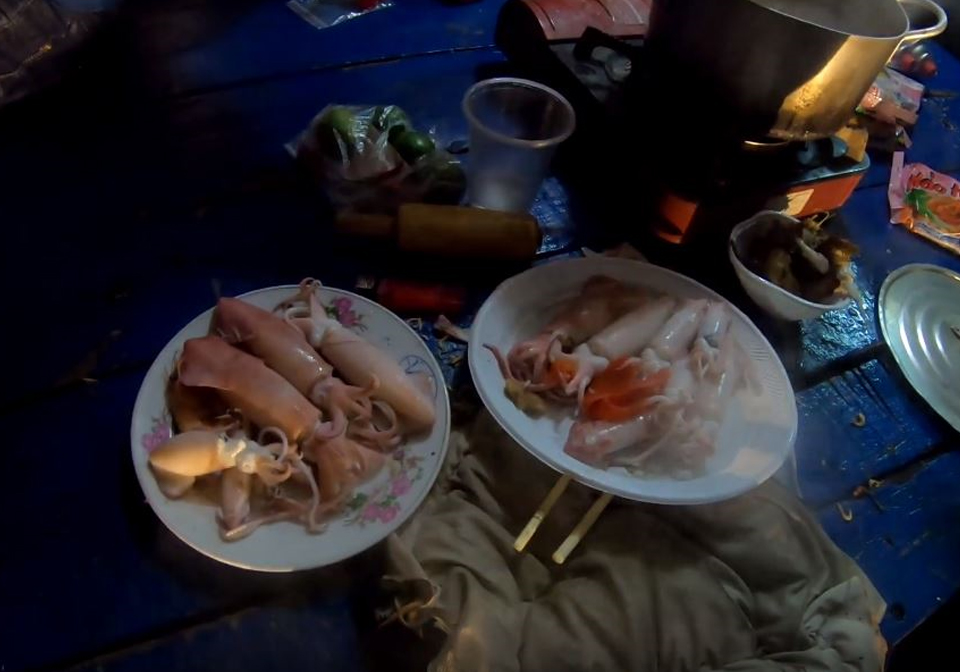 For some people, the best part of squid fishing is to enjoy delicious squids right after your hard-work. Nothing tastes better than seafood than fresher seafood, right? To some other people, the chance to interact with local fishermen is priceless. With bits of help from experienced tour guides, you can easily get to know more about their stories. As each story is different, the experience can be really personal and hard to forget.
Suggested Halong Bay Cruises for squid fishing
Linh Nguyen – Travel Specialist