Halong, the world natural heritage honored by UNESCO, is very well- known for its outstanding uninhabited island complex. It also attracts tourists with many delicious dishes made from natural and fresh ingredients. Let's see the list of 5 dishes in Halong that will make tourist fall in love at the very first try.
Cha Muc (squid sausage)
Cha Muc is made from fresh squids and a special spices that only restaurants in Halong know. Squids are strongly grinded in a huge mortar respectively by 2 to 3 people. They add some species and continue grind in a few minutes. After that, they make the mixed ingredients into round, thin pieces. Finally, these pieces is fried in boiling oil. Cha Muc can be eaten with chili sauce or mayonnaise. Travel Indochina Vietnam
Tourist can try this dish in many restaurants in Halong. You can also buy some bags of Cha Muc as presents for family members and friends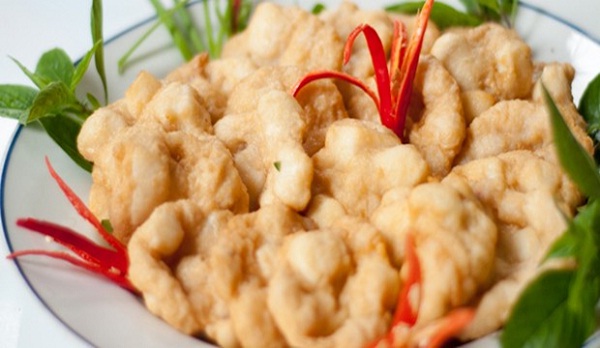 Shellfish dishes
People say: "If you visit Halong without trying shellfish dishes, you will not fully feel this city". There are many restaurants serving this dish, mostly in Bai Chay and Cao Xanh. The shellfish are very various, from sweet snail, helix to clam, etc. They can be steamed, fried or boiled with many spices. Each kind of shellfish are eaten with its own sauce. Sitting on the beach and enjoying taste of the sea is not a bad idea. Halong bay cruise Vietnam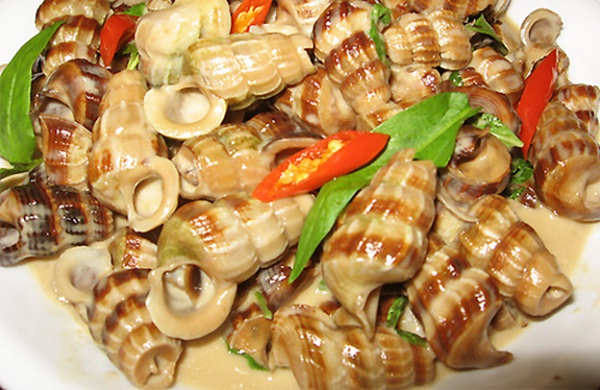 Gat Gu cake
Gat Gu cake is made from rice powder water. This rice water is spread thinly, steamed and rolled to make a perfect cake. It is eaten with a special sauce and a bite of Khau Nhuc (stewed meat). The cake has a soft taste and the meat is sweet, buttery and smelling very good which will please anyone even the most fastidious tourists. This dish can be found in many restaurants, especially in Tien Yen town which is not so far from Halong.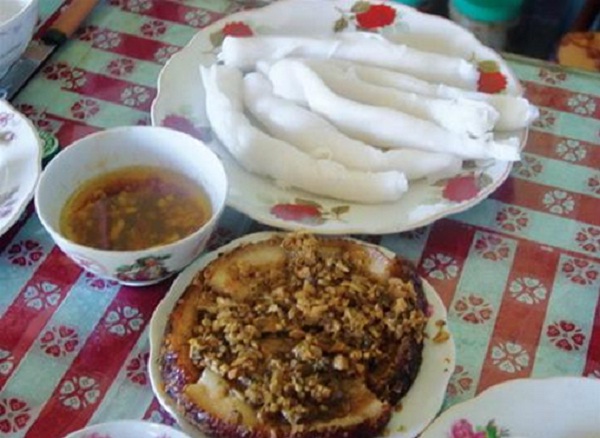 Grilled oyster
Fresh oysters are carefully selected by restaurants in order to make the best taste. This dish is grilled on burning charcoal right after being ordered to ensure a steaming hot dish. After drinking the greasy oyster water, tourist will eat oyster meat with sweet and sour sauce. If you prefer a different flavor, the restaurant will grill oysters with fried onion and chili. Drinking a glass of beer with friends while enjoying grilled oyster will be an unforgettable experience
Ba Kich wine
This wine is made by soaking bulbs of Ba Kich which is widely grown in areas around Halong. There are two kinds of Ba Kich wine: white and purple which depends on the wine's color. Ba Kich wine is quite easy to drink with good and comfortable smell. Moreover, drinking a moderate amount of Ba Kich wine is very good for body especially kidneys, tendons and bones. Tourists can buy this wine at any restaurant in Halong with a very reasonable price.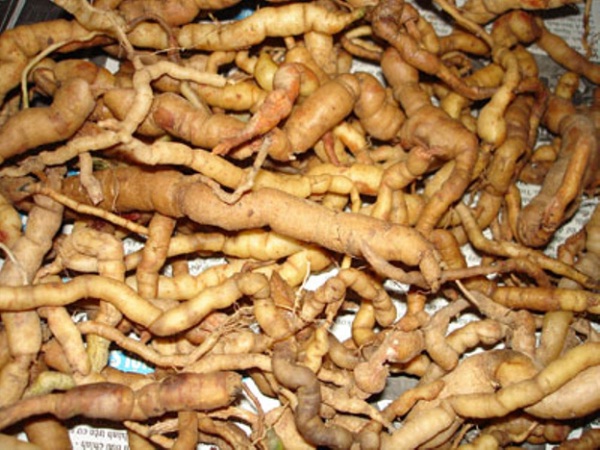 These five dishes above are symbols of Halong cuisine. Please come to this city and do not forget to try them all to feel the taste of the sea and see another aspect of Halong and people living here.
Travel lovers.
Read more: