Halong Bay is the one of world new 7 wonder, so it is a top list must to visit when reminded about some destinations in the North of Vietnam. Halong Bay resembles a geographic work of art.  You feel lost in a legendary world of stone islands while exploring the bay.  Upto now, Halong Bay is still a rare phenomenon of nature beauty and about 3 millions tourists have come to discover Halong Bay every year. You kinda expect it to be nice boat trip with a chance of relaxing. But at the end, it's more. Try amazing tour with below places and activities in Halong Bay.
1.    Vong Vieng floating village  
Vong Vieng floating village is also called Vung Vieng Fishing Village. This village of about 600 inhabitants built on the water. There are no structures built on land. Visit Vong Vieng floating village in a rustic rowing-boat, meet the local people and pass through the floating school and fish farms. It is a magically calm place, an escape from the hustle of Vietnam streets. The village is a true waterworld, rising and falling with the tides, sheltered amidst limestone towers. Locals live mainly from the sea. Most of the rock islands in the area are too poor to be cultivated. Halong bay tours Vietnam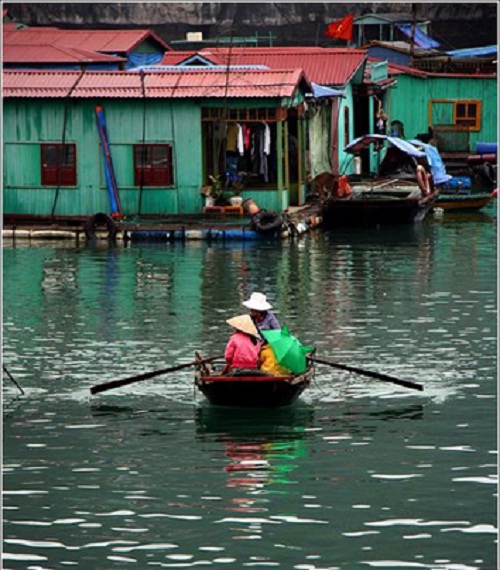 In this picture you can see some floating houses. Locals live in these houses and every morning they go fishing. They sell their catches to bigger boats, that bring the fresh fish to markets in the continent. It is interesting to see the rambunctious children going to school. Their bustling calling and their flopping rowing liven up at the atmosphere of the quite bay.
2.    Surprise Cave
Surprise Cave is one of the most amazing caves in Halong Bay in Vietnam. This Cave is surrounded with beautiful lakes and surprising rock evolution. It is entice explorers with promise of adventure — and plenty of surprises in the darkness. Thanks to the shallow, clear water, you'll truly be able to appreciate the views of the stalactites and stalagmites. There are also two fresh-water snorkeling sites in the cave complex, but watch out for one surprising feature: a few bats flying around while you're inside. Travel Indochina Vietnam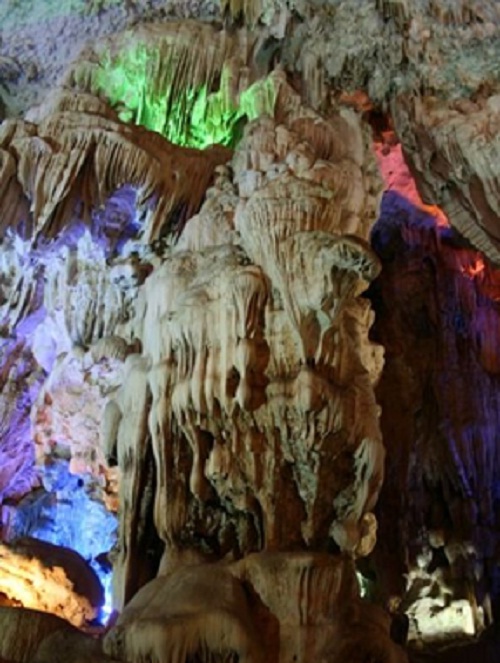 3.    Dau Go Grotto
It is another fantastic Cave in Halong Bay. It is called "Dau go", an ancient name, meaning ''Wooden Stake'', was formerly known as Canh Doc Island. The name comes from a popular story of the war against the aggressors from the North.
It is split up in three parts. Many formations in the rock can be observed in the first part. The middle of the chamber is more interesting with the top of the pillar there is a monk clothed in a dark, long cloak holding a cane in his right hand. The second chamber of Dau Go Grotto is no less fascinating. Visitors have to cross a "narrow door", which was formed as a result of erosion. The mysterious light and new images evoke a sense of mystery and wonder at the same time. The third and the final reveals a well of clear water. The well is surrounded by four ancient walls. Vietnam travel tours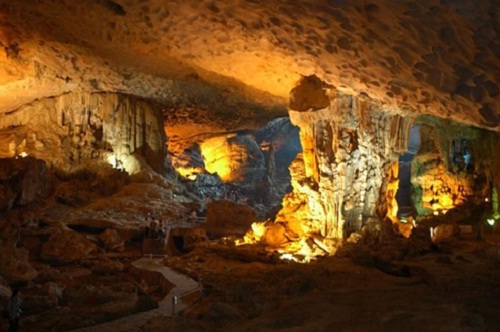 4.    Halong Bay in Sunset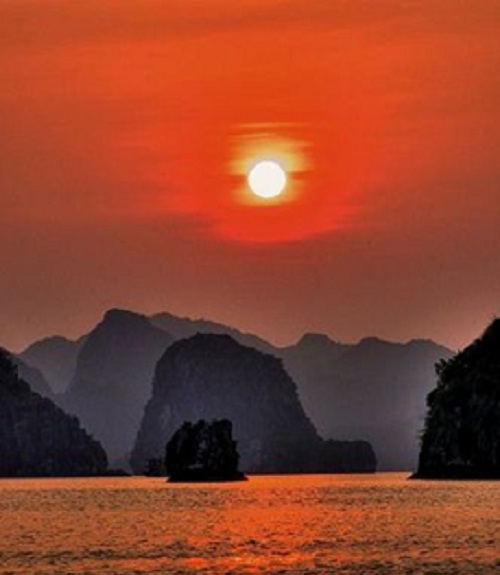 Just relax and have a nice cold beer and just watch the sunset. Should be on everyone's must see sights. So many beautiful pictures keep popping up from there!
5.    Swimming in Halong Bay
After enjoy a wonderful floating boat and there is opportunity for swimming from the side of the boat. Swimming in Halong bay is really nice and refreshing. The water was gorgeous, nothing like swimming in the sea at home. Halong Bay is the safe place for swimming. Because beach is calm waters and tourists will be provided useful equipment such as: life jackets. Take it easy because  the sailors and staff of the ship watched while you were swimming to alert you for dangers in case.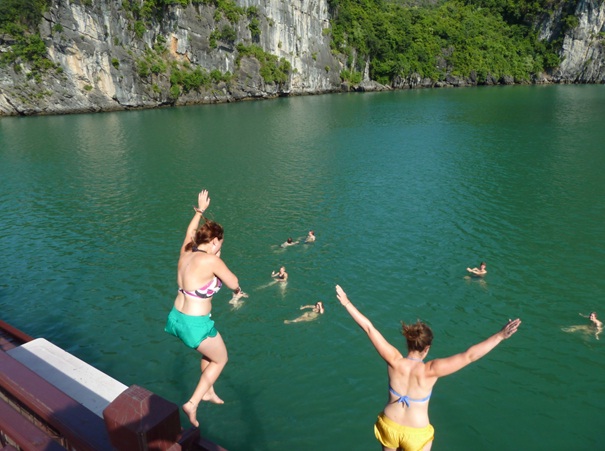 Travel lovers.