The complexity of Vietnamese cuisine is really high appreciated. All the delicious food from the most popular dishes made on the side of the road to these stunning dishes in the top-end restaurant will attract all tourists to come to Vietnam. Tours Indochina in Vietnam
Bun rieu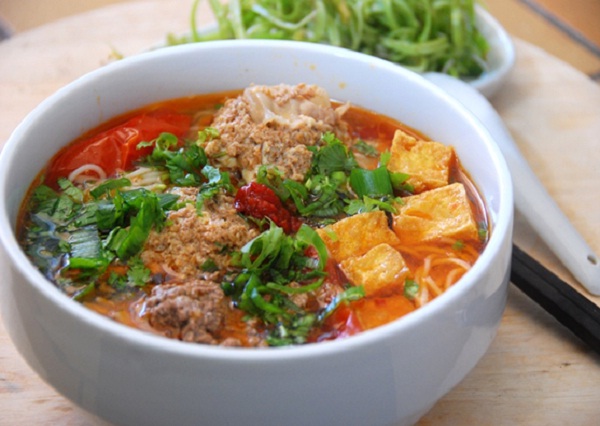 Cooked from a crab base stock, the broth of bun rieu is mixed with rice vinegar and other main ingredient ripe tomatoes to create a slightly seafood tasting broth coming with a beautiful natural sweet and tartness from the tomatoes to bring eaters a lovely sour and well-rounded flavor.
Along with the wonderfully flavorful broth in a bowl of bun rieu, except soft rice noodles are noodles in the same shape and size to spaghetti noodles.
Hearty thick slices of pork, crispy fried tofu coming with meatballs as well as a slab of rich crab paste and squares of congealed blood of pig which are topped on the noodles make it more appealing.
Eating with a garnishment of shrimp or crab paste before loading it up with chili sauce, a squeeze (or several squeezes) of sour lime juice, and then ravening it with a small mountain of fresh herbs and shredded vegetables is the way people enjoy this dish.
For noodle soup in Vietnam, maybe there is nothing much better than a steaming hot bowl of bun rieu cua. Travel to Vietnam
Bún mắm (bun mam)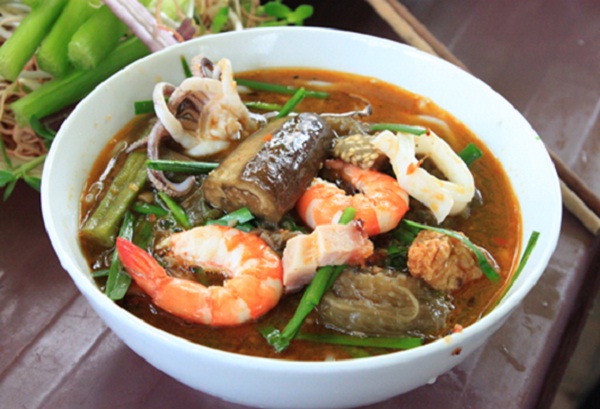 In spite of its uneasy smell, bun mam is honored by Graham Holliday, an excellent expert on Vietnamese food as his all the time favorite Vietnamese noodle dish.
Although being a stunning delicacy of the southern Vietnamese cuisine, bun mam can be easily found at not only these sit down restaurants but also portable street food stalls around town like most other noodle soups.
All bowls of bun mam are cooked from the base of a dark colored broth well prepared with undergone fermentation fish sauce which brings the soup broth a well rounded, balanced flavor.
Before putting all the entire assortment of meats including squid, prawns, and pork on top of the noodles, the rice vermicelli noodles are loaded into the bottom of the bowl along with the broth. Last but not least, one or two slices of eggplant soaking up all the broth is another essential part of a famous dish of the southern Vietnamese bun mam.
Bún mọc (bun moc)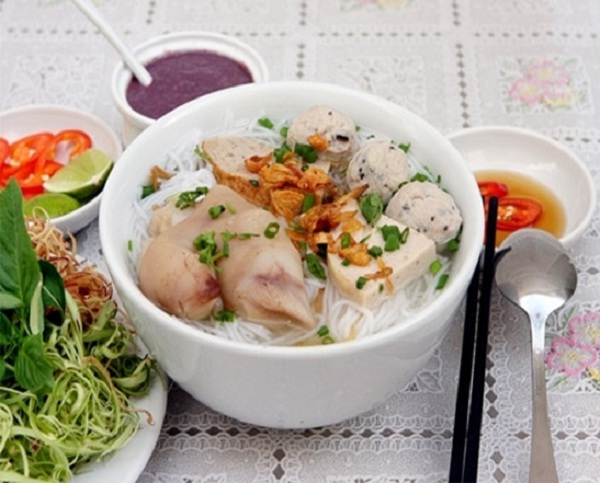 Bun, the Vietnamese style noodles which are the thin soft rice vermicelli noodles are really easy to eat and go down. Usually cooked from the base of pork, the broth of bun moc is a simple and soothing soup not spicy at all, but really comforting. To eat relaxing rainy day, this bowl is highly suitable type of noodle soup.
Some thick slices of pork meat, maybe even a bone, meatballs, and Vietnamese sausage are also served along with the rice vermicelli noodles and pork broth to make it a perfect bowl of bun moc. Bun moc is extremely popular throughout Saigon as well despite the fact that it is believed to have originated in the north of Vietnam.
I Love Vietnam,
Read more: