Halong is a beautiful city with a lot of caves, beautiful scenery, majestic landscape… Halong is a best destination for your families who want to have long day relax after tired. Indochina tours Vietnam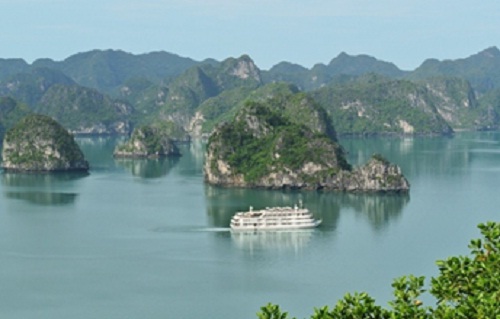 There are some best cruises that you can enjoy in your trip:
Pelican luxurious Yacht wood:
It is coated steel casing, has 22 luxury standard rooms on each.
Providing premium travel experience on Halong Bay, Pelican Yacht will take you to discover the unforgettable, providing the best programs to visit and enjoy the natural wonders. Halong bay cruise Vietnam
Pelican Yacht first was 02 active in 2012, 01 yachts remaining in 2013, is expected to grow 32 cabins yacht in 2015. The yacht offers 22 double cabins, with rooms ranging from 16m2 with standard and VIP lounge 27m2 with 02, along with the equipment, advanced facilities on the boat and friendly crew are well trained to meet high requirements for the duration of your onboard.
Equipment:Separate hot and cold baths, hair dryers, and other amenities.

Own conditioning in bedrooms.

Mini Bar in the room

Bar
Safety equipment, ship steel casing is closed the two bottoms, tops automatic fire system, the system packs bell desk assistance 24 / 24h, snorkel system etc …
If you have a chance to visit Quang Ninh, you can't fail to Halong Bay – World Natural Heritage. Famous for the majestic limestone mountains ravishing beauties scattered throughout a large island on the water … emerald A night on the yacht exploring Halong Bay always brings you fresh feelings new, great experience.
3. Halong Emotion Yacht:
It combines charm, modern comfort and excellent to meet the growing needs of travelers looking for an overnight tour on a luxury yacht exploring Halong Bay.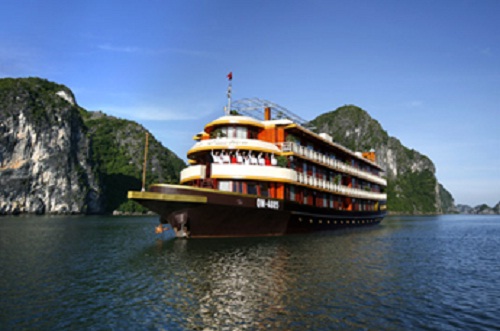 Halong Emotion yacht was first launched in July 2008, has 28 cabins to meet the standards as a 4 star hotel boutique-style sea.
3.1 Information on Halong Emotion Cruise:
Born in: 2008
Length: 50 m
Width: 10m
Number of floors: 03 floors
Cabin: 28 luxury cabins
Includes: dining room, bar, sundeck
Engine: 300 HP
Generators: 120 KW
Cruising speed: 18 km / h.
3.2 Restaurant & Bar on Halong Emotion Cruise:
The restaurant and bar on the yacht Emotion is a warm atmosphere, romantic, you will feel it was interesting to sit overlooking Halong Bay and still be dining in the restaurant.
Guests can sit on the yacht Sundeck Emotion and sip one glass of wine, with a barbecue for sightseeing or looking kitchen staff cooking funding.
3.3 Sundeck on Emotion yacht:
Is a great place to sunbathe, relax, explore Halong Bay when the train runs through the islands, rocks … The morning was where visitors breathe fresh air.
Asia travel.
Read more: