Dotted with jagged limestone pinnacles, the World Heritage seascape of Halong Bay, is thought to be one of the most stunning attractions of Vietnam. Being on a cruise is certainly the most popular way to experience the bay and unsurprisingly you can find tours sold by many travel agencies and hotels in Hanoi. Selection is a great thing, but you can be a little bit overwhelming by the multitude of trips on offer.  Alova Gold cruise
Luxury cruises in Halong Bay
Basically luxury hotels on water, some sumptuous cruise options are suitable choice for anyone who wants to spoil themselves. Not for any particular divergence from the typical cruise itinerary, you are paying for the experience of five-star amenities here – but you cannot really go wrong if you want to live it up from an ostentatious sun-lounger while admiring the incredible sunset over a panorama of craggy jungle-topped islands.
Bank on spending around US$220 for an overnight trip on a luxury cruise.
Budget and midrange cruises, Halong Bay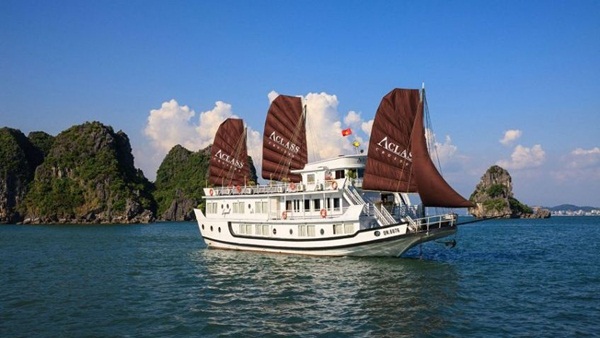 Midrange or budget cruises are the most popular choice of visitors coming to Halong Bay, but when it comes to price and value for money there is a huge range. At one end of the scale are some perfect midrange options offering amazing kayaking stops, knowledgeable on-board tour guides and cozy hotel-style cabins; at the other end are some ultra-budget boats where on-board safety is not top priority. If you go on tight purse strings, for safety considerations, facilities and comfort, choosing a day cruise with a midrange operator is sometimes better rather than opting for a bargain-basement overnight trip.  Dragon Pearl cruise halong
You will pay from a rock-bottom US$60 per person for a day trip on budget cruise. You will get a worthwhile overnight midrange cruise from US$110 to US$130.
Tourist boats in Bai Chay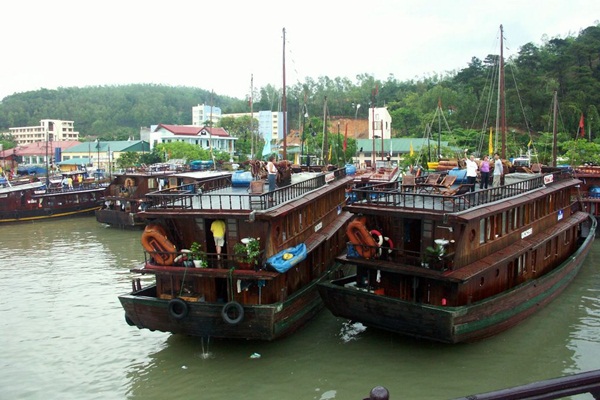 Whisking visitors out onto the water for excursions of four to six hours, traveling on Bai Chay tourist boat is a truly local experience. Do not mind sharing boat space with gaggles of other folk, and just want to quickly see a couple of highlights by cheaply getting out on the water, this is a good option if you are not fussed about added frills.
It costs 100,000d (around US$5) for a four-hour trip, which stops at big-hitter cave highlights Thien Cung Cave and Dau Go Cave. The individual cave entry fees (30,000d) and Halong Bay entrance fee (120,000d) are additional.
Kayaking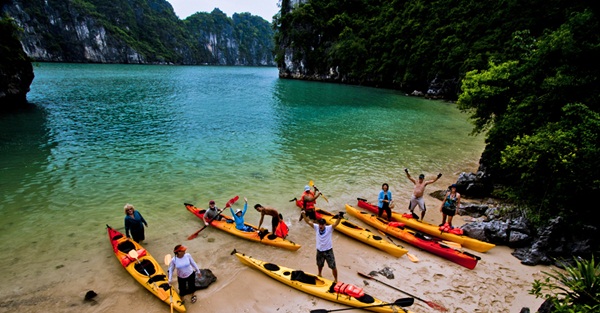 Almost every decent midrange Halong Bay cruise will provide an hour or 1-hour kayaking. You will have a chance to experience the limestone towers from a completely distinct angle: at sea level, up close and without the continuous rhythmic humming sound of an engine in the background, by paddling around the karsts. There are also kayak-only trips for more experienced kayakers. Although the islet-scattered sea of Lan Ha has just as much wow factor as Halong Bay and is much less visited, these trips are run by various operators based in nearby Lan Ha Bay (off Cat Ba Island) rather than Halong Bay itself. It costs per person from US$25 to US$30 for full-day kayaking trips from Cat Ba Island.
See more:
Travel Lovers