Hanoi is the capital of Vietnam which saves the cultural identity of this nation. Therefore, if coming to Vietnam, you can't miss Hanoi in your journey. Visiting Hanoi these days, you will easily find that the "storm" of Bun Dau Mam Tom has spread strongly. The fact is that this dish are always loved by not only local people but also foreign tourists for a long time. Enjoy bun dau in Hanoi with:
Indochina holidays
Bun Dau Mam Tom can be understood as noodle with fried tofu and shrimp soup. This is a popular dish, especially in the North of Vietnam. It can attract you by the unique taste and special flavor which is really different from other street food. Only by seeing how the ingredients are arranged on the dish, you can feel a delicious one. The fatty taste of tofu, the savour of noodle and the uniqueness of Mam Tom create a special set which is extremely wonderful for you. It is sure that for every tourists who are Hanoi food lovers, Bun Dau Mam Tom is very popular. However, not many people know how to eat Bun Dau Mam Tom in right way to enjoy its own true taste. This article will show you how to eat Bun Dau Mam Tom in Hanoi.
The unique taste of Bun Dau Mam Tom in Hanoi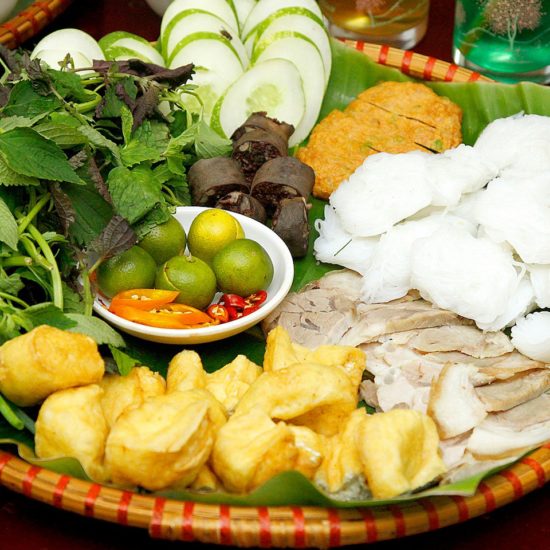 A set of Bun Dau Mam Tom consists of Bun La (noodles in shape of a leaf), fried tofu, Mam Tom, boiled pork, Cha Com, Cha Muc, Long Doi and some kinds of herb. Maybe you find a little bit strange to these names. They are some special food in Vietnam which are made from pork, squid and so on. However, if Bun Dau Mam Tom only concludes these ingredients, you can find them wherever in the world. The key is Mam Tom- a unique kind of sauce in Vietnam. Many foreign travelers call it "smell like hell, taste like heaven". This sauce is made of shrimp and salt. After a very complex process, we have delicious Mam Tom. This kind of Mam is so famous that you can find any information about it at any corners on the Internet. junk cruise halong bay
How to eat Bun Dau Mam Tom
As being mentioned above, Mam Tom is the key which decides a dish of Bun Dau is good or not. Therefore, when eating this dish, you should take notice to Mam Tom. In some places, the chef will prepare the complete Mam Tom for you. They use lime juice, chopped garlic, sliced chilly, sugar, a little wine and oil. They add these spices to Mam Tom and mix them. Then, you have a wonderful dish. However, in some other places, they will divided the spices and put them on the small bowls. When eating, you mix them in your own way with the amount you want.
When eating, you use chopsticks to pick up a piece of Bun La (noodle in shape of leaf), dip it into Mam Tom and put in your mouth. Then, you can pick some fired tofu, boiled pork and so on. In particular, when enjoying, you should have a dink which is a little bit sour such as lemon tea, plum juice and so on. It is very wonderful!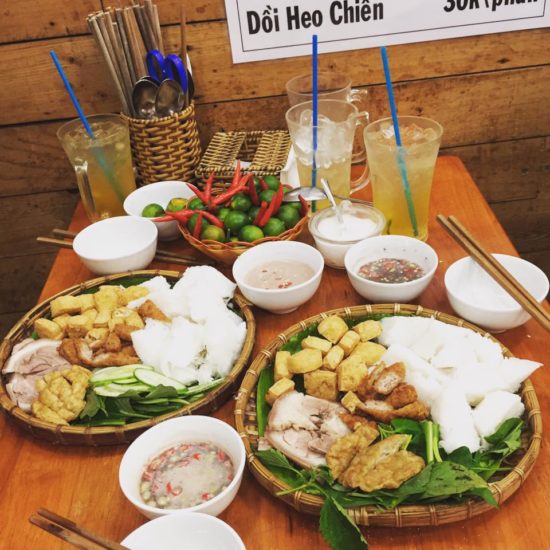 Where to enjoy Bun Dau Mam Tom in Hanoi
Hang Khay Bun Dau Mam Tom
This is a famous vendor in Hanoi for Bun Dau Mam Tom. Being located on lane no. 31 on Hang Khay street, this place is very crowded. The chef put Bun Dau Mam Tom on the banana leaves to make it more attractive and protect the environment. The highlight of this address is Mam Tom. Its taste is so great that people call it "the sauce of heaven". Therefore, if having chance to travel Hanoi, let's visit here to enjoy a set of Bun Dau Mam Tom.
Bun Dau Mam Tom Hoang Cau
This restaurant is located on lane no. 16, on Hoang Cau street. It also serves Bun Cha, but Bun Dau is the best. Mam Tom here is very delicious because it is mixed skillfully and carefully by talented chefs. Moreover, whenever you order, the set is hot because it has just been cooked. In particular, another thing makes the uniqueness of this place is Doi Ran- a special dish made from pig's stripe. Coming to Hanoi, you have to try Bun Dau here.
Bun Dau Mam Tom is really the uniqueness in Hanoi's cuisine. Therefore, why don't you try it if having time traveling this capital.
See more:
Asia Travel Lover