If you have ever googled Hoian before deciding to come there, you must have already seen pictures of a tea cup decorated with pink lotus flower petals. It is the signature drink of Hoian, namely Chanh Sa tea or simply as herbal tea sold in Mot Hoi An, a very famous tea vendor. People often say 'Enjoy Chanh Sa tea in Hoian, because if you do not, you have not been to Hoian at all!' We believe it is true. Let's enjoy Chanh Sa tea in Hoian with: Jasmine cruise halong
Mot Hoian's Chanh Sa tea – the friendly owner
Mot Herbal Tea is operated by a young man in his 20s named Huu Xuan Nguyen. Not only is he known for the talent in tea infusion, but also his exceptional charm and witty talk. His little tea 'shop' was opened in 2015 and took off in just 4 short months. People who walk by can easily miss the modest Mot's tea shop if not for the long queue.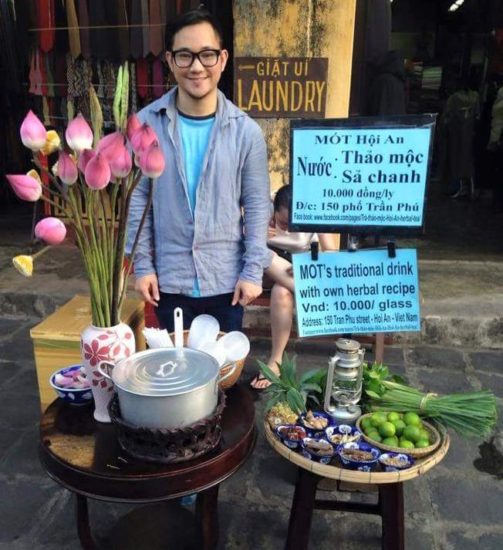 He quickly made his tea shop to be the one and only tea shop selling traditional herbal Chanh Sa, that can be purchased using cups decorated by lotus petal and tea leaf. In Vietnamese 'chanh sa' means 'lemongrass'. When in Hoian, visit his shop at 150 Tran Phu Street, located in Hoian Ancient Town. Mot's opens from 9 am to 10 pm every day.
Why drink Chanh Sa tea?
Chanh Sa tea has a lot of health benefits: Herbal tea has a lot of tremendous benefits. The tea ingredients include ginger, lemongrass, lemon that helps relieving indigestion, fever, and body detoxifying. It is extremely suitable for travellers who have spent their whole day walking around in the 30 plus degree weather. People who have tried this magical drink say it takes only one cup to make you feel refreshed again.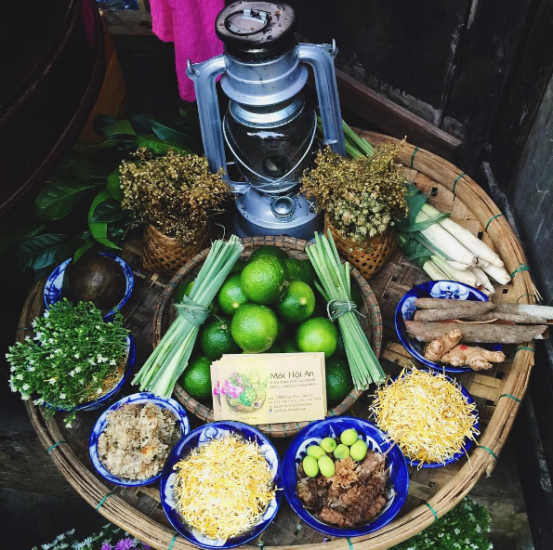 Chanh Sa tea in Hoian is very cheap: it is only 10,000 dong per cup (merely half a dollar). We deem it too cheap for its benefits, too cheap for its flavor, and too cheap for the nice and helpful owner. Only nice words are given by travellers who visit Hoian for a taste of this special herbal tea: nice, refreshing, absolutely great, mind-changing (for those who are skeptical), and impressive, with a light punch of traditional oriental medicine. Travel Indochina Vietnam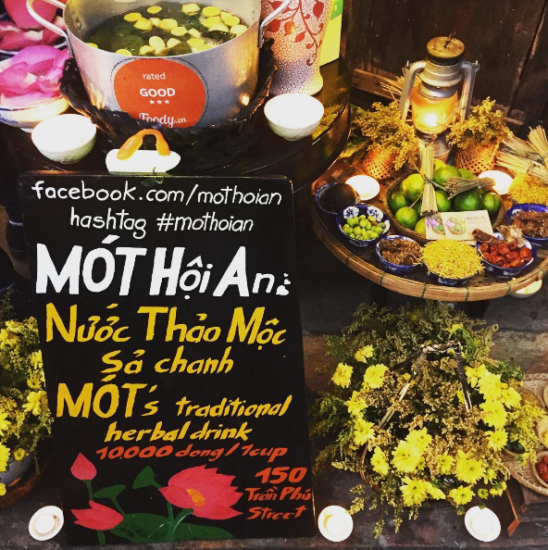 The tea cup itself is beautiful: it is a piece of art. The yellow hue of tea infusion, the evergreen color of the tea leaf, the different shades of pink on one single lotus petal, and brownish color of the jujube perfect a tea cup. People love Chanh Sa for its flavor and its photogenic aspect on their travel pictures.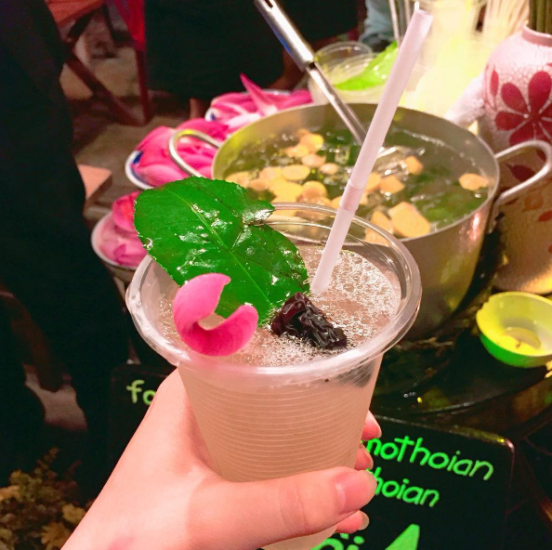 They say the world goes a bit slower when you enjoy a cup of Hoian's Chanh Sa Tea. Modest in taste, decoration, shop size and owner, the shop is authentically Hoian. It brings an old charm that fits in really well with the Ancient Town. Do pay attention because you might miss Mot's, and it is such a big pity to do so.
See more:
IV Insider