Squid fishing is considered as a quiet yet interesting way to spend your time on the cruise after having dinner in Halong Bay, which is often thought as one of the world's most beautiful bays. As this bay is known to have several squid squads visit during various times of the year, you can definitely try your own hand at it. Squid fishing is mostly experienced at night with lights hanging on the side of boats to draw the squids. You will receive the useful instruction from local fishermen about how to fish a squid in the sea. You can read more: Dragon Pearl Junk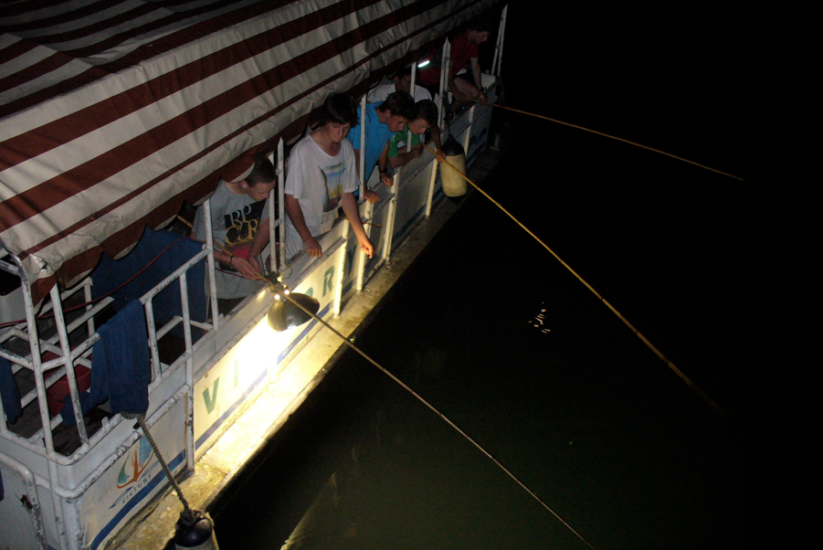 Fishing is one of the daily life activities of local fisherman in Halong Bay, who live in the floating village and go fishing every day. In addition, fishing is also a fascinating activity at which you can experience the feeling of being a Vietnamese fisherman. Cong Do Lake, Titov Island or fishing villages are some ideal places for fishing.
In the Halong Bay fishing tour, you will be transferred to a local fishing boat, designed in traditional style and experience making noise while casting the fish net and getting your results as a real fisherman. Even a short fishing trip can create the genuine feeling of being a local on these waters, and offer all tourists an exciting and interesting excursion.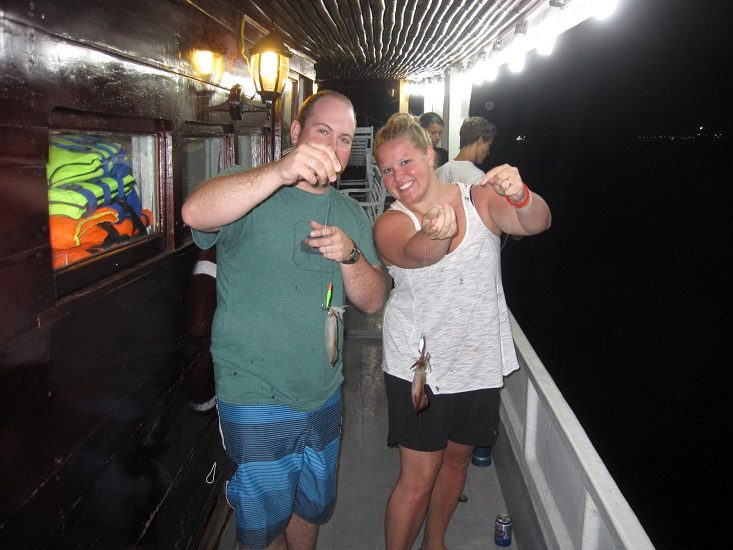 On the night journey on Halong Bay, night squid fishing should be the most interesting activity and wonderful pleasure. You will be fully provided with racquets and fishing rods to actively use them to catch your own squids. Clearly seeing light-drunken shoals of squids lazily hovering around; and, step by step each squid is enticed and picked up, remaining totally fresh and convulsively striving, you must be excited. Especially, during the squid season, don't be surprised if you can see some large shoals of squids surrounding the cruiser and for each squid fishing night, each of you can catch an average of 30 squids. Halong bay Paradise cruise
After hard time trying to catch squids, you will have them made into these delicious dishes. It is also your perfect time to gaze Halong Bay by night. The sea water surface is sparkling with the light reflected from cruises anchored on the bay. Foreigners are extremely fond of boiled whole squids as when chewing, they can enjoy the interesting feeling of ink line breaking out pitch-black in their mouth, splashing all over the face and taking pictures. The tourists eat while singing Karaoke and dancing. In alcohol yeast, everyone becomes enthusiasm and excited singers and dancers.
Once deciding to go cruising to enjoy the magnificent seascape and dreamlike coves of Halong Bay, travelers will consider squid fishing as one of the most interesting outdoor activities. The feeling of dropping and catching the net like a real fisherman triggers many tourists' curiosity making night squid fishing one of the many highlights attracting attention of people worldwide.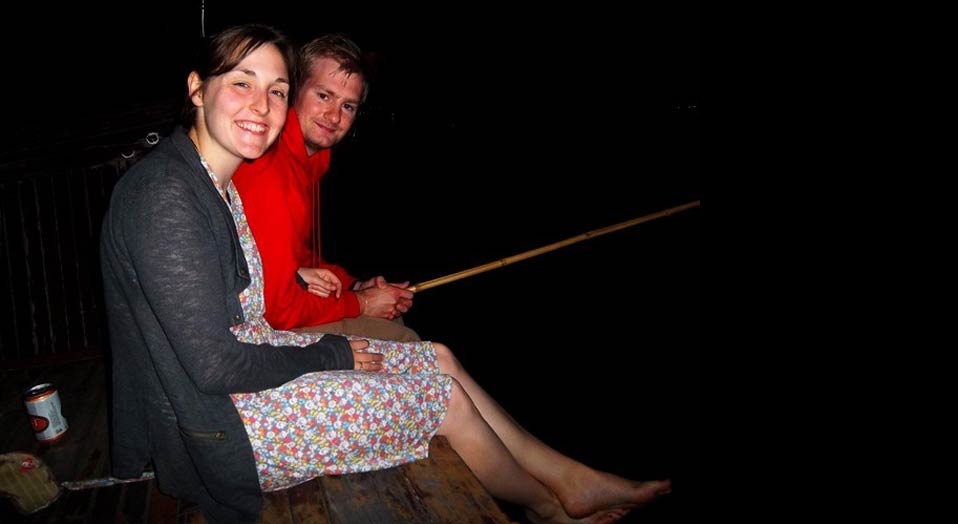 April marks the beginning of the squid season and January marks the end of it. Though early on, the squid are often at smaller size, as the season goes on, the more the squids feed themselves, the bigger size they are. The period from August to December is the highest peak of the squid fishing season and it is advisable to wait until October and November if you have the desire to catch squid with the biggest size throughout the year.
Apparently, you will find most of your squids around seaweeds and rocks. As you may well see squid-ink stains on the decking, you will often be able to tell if a squid have been caught recently. Remember, night time is likely to be more productive.
What all tourists are equipped with is a bamboo fishing rod, whose length is about 1 meter with a hook fitted to the fishing line. A small sharp thing is on top of the fishing rod.
Hereunder are some squid fishing techniques for newcomers: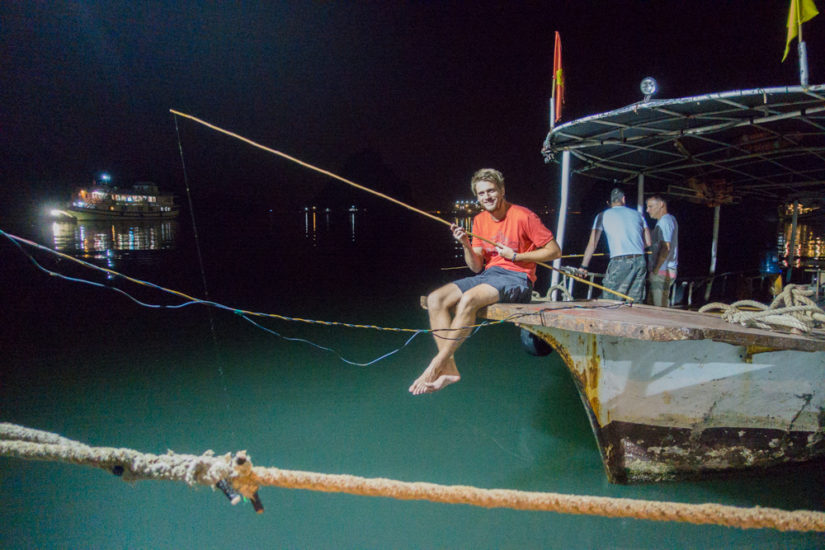 Go fishing at night
Fish on calm water
Choose a location where a strong light shines into the water
4-12m is the best water depth (7m is great)
Use quality jigs and keep them moving at all times
Set the hook when you feel the slightest pull on your line
In order to keep the squids alive, it is best to cook them immediately or keep them in a big tank. They do not last long in a bucket. Otherwise, you can have the cruise's chef use these squids for a delicious on board meal for you and your family.
See more:
IV Insider