In North Vietnam tours, the first place you should not miss is Hanoi – the capital city of this Southeast Asian nation. This city offers you not only historical values forming from many years ago but also a modern look of the second biggest city in Vietnam. Besides Hanoi, Ninh Binh is also a worthy site to visit because of its distinguishing geographic pattern and breath-taking landscapes. The last spot of your itinerary ought to be Halong Bay, the most famous wonder of Vietnam. Now, let's plan your tour from Hanoi and Ninh Binh to Halong Bay tour in 5 days​ in detail.
Spending your first two days in Hanoi
Depending on your interests and wishes, you can choose to join some of recommended activities below during your Hanoi​ city tour:
Walking around Hoan Kiem Lake
If you'd like to get away from the noise, traffic congestion to enjoy fresh air and the peace in the center of this city, then going for a Hanoi walking tour around Hoan Kiem Lake is the advisable thing​ to do in Hanoi ​for you. Moreover, it's the chance you can learn about the legend relating to the name of the lake.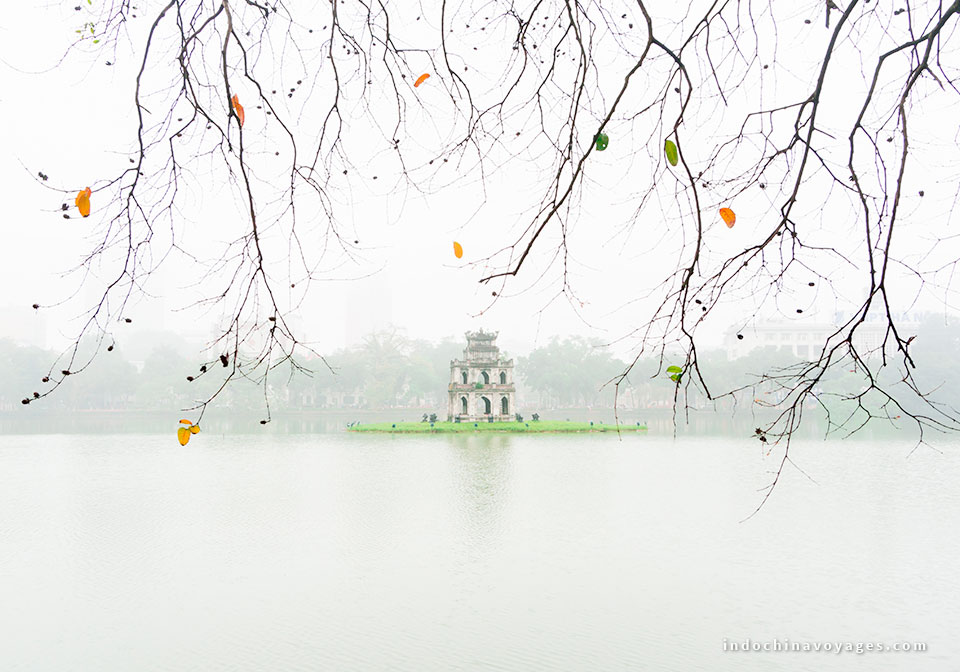 Visiting the Temple of Literature
Known​ as the first university of Vietnam, the Temple of Literature bears all the typical features of Vietnamese ancient architecture. This is also the place where you can try and expand your knowledge about calligraphy.
Watching a water puppet theater performance
Water​ puppet, originated from rice civilization of Vietnam, is the unique cultural value that is highly appreciated in many countries. It will cost you about 100,000VND to have a ticket for a water puppet show. In Hanoi, you can see a water puppet show at Thang Long water puppet theater, Lotus water puppet or Vietnam Museum of Ethnology.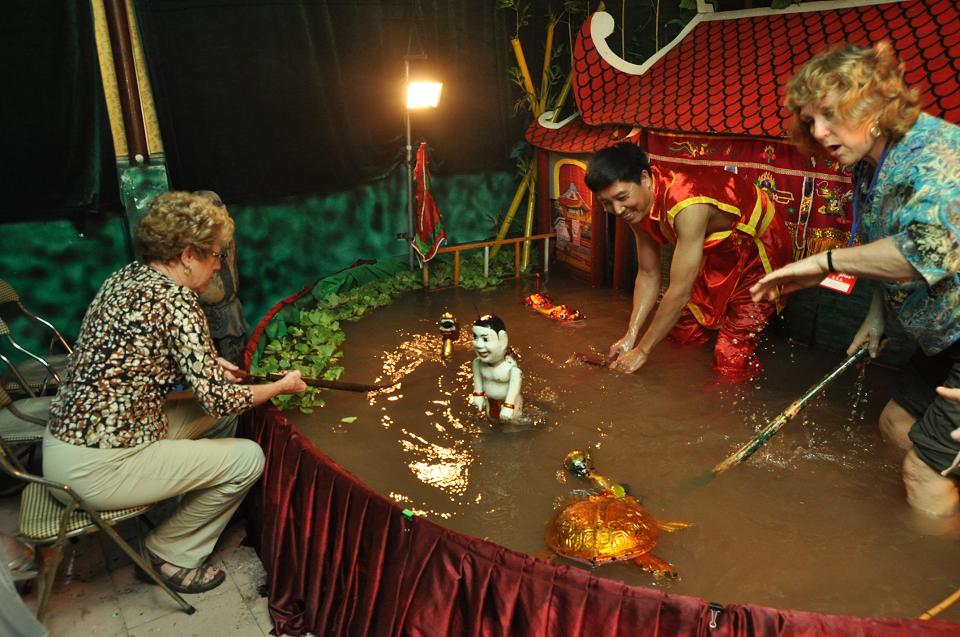 Touring Hanoi Opera House
This​ building was erected by the French colonial administration and was modeled on the Palais Garnier. Most big entertainment events of Hanoi are held in this building.
Trying local dishes
The​ must​-thing to do in Hanoi​ during your 2 days tour is Hanoi street food tour. Pho, Bun Cha, Cha Ca, Pho Cuon, Banh Cuon, etc. are names of dishes that you always hear when referring to Vietnamese cuisine. You can have a taste of such dishes almost everywhere in Hanoi, from luxury restaurants to pavement of the streets around the city.
One day in Ninh Binh
Getting to Ninh Binh from Hanoi
Going to Ninh Binh from Hanoi,​ you can choose to use coaches, trains, motorbikes or private cars to continue your Ninh Binh – Halong Bay tour in 5 days.​ Each means of transportation has its own benefits and drawbacks. For safety, coaches and trains are good options. In case of using coach and train, you have to get to Trang An from central Ninh Binh by taxi or motorbike taxi. However, for gaining great experiences, motorbikes and private cars are recommended.
The route from Hanoi​ to Ninh Binh by private car​ you can consult is Phap Van highway – Gie Bridge – Ninh Binh. It will cost you about 1 hour to reach the center of the province.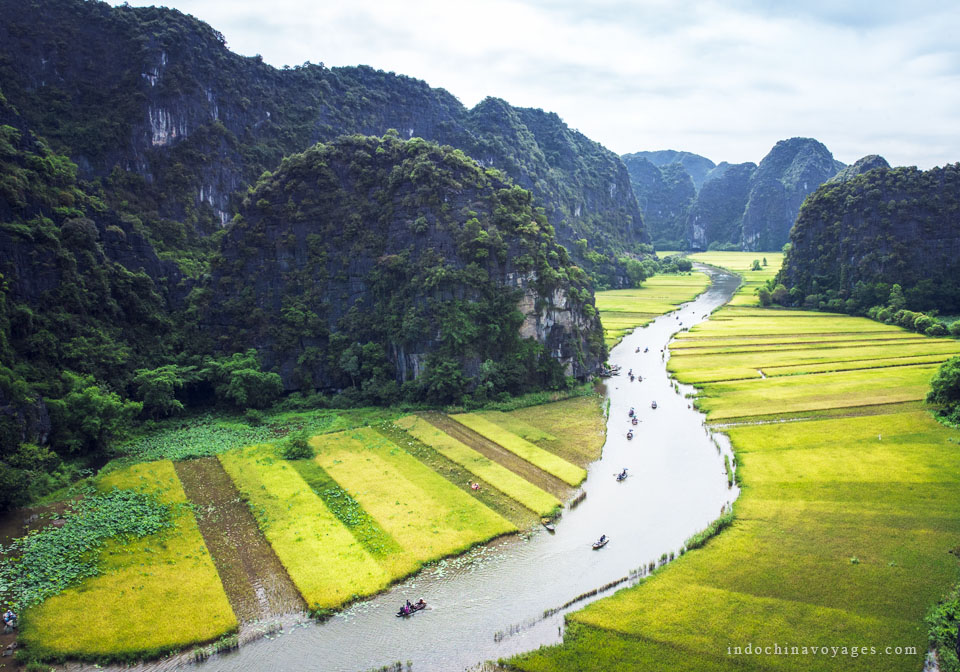 Ninh​ Binh highlights
Ninh Binh Vietnam​​ is known as a high density of natural and cultural spots; from Cuc Phuong national park, grotto caves and rivers in Trang An Scenic Landscape Complex, Hoa Lu ancient capital to Vietnam's​ largest Buddhist worshiping complex. As Trang An Scenic Landscape is 8 km far from Bai Dinh Pagoda, it is reasonable to visit these two destinations on the same day.
The first half of the day travelling​ around Ninh Binh ​need to be spent in Trang An Scenic Landscape Complex. Going​ through hundreds of years under the effects of nature, limestone mountains and caves having various shapes of stalactite inside have become the main scene of this area. Covering these limestone mountains are tropical forests with the diversity of flora and fauna; which brings fresh air and breathtaking landscape for Trang An Vietnam. However, things that make this location become mysterious is wallets under mountains; and the fact that all the caves are connected by lakes, streams, and rivers. Therefore, your ​excursion​ to Trang An using boat will give you a chance to fully make the most of this tourist destination.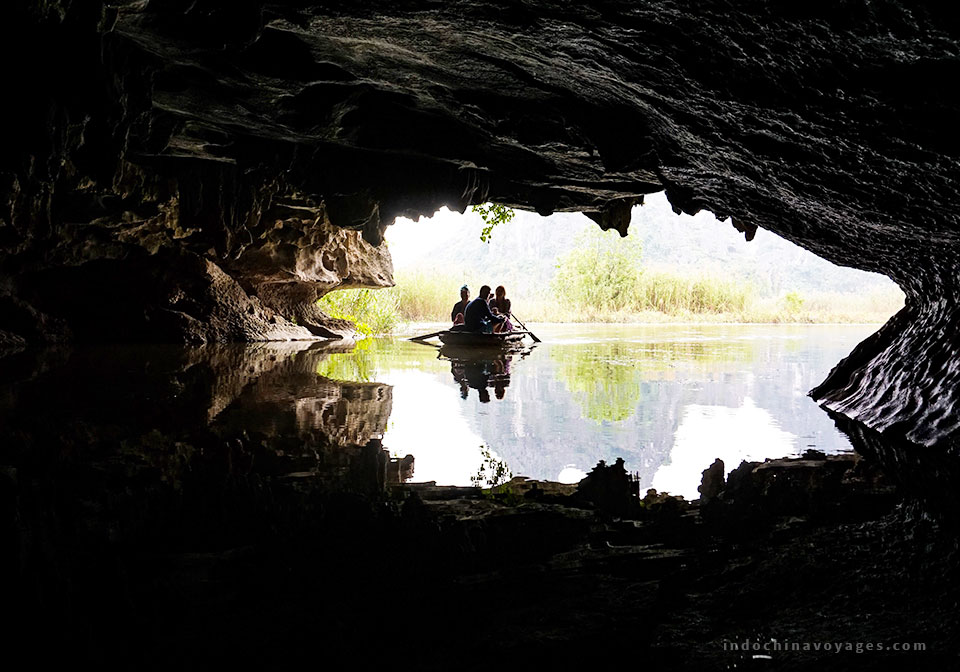 Bai Dinh Pagoda is one of Ninh​ Binh highlights​ that is worth spending the last half of your day experiencing. Inside this largest pagoda of Vietnam, there are several temples and over 500 intricately carved status of Buddha, including one with 10 meters in height.​This pagoda​is holding many records of Vietnam, Asia, Southeast Asia. From the 100-meter-high-tower of Bai Dinh, travelers have an opportunity to gaze with veneration the landscape of the surrounding area.
Exploring Halong Bay in the last two days
Getting from Ninh Binh to Halong Bay
After a day touring Ninh Binh, you can consider booking a room in a hotel or a guesthouse.​ Ninh Binh accommodation​ varies in type and also in price, you are able to rent a room with a reasonable price. Therefore, how​ to stay in Ninh Binh isn't a difficult question. Still, it is suggested that you should book the hotel in advance. After the night, travelling​ Halong Bay from Ninh Binh ​in the next morning with about 100,000VND going by coach isn't a bad idea.
Being a World Heritage site, Halong Bay is often thronged with people during the height of its tourist season. So, the first thing you need to do when planning for a 2-day-trip to this destination is booking a cruise in advance.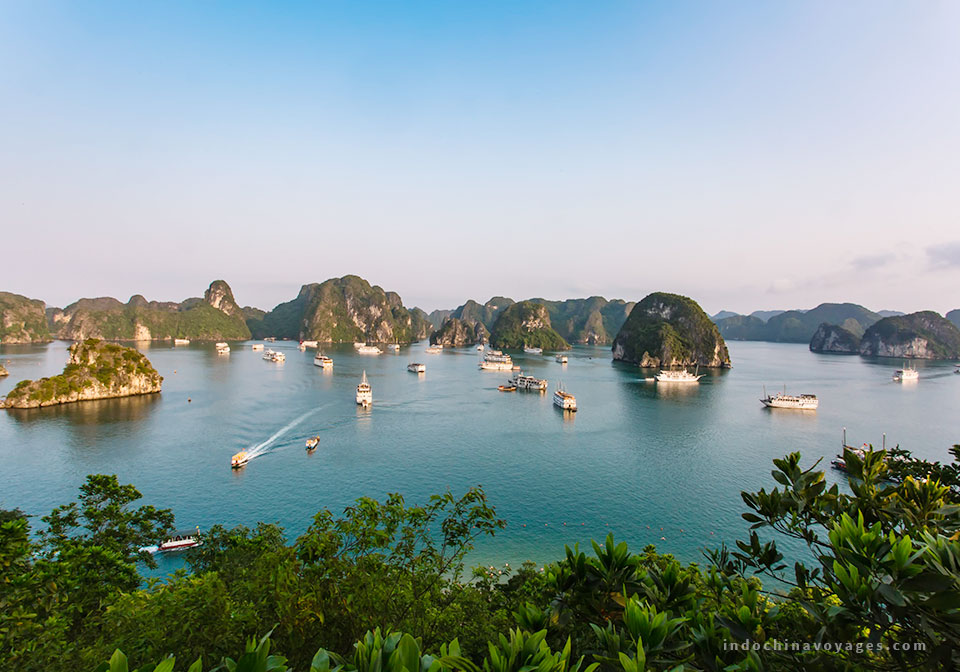 Things to do in Halong Bay
There are many things​ to do in Halong Bay making your trip become memorable.
Taking a Halong Bay cruise
Since Halong Bay is covered mostly by islands and water, the best method to make the most of this site is to use the boat. With about 2,000 islands, Halong Bay offers travelers various options about where to go.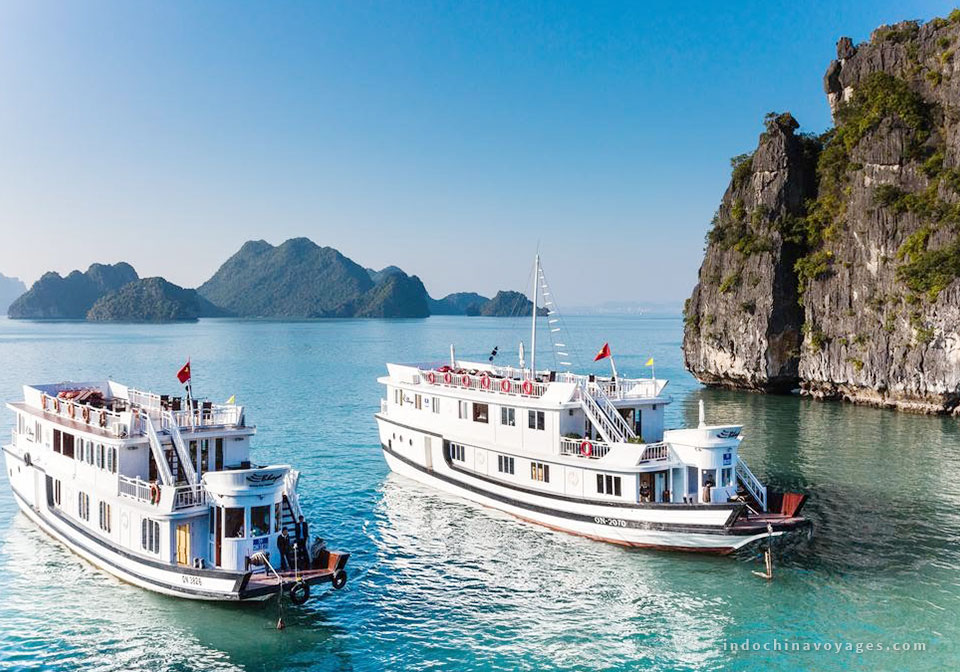 Kayaking
If taking a cruise only helps you to sense beautiful landscapes of Halong bay, kayaking will give you a closer look at the caves and limestone karsts of the bay.
Hiking around Cat Ba National Park
Interested in ecological diversity of Quang Ninh province? Cat Ba National Park, which is home to different endangered animals, is the right place for you.
Going night squid fishing
This seems quite weird but it is worth trying, especially for those who are night owls. One special thing is that you can enjoy a barbecue with the fish that you caught.
Above is a detailed plan for a tour of Ninh Binh to Halong Bay 5 days from Hanoi, depending on your interests, you can alter to make it more suitable. Enjoy your trip!
Toan Do – Travel lover