Being the beginning time of summer in the Northern Vietnam as well as Halong Bay, June is considered as such a fascinating time to explore the natural charm of Halong Bay by taking part in a wide range of outdoor activities such as swimming, kayaking, caving, etc. Let's well prepare in advance and experience an amazing Halong Bay cruise trip in June. Adventure Indochina travel
Having exceptional scenic beauty, Halong Bay is not only one of the most stunning and impressive sights in Vietnam but also one of the greatest natural wonders in the world. Treat yourself to a trip on Halong bay tours and Halong bay cruises in order to truly explore its beauty and peacefulness.
Weather of Halong Bay in June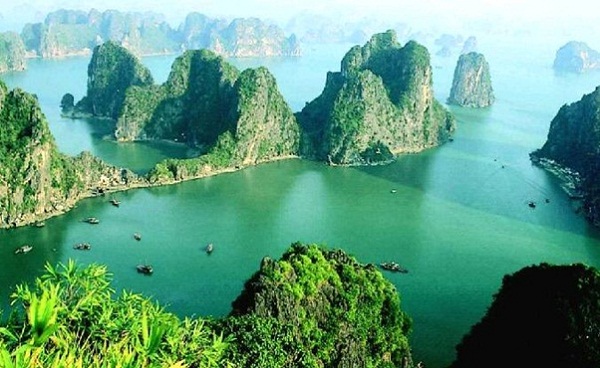 In Halong Bay, summer officially starts in June with the mean temperature of about 29 degree Celcius. The maximum day time temperature can spike to 35 degree Celcius while night time temperature is at 25 degree Celcius. It may be sunshine time during 8 hours each day. In this month, there is an estimated some days of rain and the average rainfall is 175mm. However, during the days, the rain will not last long but a short time.
June, whose sunny time allows you to participate in many outdoor activities and to have a relaxing time on the sandy beaches, can be seen as the most suitable month in the year to visit Halong Bay. In addition, in this early time of summer, storms normally do not reach Halong Bay.
Activities on Halong Bay Cuise in June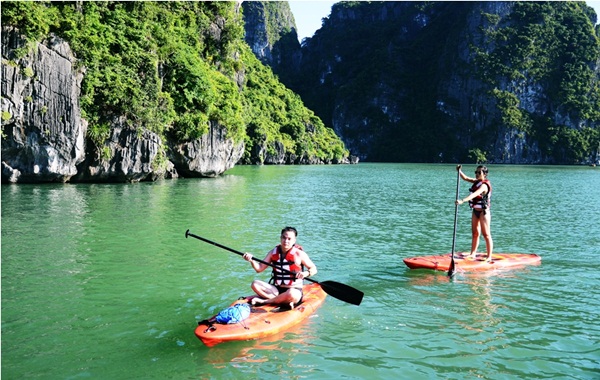 With beautiful natural wonders on water, clear blue sky and sunny time, June is such an exciting time to visit Halong Bay. In the morning or late afternoon, it is amazing to go swimming on immense sea water of Halong Bay. It can be a lifetime memory lasting long during your travel and even your life by being on a wild beach and admire the spectacular sunset over thousand limestone islands. Another interesting outdoor activity to take in the natural beauty that you cannot miss is kayaking on calm sea water, particularly in summer. Alova gold cruise Halong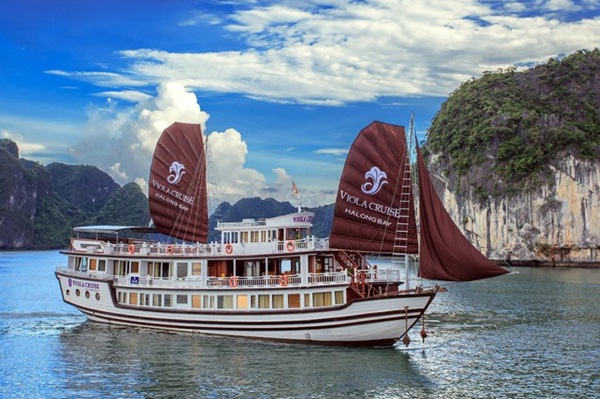 As visiting Halong Bay on a cruise, it is a must do to paddle to get closer to the great limestone island while getting low to sea water and tasting the beauty all around. There are more things to do including: biking, trekking on Cat Ba Island, fishing with locals, row to visit colorful floating village, visiting a cave on the island, enjoying a BBQ lunch on the beach or a special dinner in cave as you do an overnight cruise on Halong. In this sunny time of the year, all the activities are so exciting. To get the best view, witnessing incredible sunset on a high location (boat's sundeck, islands) is one more thing that you should not miss. Do not miss it as Halong Bay can be one of the most stunning places in the world for sunset watching.
Low season with valuable offers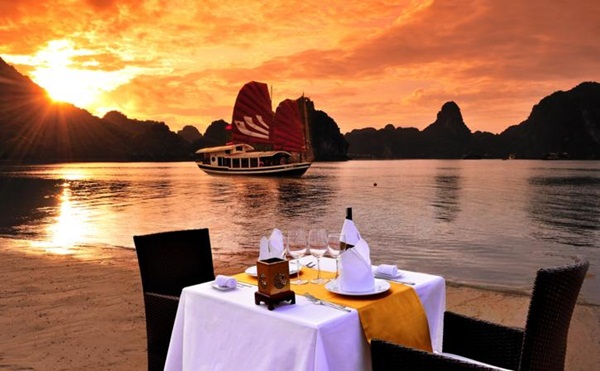 Most cruise operator will have special summer promotion starting from the first of June as the months from June to September, are thought to be low season for travel on Halong Bay. When choosing a cruise in June, do not forget to ask for this summer promotion deal. It is unsurprising that all travel agencies and hotels in Hanoi have cruise tours to sell as it is the most popular way to experience the bay.
See more:
I love Vietnam