Filled with thousands of natural islands, islets and limestone Karsts, Halong Bay luxury cruise, which is simply jaw-dropping, is a must do when you are traveling in Vietnam with your kids. This charming bay might be one of your best memories and most gorgeous sights of natural beauty in your world travels!While on-board Halong Bay cruise, your children will have a fabulous time searching for the different shaped Karsts such as fighting cock or tiger, etc. It will certainly be a wonderful experience with kids.
Halong Bay Family Friendly Cruises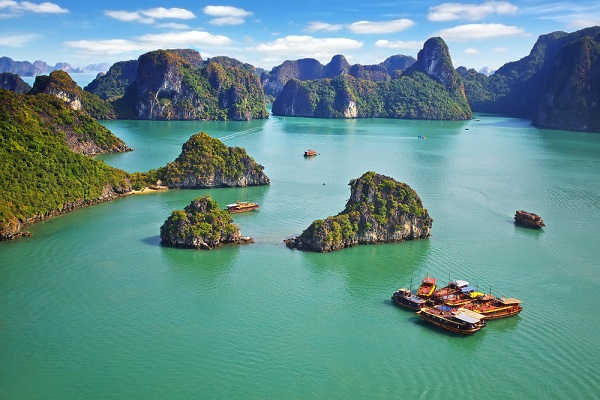 When enjoying family holiday in Halong Bay, a junk that is suitable for children is definitely what you need to find.
There are a large number of Halong Bay boats for you to choose from. When picking, better choices are often bigger boats with kids. It is likely that they will offer more interesting activities onboard and there are other families with kids for your kids to interact with. You can choose a company with a website with full information about safety features, itineraries and meal planners so you can be sure of an unforgettable experience if you have selected and booked your boat before you leave home.
The Au Co Cruise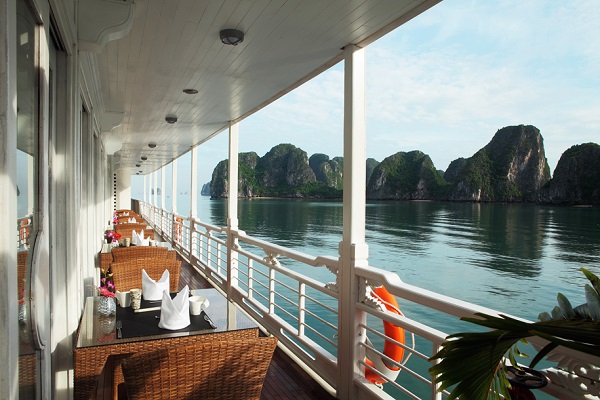 With brand new vessels, operating since March 2012, the Au Co is the first, the one and only luxury cruise in Halong Bay to have three day two-night cruises with stops at Bai Tu Long Bay, Lan Ha Bay and Cat Ba Island. Now, there are no other boats in Halong Bay but Au Co can do that.
The guarantee of maximum luxury, safety and comfort for your family trip is what makes the Au Co outstanding as the only steel made vessel. 55 meters long, the lovely Au Co is not only the biggest boat but also one of the best cruises. With 32 cozy rooms, enough room to move about comfortably and a fine-dining restaurant, Au Co is your choice for the family trip. In spite of this luxurious trip's hefty price tag, a 3-day-2-night cruise will give you the memorable experience.
Bhaya Cruises
With 7 vessels with daily departures from Hanoi to choose from, Bhaya Cruises is one of the best family-friendly luxury junk operators. Besides 1 or 2 night tours with visits to the charming Cat Ba Islands, you can also demand private boat rentals for your families. A kid's menu together with child size life jackets is also offered. There is a discount for kids aged from 6-12 (sharing room with parents) and children under 6 are free. Halong Jasmine cruise
Paradise Cruises
Paradise Cruises are famous for always being willing to accommodate questions to potential families planning holidays in Halong Bay with kids. Though Paradise Cruises have several boats to choose from, they are all large which means that there will be a lot of other people onboard to meet and there is plenty of amazing things to do on the ship. You can organize a private drive or helicopter transfer through them or simply use their daily buses that leave Hanoi to transport you to Halong Bay.
However, if your family is larger than 2 adults and one kid under 12, you will need to budget for two cabins as all of these cabins on all Paradise Cruises will only accommodate a maximum of three people.
Paloma Cruise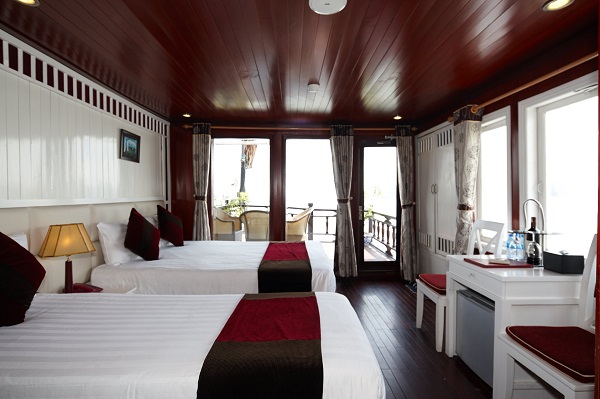 Paloma Cruises have family suites which can accommodate a family of 3 members (2 adults and 1 kid). Children under 12 can get discounts.
Emotion Cruise
With a family suite cabin with a connecting door, one room has 2 single beds and the other having a double bed, Emotion Cruise can accommodate a family of 4. A private balcony is where your family can have unique private memory.
Victory Star Cruise
With family connecting cabins that can sleep a family of 4 and triple cabins available with 1 single and 1 double bed, Victory Star Cruise is a luxury Halong junk suitable for your family trip to this magnificent bay.
Classic Sail
Offering interconnecting double family rooms that can accommodate a family of 4, Classic Sail is another option for your families when traveling to Halong Bay.
Check out the Bhaya Legend II which has 2 suites that can sleep a family of 4 or Prince I Cruise which has 2 deluxe cabins (one double, one triple) and can sleep a family of 5 if you are looking for a private charter.
See more:
I Love Vietnam