Halong bay is widely known as a wonder of not only Vietnam but also a treasure of the world. This place was ranked by a popular England magazine, Wanderlust as one of 12 most interesting sights waterway that should try in the world. Furthermore, its image also appears in the photo collection of a Russian photographer named AirPano. This is a panorama collection about popular cities as well as landmarks in the world and is carried out from 2006. Halong bay is even elect to be one of the most 15 world magical natural tectonic by England news agency, BBC and New7wonder chose it to be on of the top 8th wonder in the world. Travel Indochina Vietnam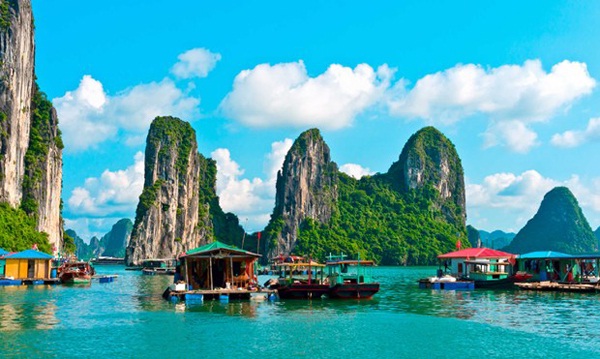 Halong with its natural splendid beauty has vibrated plenteous hearts of those who once come here. During 500 million years of tectonic geology, thousands of islands were created with numerous sizes. Halong bay own 1.969 and great of them are limestone ones. The core of this Bay in particular is 335 kilometers and with 775 islands. Along with the long history, biodiversity is an outstanding feature of this place. Within the area, many kinds of environment exist, in which the two most popular are forest ecosystems moist evergreen tropical rain and marine and coastal ecosystem with a great number of endemic animal. The biodiversity makes Halong bay to become an extremely huge Pandora box that any one thirsty for opening.
Landscape of this place is honestly a magical picture that attract any soul. Sea here is full of purely turquoise all the time. The feeling that Halong brings back is entirely peaceful from its tint, its drift to its space. In spring, water surface is covered by a silver mist, Limestone Island at this time seems to be more lightsome, soft with bobbing waves. In summer time, water surface seems to be widen and all the bay dress a coat gradually from glow to blue. Waves play around the bay creating glitter silver under the sunlight. Orchids gradually grow from interstitial cliff and bloom showing its colorful beauty. Halong bay tours Vietnam

All day and night, Halong has the loveliness that no one can withstand. On sunset, when the sun gradually vanish, the last sunlight beams makes all the bay magnificently glow. In contrast with that gorgeous scene, Halong at night is completely fluty with the silver shadow of moon inside the water. In addition, the darkness of limestone on the horizon contributes fancifulness to Halong night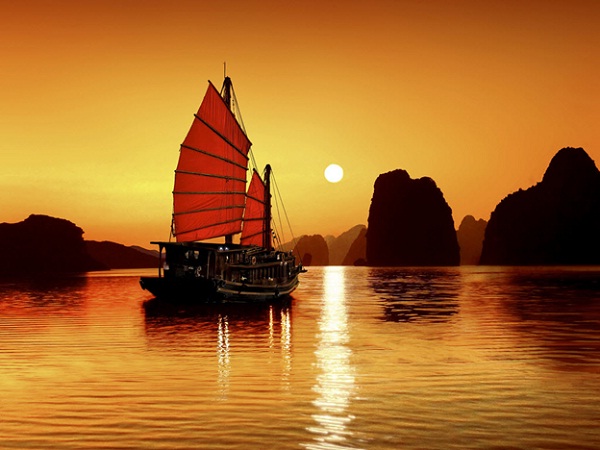 Halong bay not only attract people by its beauty or biodiversity but also by its myths. Almost all islands, caves, beaches attach to myths about loves, life and feats on building up country, .etc. Halong seems to embodies itself a fanciful myth that makes people infatuated. The name of the Bay also comes from a myth that God ask mother dragon to lead its children down to Vietnam to help people here fight against invaders, and these dragons stay here after the war complete. The name Halong means the place where dragon downs
For entirely enjoying the myth of Halong bay, experience yatch here is an wonderful idea. Along with the waves, among thousands of yatchs landscape gradually appear. Sometimes, yatchs come close together and sometimes others turn into many direction leaving space for other. Trip on water seems to has no last for forever.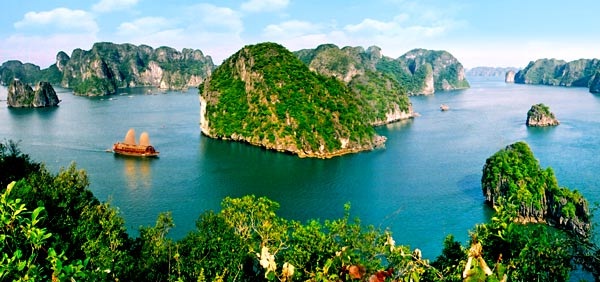 Halong is a dream and a myth where nurture dreams with its beauty from sight to soul. Halong with its huge space and value always open its heart for anyone. The Bay is tolerant, dulcet and beautiful as mother, where can heal any hurt, grow any love and nurture any dream or simply as a hospitable friend its waves are waving welcoming you.
Asia travel.
Read more: