We love Halong Bay as much as the next person. But its crowded, tourist-studded islands are not really what you'd call tranquil. If it's serenity and solitude that you're looking for, head to one of Lan Ha Bay – the many hidden, lesser-known attractions. Lying Southeast to the Cat Ba Island, Lan Ha boasts the iconic seascape of the Halong Bay complex, with an intact charm. From rugged limestone mountains, calming water, pristine wilderness to a vibrant fishing scene, welcome to a destination of untouched beauty and thriving nature.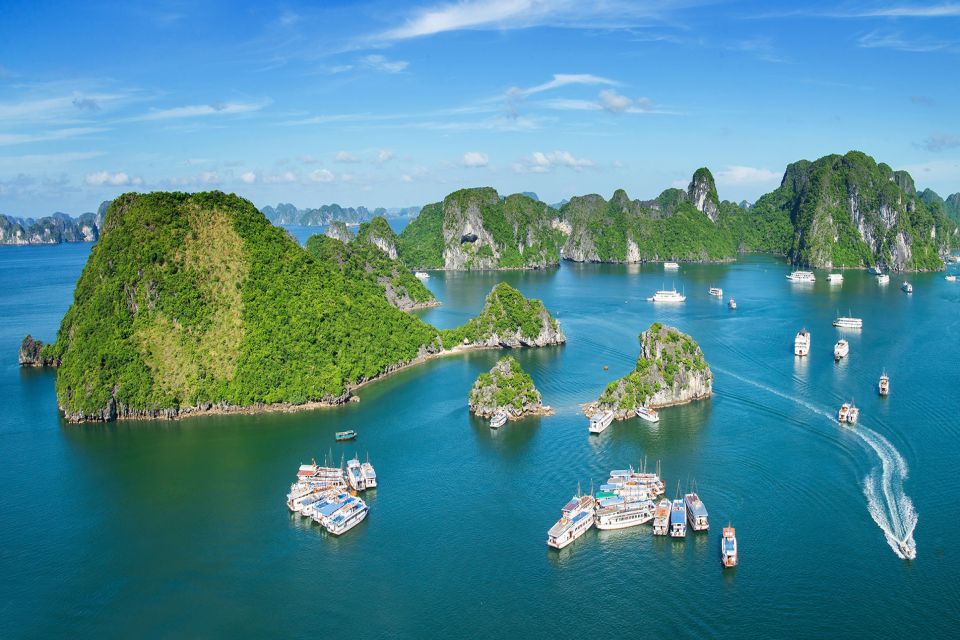 What kinds of activities in Lan Ha bay
There is truly an abundance of activities for you to choose in Lan Ha Bay. If you love to explore the exotic traditions of fishermen, consider a visit to Cua Van floating village. It was voted as one of the most stunning villages on earth. Or if you simply want to lounge on a sandy beach to enjoy the cool sea breezes and warm sunshine, a stop at Monkey Island, Nam Cat Island or Van Boi beach would be perfect. Similar to most of them in the Lan Ha Bay, these picturesque islands have luckily evaded from the exploit of mass tourism. It means that you can always find a spot of your own and indulge in the laid-back tropical vibe.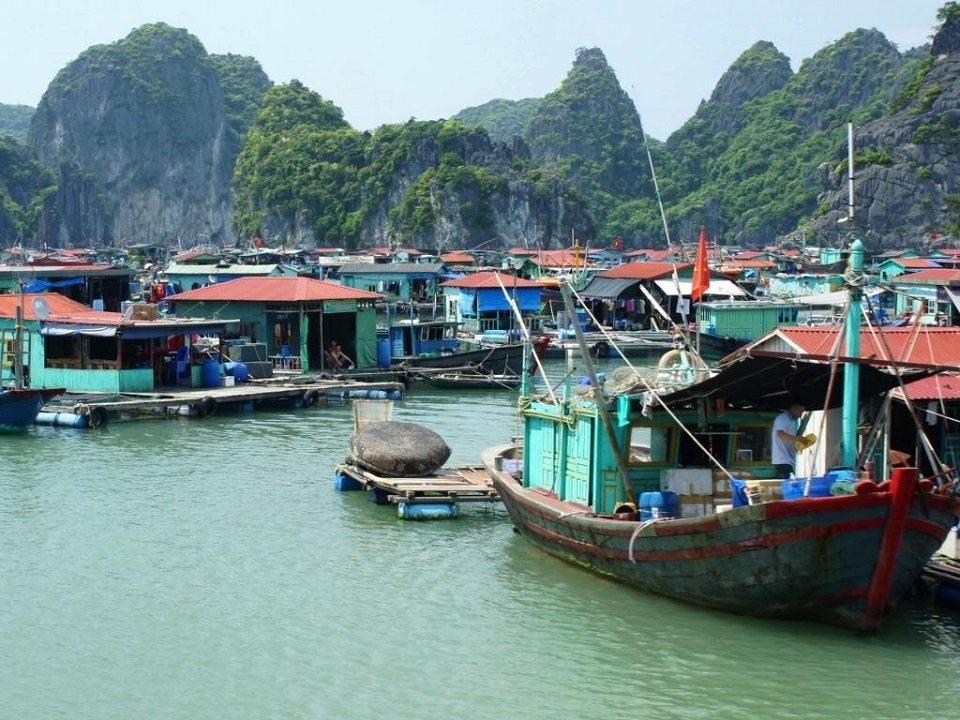 In order to get the best scenery of Lan Ha Bay, you should take an organized cruise tour. On which you can see rugged mountain up close and set foot on many of Lan Ha's islands.
Their professional Tour Directors are attentive and dedicated. Our local English-speaking guides will promise you with a unique insight into their hometown. For sure the sights is not in any guidebooks you have ever read. Providing an insider's perspective, they enable you to appreciate this natural wonder in safety and comfort, helping to craft a remarkable trip you could not experience your on.
3 cruising options for your journey in Lan Ha Bay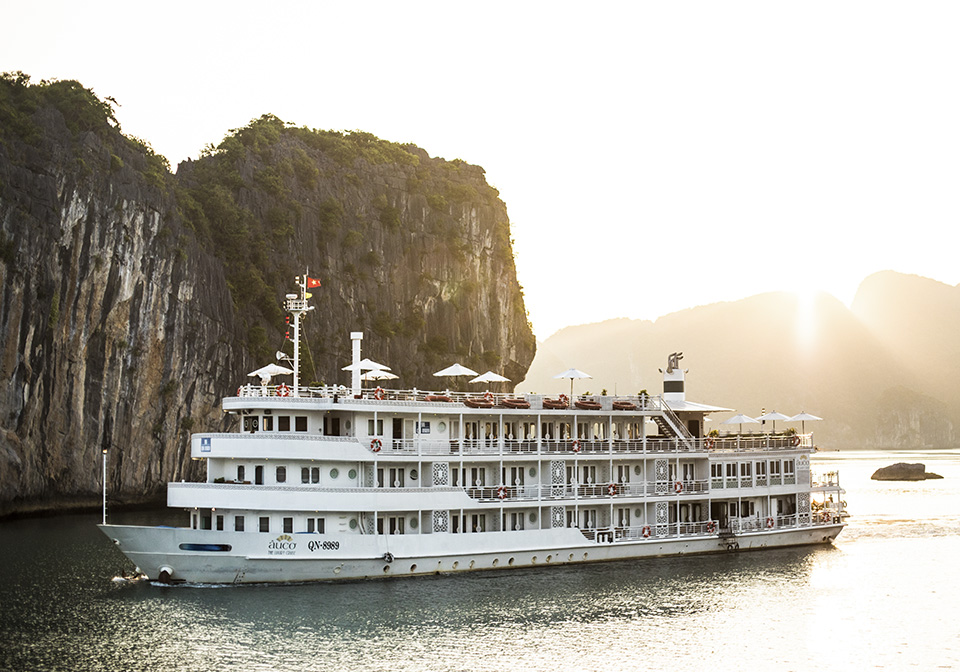 If you are a budget-minded traveler who is looking for a cost-saving trip to Lan Ha bay, Legacy Legend or La Paci Cruise is highly recommended. You can expect a delicious meal plan, comfy suite and friendly crew staffs to help you craft a memorable holiday without spending big bucks.
Meanwhile, you may consider booking Margaret Cruise which comes at a mid-range price. Ships are modern and stylish, foods are tasty and locally-produced,  itineraries are detailed and well-planned.
For those who hope to dedicated their Lan Ha Bay cruises for relaxing, opt for Au Co Cruise or Mon Cheri Cruise. These tours have a very high crew to passengers ratio, thus guaranteed to bring you the finest cruising experience. It is from luxurious cabins and expansive observation decks to unrivaled dining options and excellent spa service.
Halong Junk Cruise is an exclusive travel and cruise booking gateway operated by Indochina Voyages for all cruises and travel activities in Halong Bay. Each of our modern, purpose-built ships is designed to accommodate, feed and entertain discerning passengers in spaciousness, comfort, and safety. Our itineraries are tailored with great attention down to the smallest detail. So you can expect to explore all the popular spots, as well as the hidden gems.
Stylish suite
Halong Junk Cruise features a wide range of suites that exude a calming Asian ambiance, built with comfort and convenience in mind. Each cabin is designed to make the most of the given space and to provide the best view. Expansive windows, as well as private viewing balconies, allow you to immerse in the wondrous scenery whilst your en-suite includes a bath and a shower. Beds are also stylish and comfy. 
Superb dining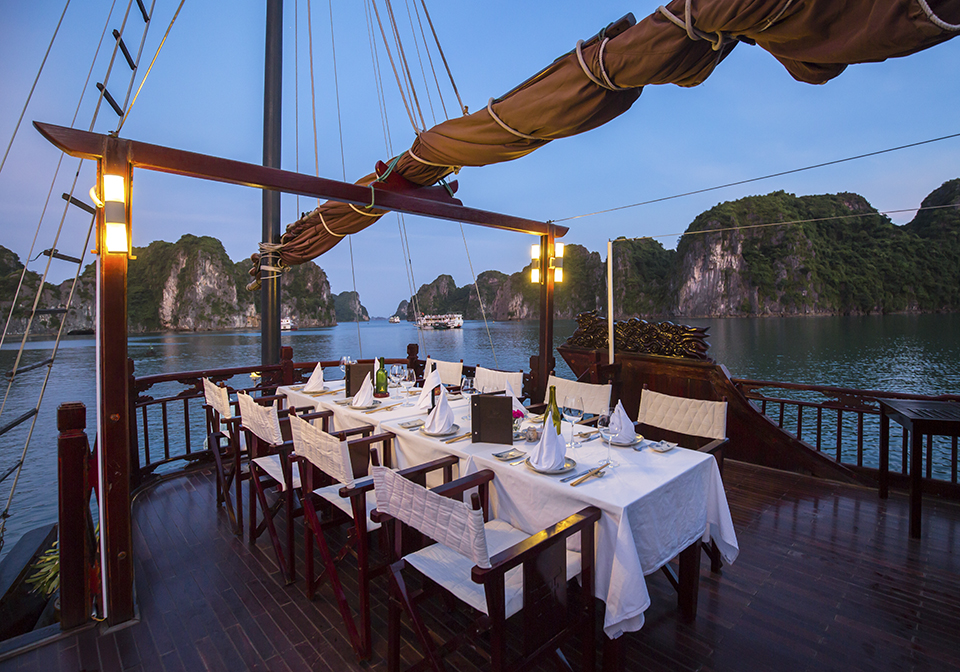 All meals are included during your cruise on the Lan Ha bay, and we make sure they're as authentic as possible. Passengers will enjoy farm-to-table buffets of Vietnamese and Western cuisine, prepared by our skilled chefs. Meals are served on the outdoor deck while you bask in the lovely tropical sunshine.
Note that the excitement of trying out something new while traveling is obvious. Sometimes we miss the thing that is more or less familiar. Tell us in advance if you require a special dietary need, whether you're vegan, have an allergy, and want to exclude/include an item of food. We hope to make sure every passenger stay well fed and worry-free throughout the voyage.
Fun-packed onboard activities
During your cruise on Lan Ha bay, shore excursions are enhanced by a wide range of onboard entertainment, catering to your every need.
Swimming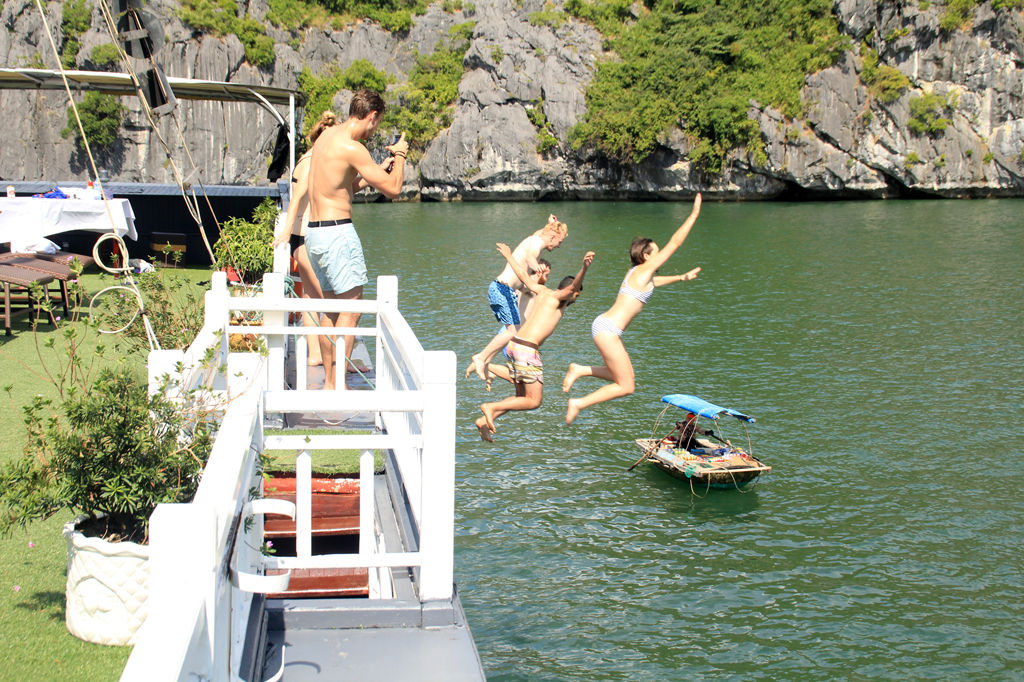 In Lan Ha bay, there will be opportunity for you to crave the energizing and invigorating feel of floating free in the boundless water. Whether it'd be in the middle of the ocean or on an island, cruises on the Lan Ha bay offer life vests, lifesaver and of course, lifeguards to guarantee a safe and comforting swim. Changing weather patterns and potential marine hazards are all taken into account.
Kayaking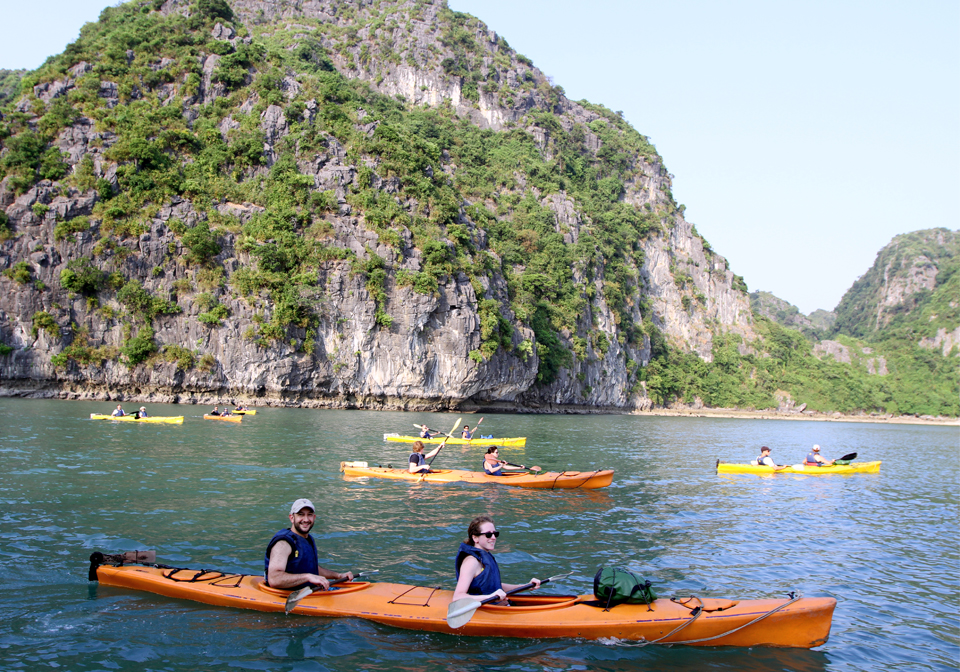 Some caves in the Lan Ha bay don't allow any big ship to get inside due to its small entrance. This means its hidden beauty is only accessible through kayaking. Most of the cruise ships on the Lan Ha Bay are equipped with safe and comfy kayaks. They are ready to serve passengers who fancy a change of scene. Fasten your life jacket, get on a kayak and immerse yourself in the awe-inspiring limestone sculpted by water from thousands of years ago. Meanwhile, look down the sunlight reflected onto the clear ocean and the soothing sound of water padding into your kayak.  
Squid fishing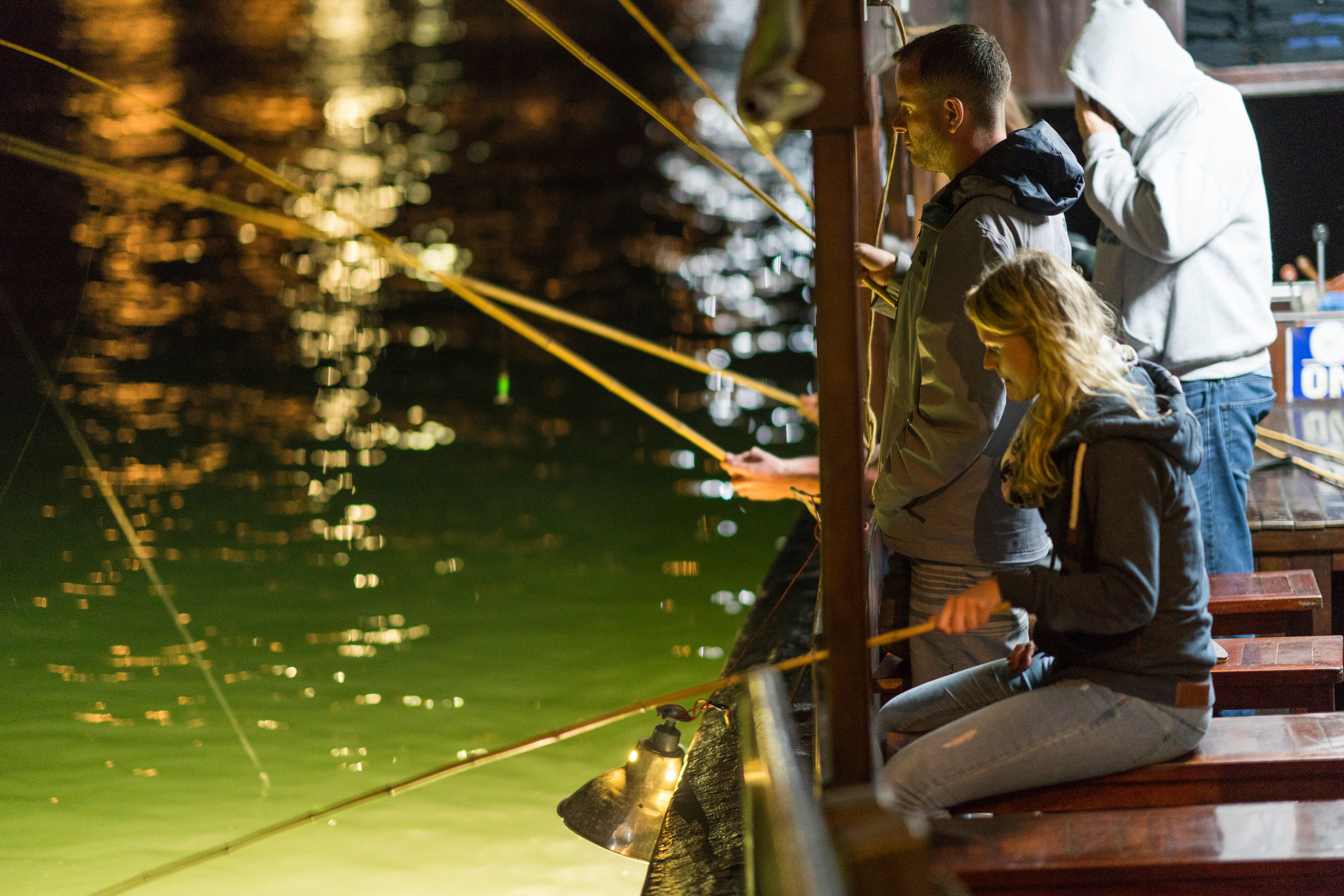 Love to experience Lan Ha sea even when the sun's out? Let's try squid fishing. Each passenger is provided with rods, racquets, and baits. Simply sit back under the sparkling lure lights. Enjoy the serenity while putting your patience to the test at the same time. Who knows how many squids you can one catch? And who doesn't love a rewarding dish of freshly caught squids? This unique activity is also a great way to learn about the traditional fishing techniques that Vietnamese fishermen have been using during their offshore sail.
Cooking class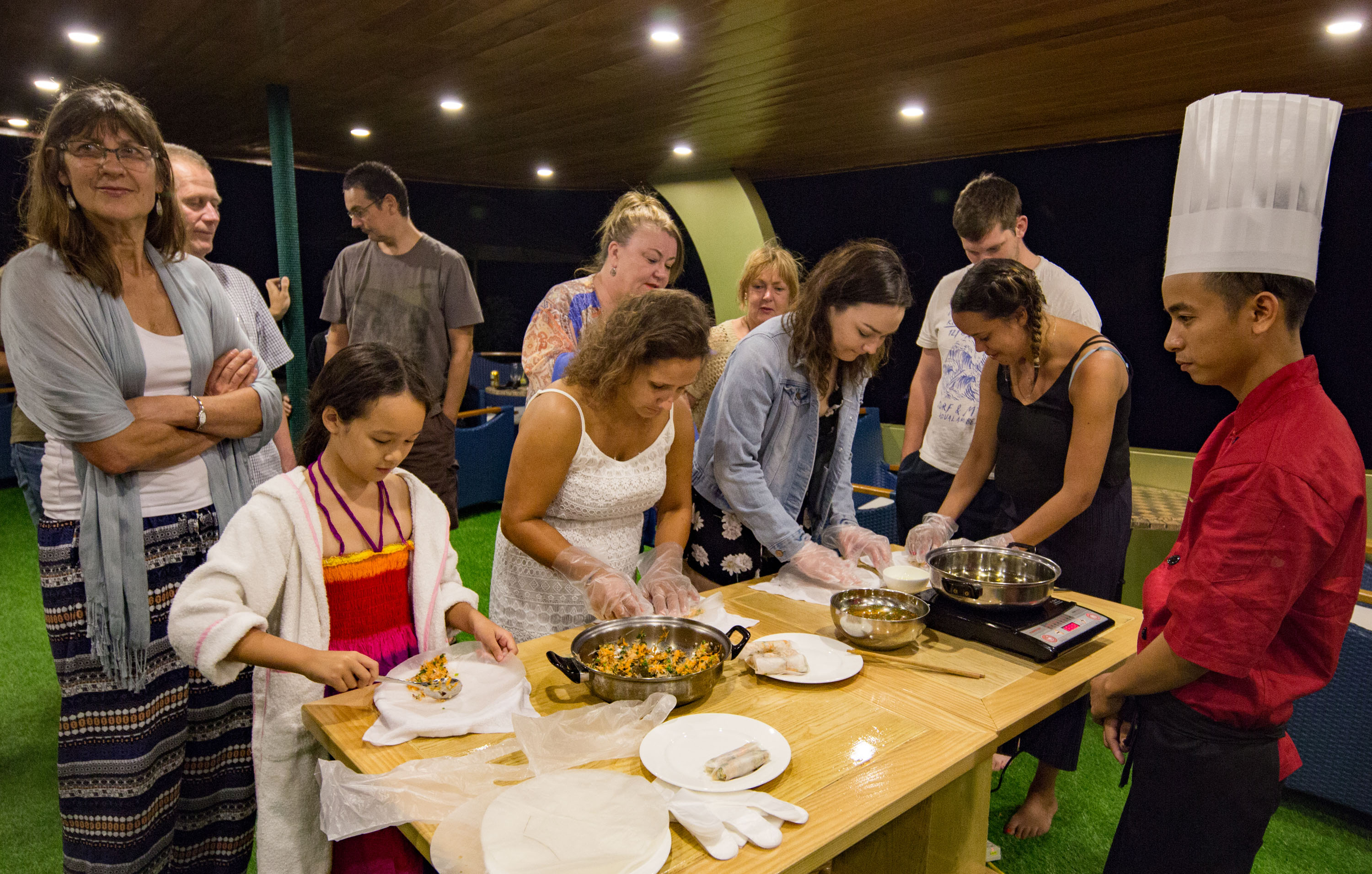 An extremely diverse cuisine, the flavor of Vietnam presents the nation's melting pot of culture. A combination of the ancient Vietnam, the Chinese, the Thai, and the French has resulted in distinctly famous dishes. Dedicated chefs will show you the art of crafting those foods. Being more thoughtful about the served meals will certainly be a highlight during your Lan Ha bay cruise holiday.
Taichi class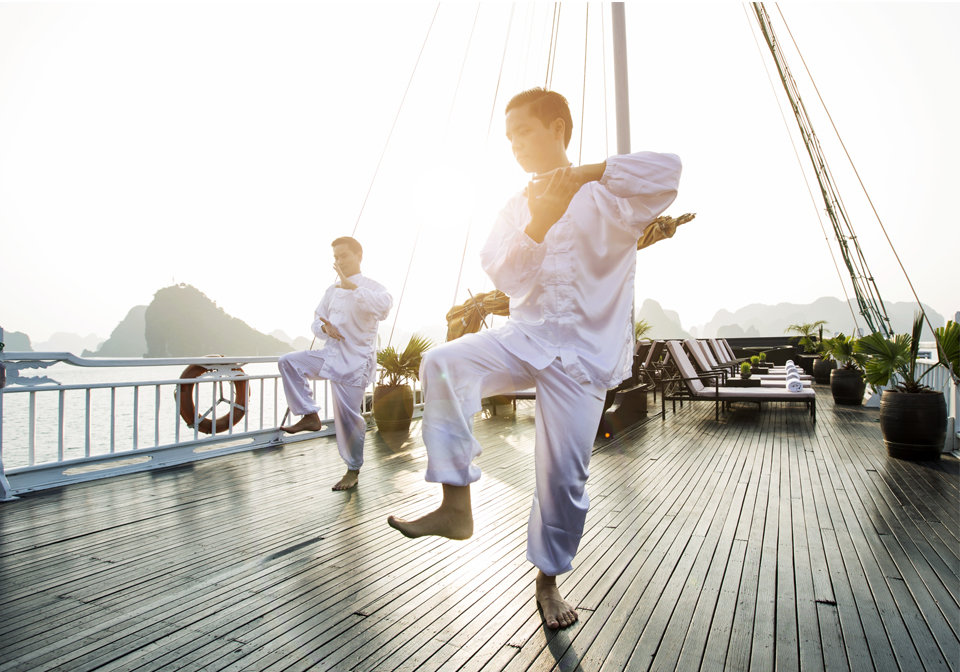 Some travelers desire to turn their holiday in Vietnam into a chance to enhance their health and well-being. So we decided to include a morning Tai Chi session into our itinerary through the Lan Ha bay. Wake up each morning to a refreshing sea breeze and early sunlight, work out your muscle gently and free your mind. It's a great warm-up for other exhilarating activities you might want to do afterward.
So know you have it, an ultimate guide to the unrivaled scenery of Lan Ha Bay as well as some sensational options for your next Vietnam tours. We wholeheartedly look forward to seeing you enjoying the best of your cruise trip to Lan Ha Bay while we take care of everything else.
Huong Giang – Travel Expert