Officially open on 18 December 2007, Jasmine Cruise Halong Bay is one of the luxury cruises for tourists in Halong Bay.
Jasmine Cruise Halong Bay is designed in style and equipped with most luxury and modern facilities. Therefore, visitors will enjoy the best of cruising tours while taking tours to Halong Bay with Jasmine Cruise. The attention to detail and quality of design of Jasmine Cruise in Ha Long Bay is obvious in every inch of this newly-built junk, artfully marrying space, rich 1930s Indochina-style wooden décor and exquisite ornamentation throughout its air-conditioned bedrooms, restaurant, bars and communal spaces on there.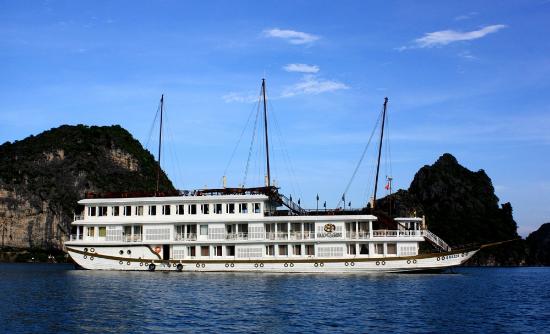 Owning old style of cruising boats in Halong Bay, Jasmine Cruises features 22 spacious cabin, restaurant, lounge and two special Jasmine Suites with their own Jacuzzi & balcony for uninterrupted views of the Bay. A lengthy 55 meters from bow to stern and measuring an impressive 11 meters wide, Jasmine Cruise Halong Bay can accommodate 80 passengers at one time across four luxurious decks, with an overnight capacity of 48.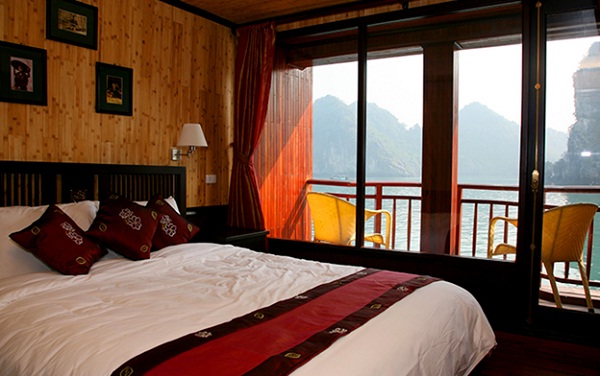 All the rooms on board are spacious and fully equipped with luxury facilities which let travelers enjoy the best of their stay while taking cruising tours in Halong Bay. All rooms have large windows so that travelers have great opportunities to enjoy spectacular Halong Bay in Vietnam. Moreover, travelers will enjoy great cruising itinerary which let travelers visit the most stunning spots in Ha Long Bay. Travelers will visit limestone cave, fishing village, go kayaking, etc.
The restaurant on Jasmine Cruise Halong is beautifully designed and provides a lot of space for enjoy all meals on board while cruising with Jasmine Cruises in Halong Bay in Vietnam.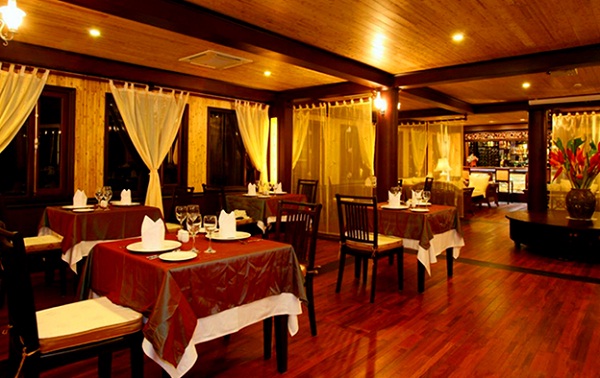 Travelers who join cruising tours in Halong Bay can choose two or three days of cruising tours in this Bay with Jasmine Cruise Halong. Taking a rest in the bay, relaxing on the crystal blue ocean or charming white sand beaches, you will soon forget all the pressure and enjoy your journey to the land of pleasure: wonderful landscapes, fresh and tasty seafood, peaceful atmosphere.
The Indochina Voyages team.