When visiting this wonderful destination, for all tourists, staying a night on a cruise in Halong Bay is a wonderful experience. You are really interested in a Halong Bay cruise trip but you are still worried about activities to do on board, come on board Halong cruise and have a chance to participate in many Halong Bay activities. Especially night squids fishing is one of the most interesting activities bringing you an unforgettable holiday. Alova cruise Halong bay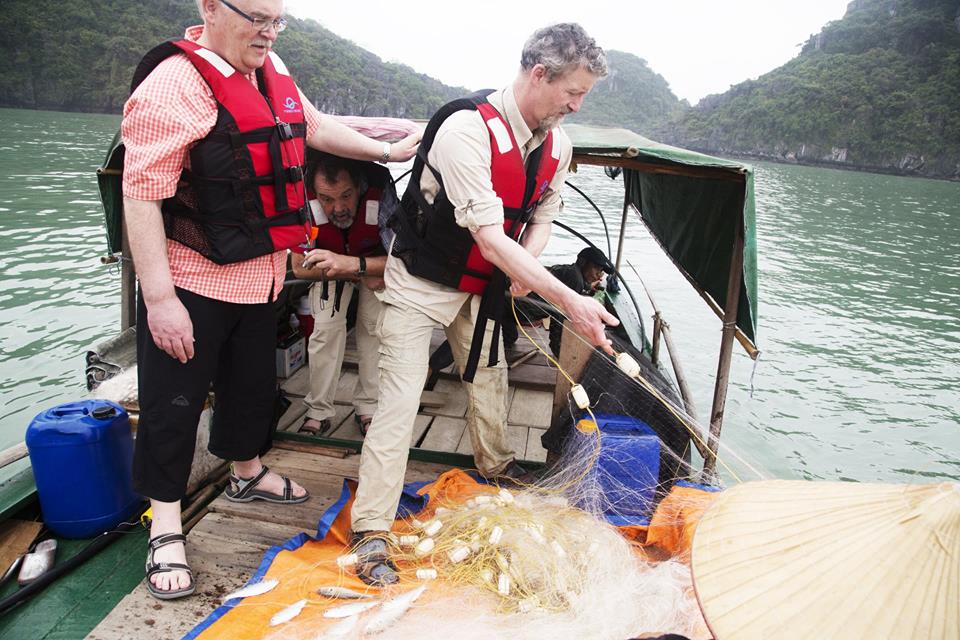 Not only triggering many travelers' curiosity, the feeling of dropping net like local fishermen in Halong Bay also becomes one of many highlights which attract attention of people all over the world. They will provide tourists with racquets with a piece of fishing line tied to it with a large lure and no bait and fishing rod.
April is the beginning of the squid season begins and around January next year is the ending season. As the season goes on, the squids get bigger and bigger although early season, the squid are often smaller. Normally, from August to December is the highest peak of the squid fishing season and you had better wait until October and November if you want to catch the biggest squids.
An interesting activity on Halong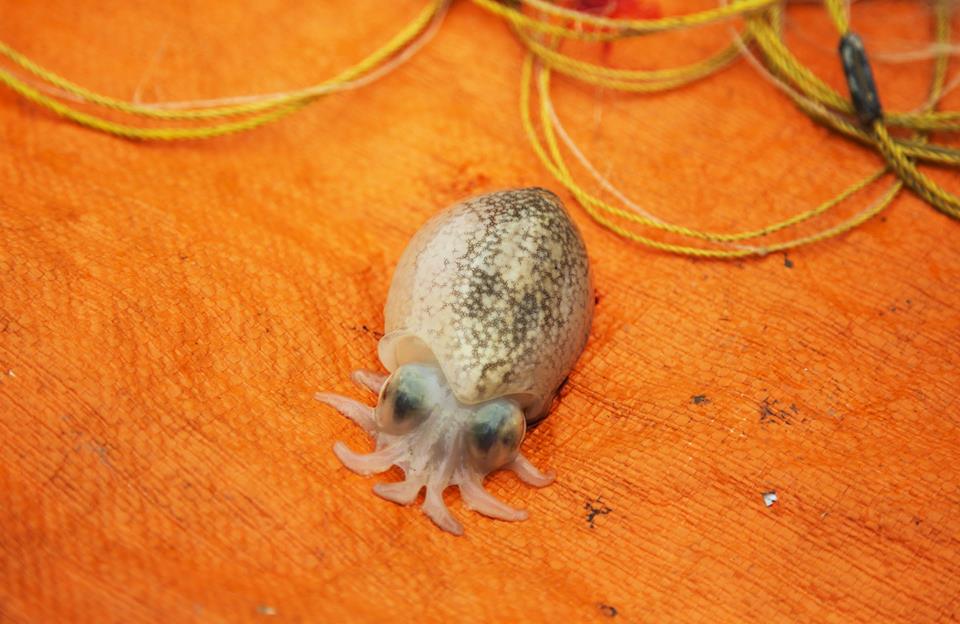 Not only being a livelihood to increase income of the local fishermen, night squid fishing is also a rustic pleasures of travelers during their cruise tours. Winter is the best time for this amazing activity as there are more squids than any time of the year when the temperature drops. A fiber, a rod and a bunch of photogenic hooks are quite simple squid fishing tools.
Everyone can do squid fishing as it is easy. The squid hunt will mistake a bunch of hooks you drop into the water for the food, they will use their tentacles to grip the hook and of course, they will not able to escape. The fishing fiber will be slightly heavier at the top when the squid take the bait, and you will slowly pull up. When catching a big squid, it is an exceptional happy feeling. Indochina travel services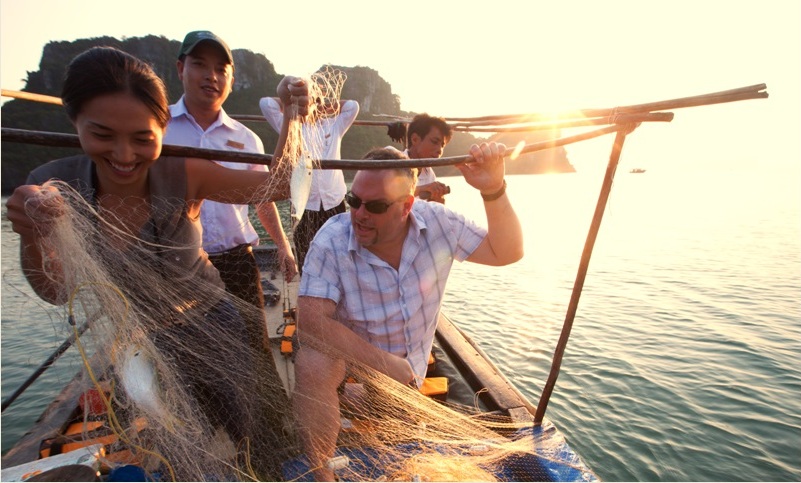 There is a tendency that around seaweeds and rocks, there are many squids. By the squid-ink stains on the deck, you will know that squid have been caught recently. Not that, night time seems to be more productive.
Clearly seeing light-drunken shoals of squids lazily hovering around; and, step by step each of them is enticed and picked up, remaining completely fresh and striving convulsively, tourists must be excited. It is well worth knowing some squid fishing techniques:
Night time is the best time for squid fishing
Going fishing on calm, flat days
Opt for a location where a strong light shines into the water
4-12m is the best water depth (7m is perfect)
Use quality jigs and keep them moving at all times
When feeling the slightest pull on your line, set the hook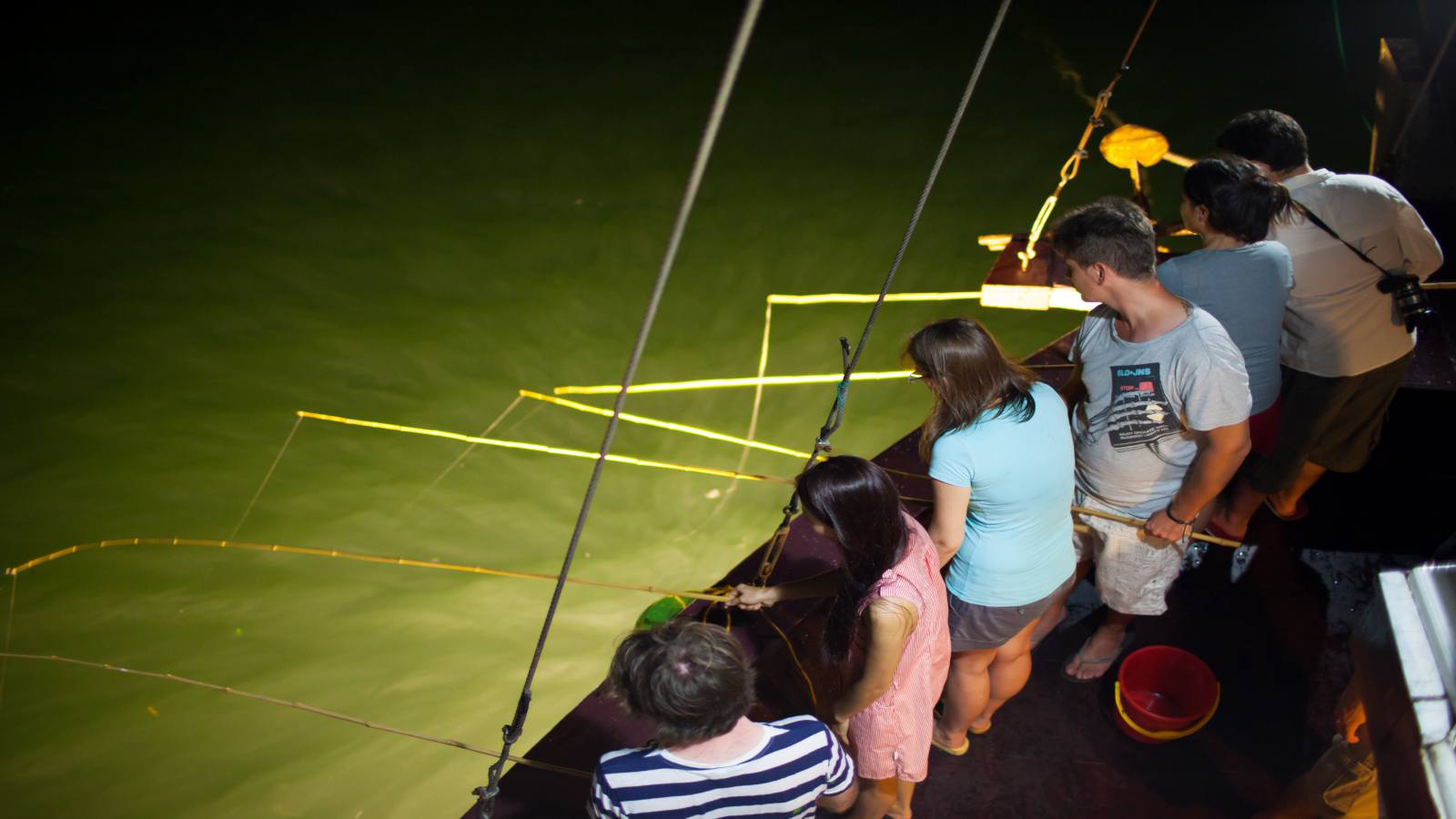 As the squids caught do not last long in a bucket with an aerator, they are best kept in a recirculation live bait tank or used immediately if you want to keep them live. Get the cook on board serve you with the squids caught meals. Joining squid fishing on Halong cruises will be a unique experience in your holiday.
See more:
Asia Travel Love