Located in the northeast of Vietnam, in Quang Ninh Province, Halong Bay covers an area of 1,553 square km, including 1,969 islands. The amazing Halong Bay is famous all over the world for the majestic beauty of the dense rocks and islands, and the natural amazing caves in the centre of Halong Bay. It is twice recognized as a World Natural Heritage Site by UNESCO.
Treasure Junk is a one of a kind vessel in the whole Halong Bay. Based on a solid structure and re-designed in a wooden junk style. It is stable, able to navigate in any seabed of the region and can easily face the rough if needed. Its giant sails may come as a support to the engine if the winds are with you; they are part of the folklore and give a nice sensation of embracing the big outdoors.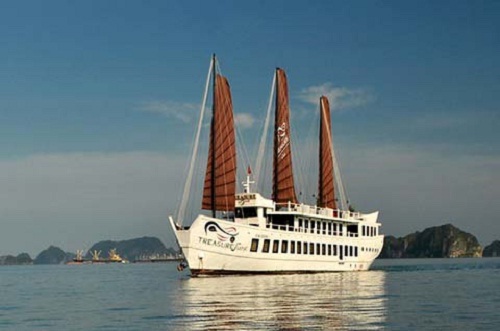 Treasure features 15 cabins, all equipped with comfortable bedding, private western standards bathroom and a stunning view through large windows. There are 2 Suite Cabins, 2 Superior Double Cabins and 11 Superior Twin Cabins.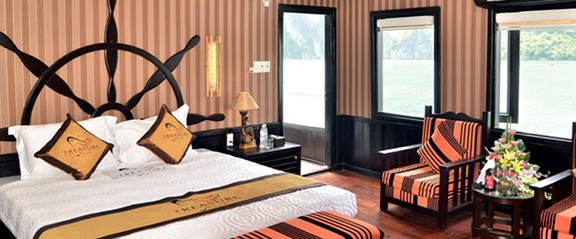 The chef and team are devoted to offering you some of the most reputed cuisine of the region. The selection is wide and ingredients always local and fresh. Seafood-based, but not only, the menus are well balanced. Vegetarian and kids can be catered for. We strive to make each meal a colorful event for both eyes and papillae. Halong bay cruise
Treasure Junk offers a long drink list featuring softs, beers, spirits, wines, cocktails, mock tails, and smoothies… to slake your thirst and set the aperitif up or accompany a romantic dinner. To entertain your cruise, vegetable carving and cocktails classes are available. Sometimes upon request as it depends on the number of people on board. Nice wooden board games are also available.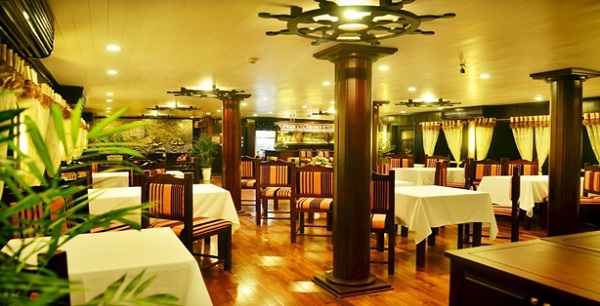 Treasure Junk features a very large sundeck that you may enjoy anytime of the day. With a cup of coffee witnessing the transient serenity of the bay early morning; relaxing in the sun with a privileged view at the limestone labyrinth; celebrating with a drink this once of a lifetime moment when the moon rises over the karsts. On all of its itineraries, Treasure Junk offers some kayaking. This junk uses Necky kayaks, high quality equipment, imported from Canada and are carefully maintained.