Victory cruise is the luxury traditional cruise in Halong. Launched in Sept 2007, Victory is in the early stage of building a brand of charm and luxury services in the World Heritage of Halong Bay. The design of Victory Cruise is combined between modern and traditional styles that make Victory Cruise Halong more luxury but still oriental.

Inspired from traditional junk manufacturing, Victory Cruise is the symbol of Halong Bay's legendary beauty. Tropical precious wood, fine arts decorations and a devoted staff will lead you to an amazing journey discovering Halong Bay.
It is 137 feet Long and 29 feet wide. Victory Cruise can serve 42 guests totally with 4 storey, 2 bedroom areas, 01 living room for restaurant and bar and one sundeck for sunbath and relaxing. Visit Halong Bay with Indochina travel
Victory Cruise included 21standard cabins, each of them are decorated with charming and meaningful accessories in order to enrich your stay in Halong. The Victory Cruise Halong has 02 deluxe cabin with double bed, 11 superior twin cabins and 08 superior double cabins.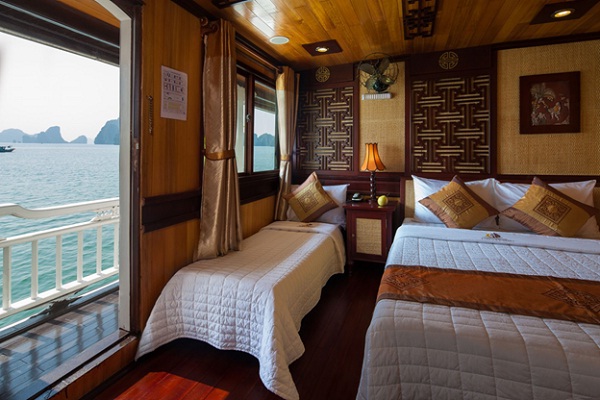 Along with the great facilities, Victory Cruise have special activities: small boats to explore the caves, sea kayaking, cooking classes, international wine tasting, and we can arrange special events from 2 to 42 people.
You will enjoy traditional Vietnamese cuisine or international food served by friendly and warm staff. You can admire the stunning view of Halong Bay through the restaurant's large windows while enjoying your perfect meal. Halong bay cruise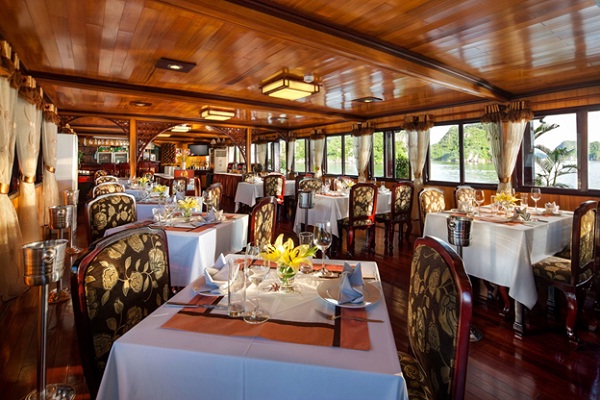 You will take advantage of the spacious sundeck to deeply breathe the fresh air of Ha Long Bay. Just lie down on a coach to relax, admire the sunrise of a new day drinking a great Vietnamese Morning Coffee.
When the sun goes down, you can see thousands of stars sparkling in the sky and overlook dimmed romantic lights on the bay. It is so fantastic to choose some special cocktails and experience unforgettable moments!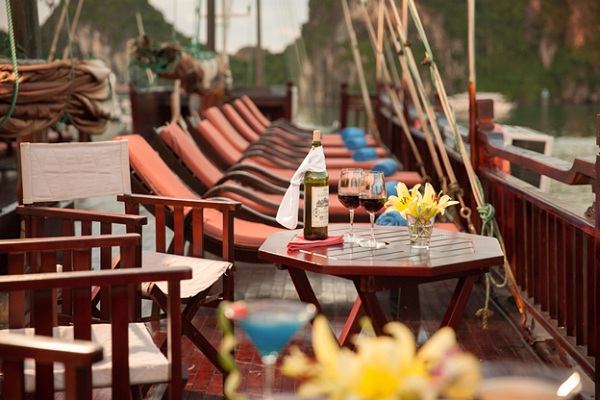 Victory Cruise services are available such as Reception , Restaurant and bar, Karaoke, Massage and spa (on request), Service 24/24, Souvenir shop, Clothes shop, Luggage Protection, Customer Care, Internet at the lobby, Meeting organization, Tai Chi (at complimentary), Cooking class (on request), Tender, Tour guide in English, French, and Vietnamese, Kayak, Fishing (at complimentary).
The Indochina Voyages team.