Violet Cruise Halong bay has come into operation since 1st October, 2009. The cruise is a five star Halong bay cruise with luxurious design that you will find its interior and decoration worth to admire. It's a combination of traditional elegance and modern comfort. The Violet is named after the beautiful Violet Chirita, a delicate purple-flowered plant that grows nowhere else but on the rocky slopes of Halong Bay.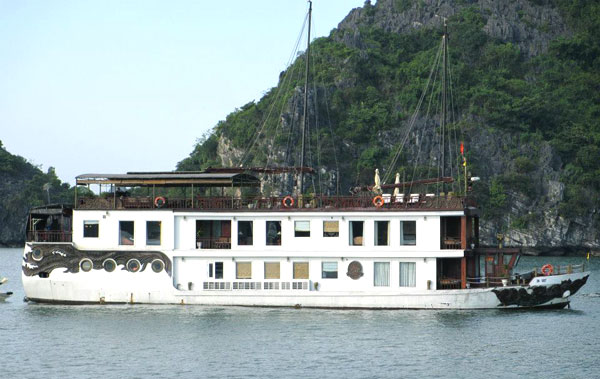 In this small yet luxurious craft, visitors can appreciate the bay's massive scale, the boat's red sails dwarfed by the bay's towering limestone islands. For an intimate experience of Halong Bay, there is nothing to compare to the lovely Violet. Visit Halong with Indochina tours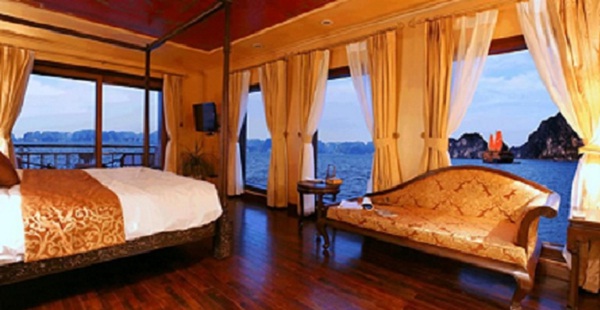 Composed of 6 individual themed cabins all including a marble bathroom, Jacuzzi and private balcony; the Violet also features a boutique dining room, library & lounge, as well as a state of the art spa & gym. The cruise got well annual maintenance and it still remains the top luxury cruise on the bay.
Four Violet Suites decorated with different topics: Dragon, Phoenix, Moon and Cloud Entertain lavishly in a 43 sqm suite offering elegant Indochina 1930 decor featuring warm, exotic woods, fabrics and hand painted walls &ceiling. Exclusive amenities include plush king bedroom with private balcony & Jacuzzi on upper deck.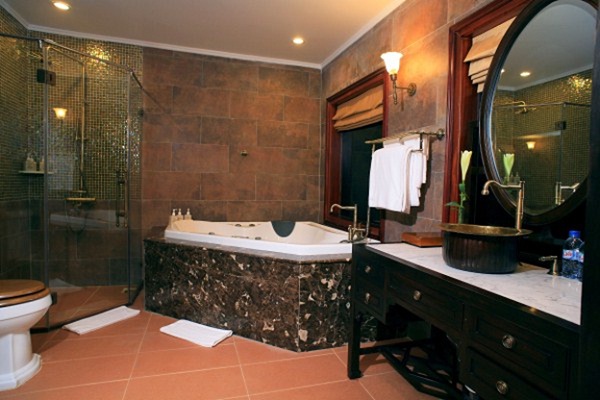 Enjoy local day-caught seafood well-cooked in Vietnamese marvelous cuisine in a spacious boutique dining room, inspire yourself with glass of wine admiring the brilliant sunset of the bay or simply relax with gentle pampering at Violet spa after taking exercises in the Violet gym
There are many activities offered on Violet Cruise such as Beach, swimming, sunbathing on the sundeck; Diving and kayaking; Visit the floating village; Cooking classes; Sunrise Tai Chi; Dining and entertainment and etc. Violet Cruise is the best choice to do. Tourists can reach beautiful beaches for swimming or walking on sandy ground for leisure. You will have opportunity to enjoy cozy sunlight of the tropics with a sunbath on the sundeck overlooking the bay. You can feel refreshing sea breeze and greet the sunrise in a healthy way. You will find a Halong Bay that is plenty of wild and magnificent beauties.
Violet Cruise is an ideal junk for family gatherings, honeymooners, or couples of friends who love to explore the exotic bay still enjoying, however, elegant comforts. Come and enjoy your best time in Halong Bay on Violet Cruise Halong.
The Indochina Voyages team.