Operating the first time in mid 2006, Ginger Junk Cruise that measures 38 meters (125 feet) in length is wooden junk that features both classic beauty and modern comfort. This newly built custom-designed junk contains three decks housing many convenience such as an elegant restaurant, lounge, two bars, a small luxury boutique, an informative library and a massage room-plus ten luxurious sleeping cabins. The space is large enough for the passengers truly unwind and enjoy the bay's spectacular scenery. Halong bay travel Vietnam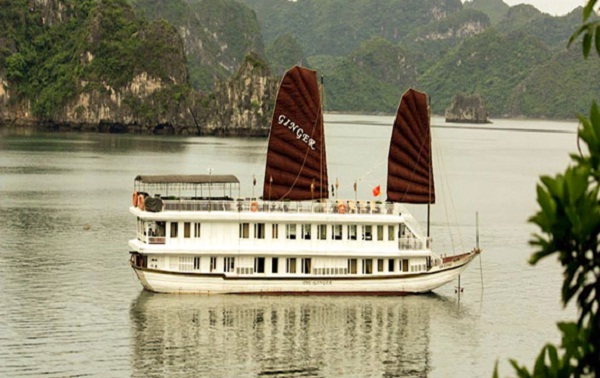 Discover the splendors of Halong Bay aboard the Ginger Junk Cruise an Indochinese 1920s classic outside and modern comfort inside yacht which houses ten luxury cabins, every luxury sleeping cabin has its own make it possible for tourists to enjoy an excellent view of Halong Bay.
If you are a food-lover, Ginger Restaurant is a perfect place for you to enjoy the best cuisine of the world from Vietnamese foods to lavish international buffets. All the chefs and vice-cook try their best to prepare and bring you the best dishes that please both the eye and the palate. Especially, to enjoy your spare time excitingly, you can find the Sunset Bar and a spacious lounge area on the top deck where is a perfect place for you to rise before dawn and take a Tai Chi class, weekend BBQs and sunset cocktails. Indochina travel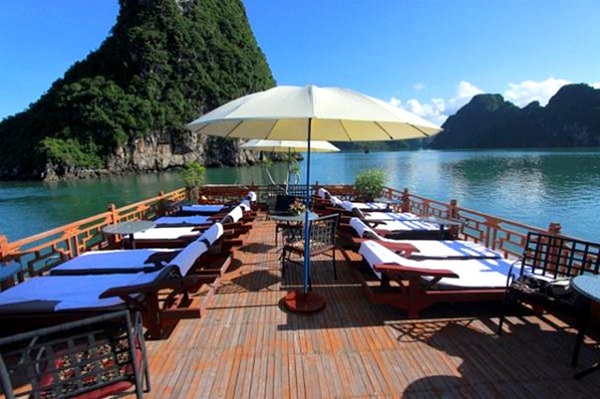 Halong Bay Vietnam attracts tourists all over the world not only by its charming archipelago's beauty but also by the three-thousand islands which are home to many rare plants, including species found nowhere else in the world. The name of the boat – Ginger Cruise Halong Bay – was chosen because of this reason. With the root of its name from one kind of plant, the cruise junk is perfectly accordant to this environment. The Halong Ginger offers an unforgettable ambiance of relaxed elegance with its golden sails, polished woodwork and refined, Asian décor. Come to enjoy and see Halong Bay in style.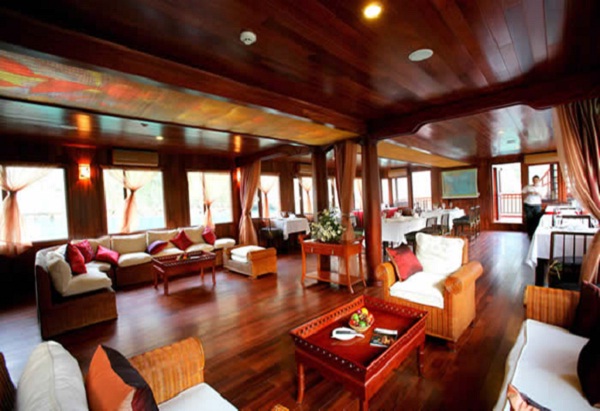 With available dial-up internet access, conference and meeting equipment, safety box, IDD at the reception, boutique, library (rental and exchange only) and 24/7 security, Ginger Cruise Halong Bay is also a suitable place to hold conferences and ceremonies.
Now trips on Ginger Cruise are supplied by many travel agencies but our Indochina Voyages with the best service offered by friendly, well-trained staff ensures to bring you unforgettable memory.
I Love Vietnam.