Located at Tuan Chau Marina, Tuan Chau Island, Halong Bay with 3 decks on board: V'Spirit Classic 1 contains of 7 wooden cabins, V'Spirit Classic 2 includes 12 wooden cabins and V'Spirit Classic 3 composes of 13 wooden cabins, V'Spirit Cruise are one of the most famous cruise ships in Halong Bay.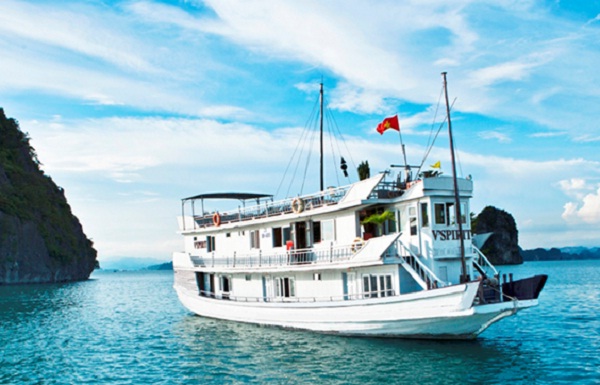 Launched in 2012 with the size of 32.6 meters in length, 7.8 meters in width and 7 meters high, V'Spirit Cruises is a three star cruise vessel proud to welcome you onboard enjoying one of the most deluxe boats for your heaven like Cruise in Halong Bay!
Actually meaning "Vietnamese Spirit", V'Spirit is established with the aim of bringing you unforgettable experience make you feel like at home and be a part of our daily lives. With the entire length of this vessel next to the sea which feeds them, and on which many of them live and work, coming here, tourists will have a great chance to savour much of the stunning delicious traditional cuisine processed from the riches of the sea.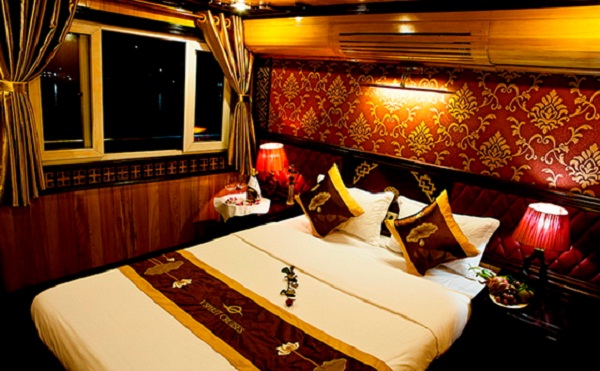 Your lovely family, close friends and sweet partners can gather together around a stunning meal shining through in the many special tastes of Vietnamese cooking. The exclusive limestone islands located in Halong Bay, together with a large number of mysterious, and magnificent caves scattered throughout, mirror the beauty, elegance, and mystery of this charming region.
Operating with this goal, the three, newly-built wooden junks are constructed in the time honored traditional style, especially inVietnamese and traditional wooden style but also possesses modern deluxe cabins and facilities. All of 16 square meter rooms include breathtaking sea-view windows, personalized fully equipped bathrooms, and a comfortable sun-deck bar. The talented and experienced cooks will serve you the most stunning traditional Vietnamese dishes, and all of the friendly and dedicated staffs will help you know more about the current daily lives as well as the honorable ancient history of Vietnam.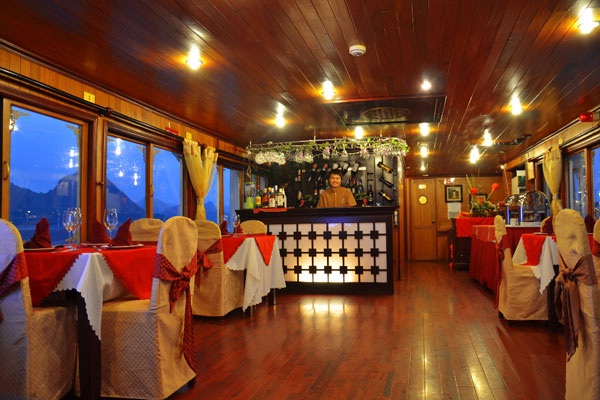 With many years experience in providing tourists to Vietnam with the best exploration journey onboard, our Indochina Voyages are proud to bring you memorable cruise trip on the V'Spirit Cruises at reasonable price.
Travel lovers.