Standing in the Gulf of Tonkin, Halong Bay which contains of about 1,600 islands and islets, forming a spectacular seascape of limestone pillars is one of the best tourist attractions in Vietnam. Thanks to the outstanding scenic beauty of the site, their charming nature with most of the islands are not uninhabited and unaffected by a human presence, Halong Bay is definitely an ideal destination for your relaxing time. Planning your stay here is a must-do thing. Halong bay cruise Vietnam
Paradise Suites Hotel
Sitting on the shores of Halong Bay, Paradise Suites Hotel is the very first class luxurious boutique hotel aiming at widening the enchantment and modest impressive beauty of the legendary seascape inland. Even if staying on land, Paradise Suites Hotel's guests are offered an experience of beauty and succulence at all time. Paradise Suites stands for Boutique and Beauty, a please to provide stunning experiences beyond expectations in spectacular surroundings.
All rooms in this hotel are meticulously crafted to meet the demands of the today worldwide travelers looking for sophistication and high class. A true representation of the eminence of Halong Bay, each as convenient suite as the surrounding natural setting is equipped with the world-class luxury hotel standards. The best authentic ingredients and modern amenities are in a perfect harmony to create the unique style and real comfort.
 Distinguished hotel guests can take a leisure rest and relax by taking a rainy shower in en-suite bathroom before leaning their back on fabulous dream beds after exciting trip exploring the charming beauty of Halong Bay and the surrounding as well. North Vietnam tours
Novotel Ha Long Bay
Being a 4-star standard hotel, Novotel Ha Long Bay is an ideal place where you can enjoy the stunning sceneries of thousands limestone islands enshrouded in mist with a spectacular canvas rising from the sea.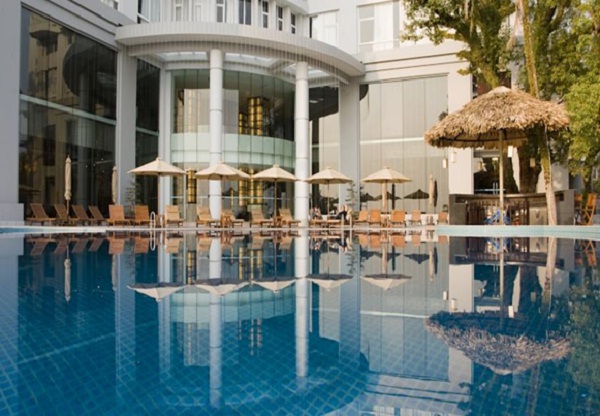 Set amongst a mysterious landscape overlooking the magnificent bay, Novotel Ha Long Bay offers a glimpse into contemporary Vietnam, while booming a story of the country's intricate past through its elegant interior decor. This hotel has a stunning vision set in burnished stone, glass and marble against ingenious Asian dispositions – silk, wickerwork and carved wood – signalized by splashes of bright colors and accomplished design centerpieces. With clearing windows and large-size mirrors, the hotel gets panoramic views of Halong Bay and its magnificent seascapes at every look.
Royal Lotus Hotel Halong
Situated in an ideal area right opposite Halong Marine Plaza – the biggest shopping and entertainment center of Quang Ninh province with ferris wheel, kids playground, cinema, night market, artificial beach, etc, Royal Lotus Hotel Halong is just a few minutes within walking distance to central business of Halong. Situated on Hung Thang main road, the hotel has a stunning view of clear bay and city in true harmony with nature.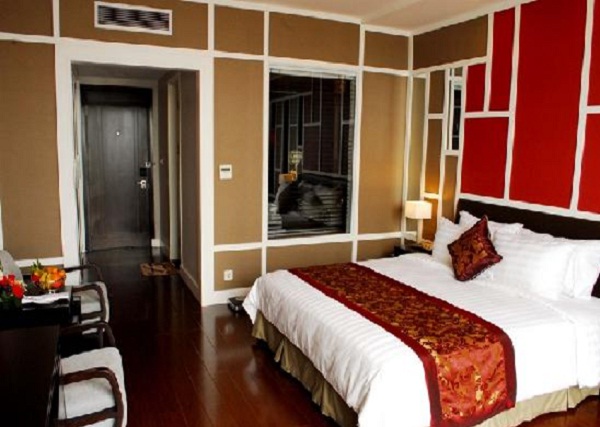 Containing of 147 beautiful rooms with luxurious amenities and modern facilities, Royal Lotus Hotel Halong brings tourists a feeling of Vietnamese hospitality with world class standard and immaculate services. For both business and leisure travelers, this Royal Lotus Hotel Halong is the most ideal choice for accommodation in Halong.
Travel lovers.
Read more: