About 25 kilometres to the southeast of Bai Chay tourist harbor is situated Ba Ham Lake, a magnificent place which is missed by almost every tourist to Halong Bay.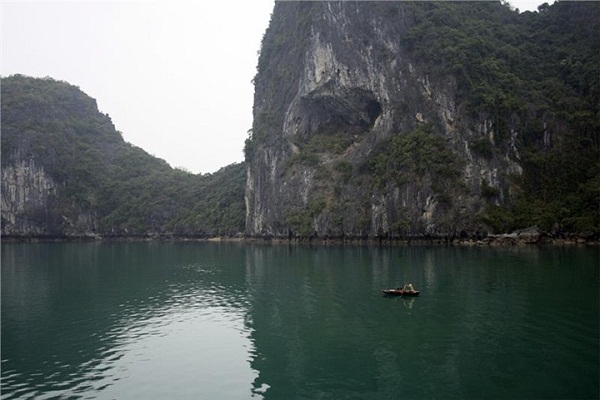 Ba Ham Lake is on Dau Be Island (Calf Head Island) Range in Lan Ha Bay which is on the southern farthest point of Halong Bay. The lake is a system of three smaller and circular lakes connected to each other by so narrow three entrances that you have to take bamboo boats or kayaks to explore the entire area. This unique structure results in the name of this lake: Ba Ham – Three Pits. Ba Ham is nearly separated from the rest of Halong Bay due to its all four side enclosed by vertical limestone cliffs around 30 metres in height. Read more: Halong bay tours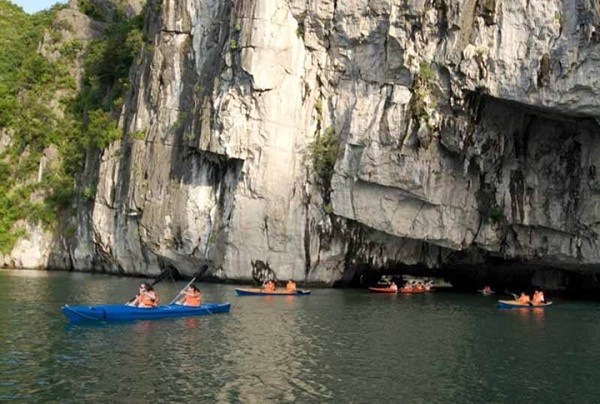 On your trip through the tunnel, you will be irresistibly drawn to a cluster of spectacular and colourful stalactites hanging from the ceiling in a myriad of distinctive shapes. Any noises from outside can hardly penetrate into Ba Ham Lake thanks to its location and topographical features, which renders the lake extremely tranquil. The silence is just interrupted by the faint sound from the boat's oar. The natural scene that you see from boat sailing around the lake is the perfect combination of the emerald clear water, the bright sky and various forms of rocks.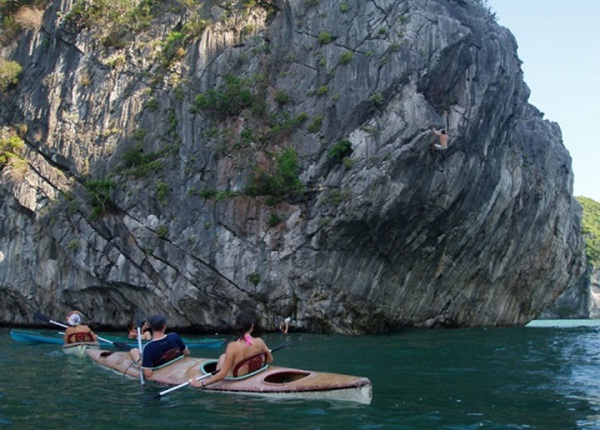 The deeper you go into the tunnel, the darker it becomes. However, there is still enough light for you to admire peculiar things inside the tunnel. The water is deep yet so clear that, if fortunate, you can come across several schools of fish swimming. The tunnel ceiling is highlighted not only by unique stalactites as a result of a chemical process for billions of year, but also by a wide variety of orchids clinging to the cliff which can be clearly seen about 100 metres deep in to the tunnel from the first entrance. This is a 150-metre-long cave whose ceiling is over one metre and a half. When you go through the next one, pay attention to its southeastern cliff where an old carambola tree laden with fruits all year round grows. The second lake is also the largest one with an area of approximately 1,000 spuare metres. The last entrance leads you to the residence of plentiful bats and butterflies. Read more: Vietnam tours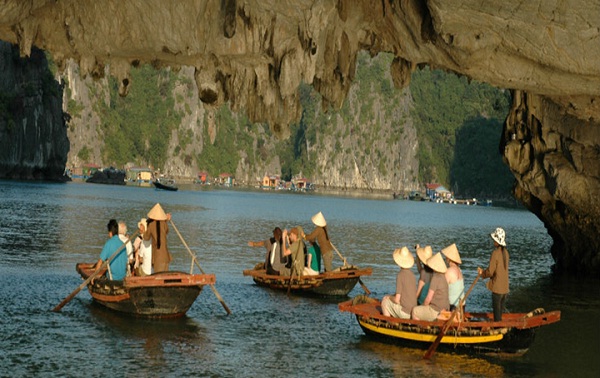 To discover the allure of Ba Ham Lake, you can just use bamboo boats or kayaks. However, you have to wait until the tide recedes to enter the cave.
The Indochina Voyages team.
Read more: