When the famous Halong Bay starts to be touristy, Lan Ha Bay will be the alternative. Lan Ha Bay geologically is Halong Bay's extension with full of the spectacular scenery for your most tranquil experience. Let's find more information about Lan Ha Bay and Lan Ha Bay cruises for your Vietnam tours 2020.
General information about Lan Ha bay
Located in the east of Cat Ba Island and in the south of Halong Bay, Lan Ha Bay is considered as one of the most beautiful bays in Vietnam. It consists of about 400 islands, all covered with greenery. There are some small islands with white-sand beaches at the foot of the mountains.
The best time to visit Lan Ha Bay is from November to March due to beautiful weather, blue water, and no storm. It is a good time for sightseeing and swimming in these pristine beaches. Also, you can expect the colorful coral under the clear blue water in Van Boi and Van Ha beaches. Sen Island, Cu Island, Monkey Island, etc. with calm water are ideal for coral diving.
To get to Lan Ha bay from Cat Ba island, you can buy a ticket in Beo seaport, then having a boat trip to visit the bay. Or if you are in Halong Bay, you can also combine traveling from Halong bay to visiting Lan Ha bay attractions.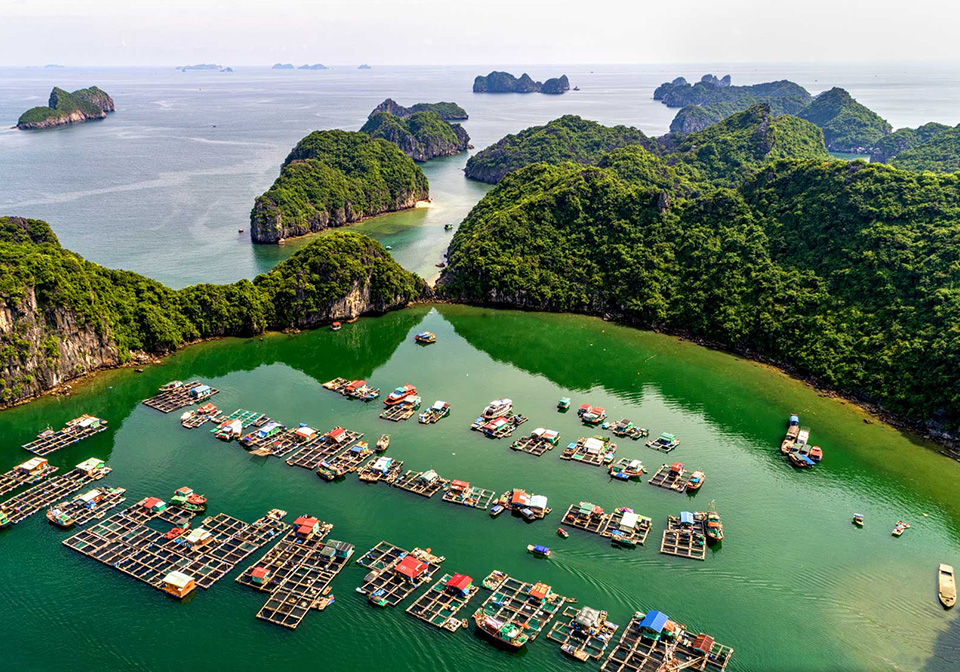 Lan Ha bay attractions
Cai Beo floating village
You can visit Cai Beo floating village, where more than 200 households living on floating houses. It is a good chance for you to know more about the local life and its thousand-year history.
Luon Cave
Kayaking is the most favorite activity for passing through the cave door to Bo Hon Island. Luon cave always attracts travelers not only by the unique shape but also by the blue clear water all year around.
Nam Cat Island
From Beo seaport, you can take a boat trip for about 15 minutes to reach Nam Cat island. If you are a nature lover, its natural beauty reservation will satisfy you. In addition, there are many options for beach activities such as kayaking, scuba diving, fishing, etc.
Monkey island
To Monkey Island, it takes about 10 minutes from Beo seaport through Cai Beo fishing village and a number of small islands. The island used to have the different name "Cat Dua island". However, the popular name of the island is Monkey Island due to more than 20 monkeys brought from Cat Ba National Park. Your kids can definitely feed them and play with them.
Van Boi beach
Van Bọi beach is an ideal destination to kayak and swim because of its calm blue water beautiful landscapes.
Top 5 best Lan Ha Bay cruises
Some people choose Halong Bay because they want to visit some of the highlights on the bay such as Sung Sot cave, Titop island, etc. But now, you can not only enjoy the highlights of Halong Bay but also visit Lan Ha Bay on a 2-day 1-night or 3-day 2-night journey on Halong Bay luxury cruises. Here are top 5 luxury Lan Ha Bay cruises selected just for you:
Au Co Cruise
As one of the luxurious cruises in Halong Bay, Au Co is the first 5-star overnight cruise operating in 2012. Named after Au Co, the mother of Vietnamese civilization, Au Co Cruise features the seductive, charming and mysterious of a woman.=
Au Co is also the first cruise exploiting the 3-day-2-night journey to explore Halong Bay and Lan Ha Bay. Travelers will be able to participate in a series of extremely interesting activities including cycling in the village, kayaking, Tai Chi, cooking demonstration, etc. You are free to choose things to do in Halong Bay according to your interests.
Besides, together with the common transportations, Au Co cruise offers the seaplane to Halong Bay from Hanoi. The combination of a 3-day journey on Au Co luxury cruise and watching the entire majestic scenery of Halong Bay on a seaplane will be one of the unforgettable experiences.
>> Click here for more information about Au Co Cruise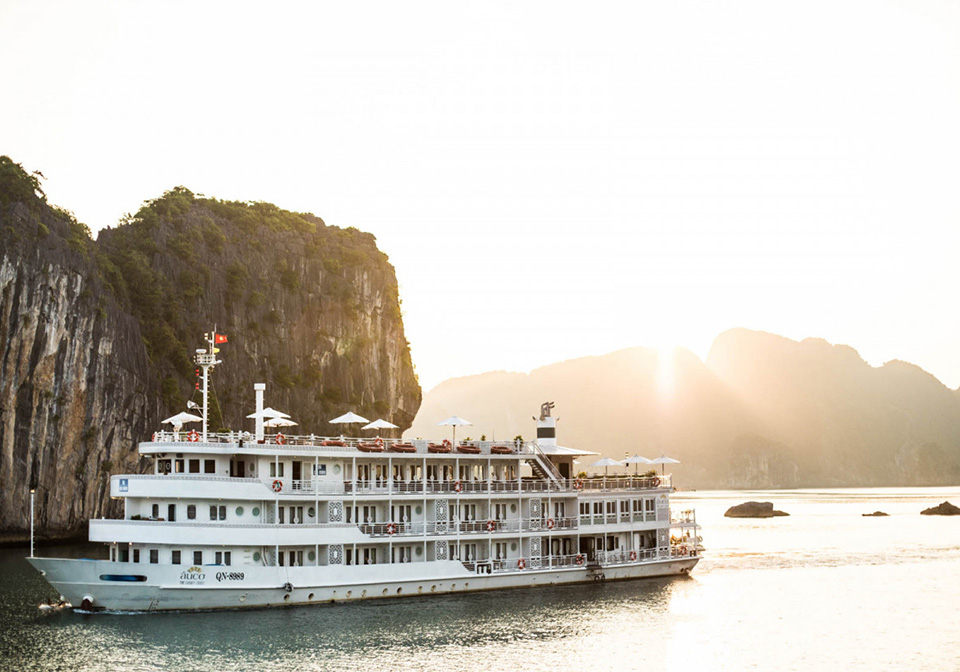 Mon Cheri Cruise
Mon Chéri Cruise will take you to excursions in unique areas in Halong Bay and Lan Ha Bay. Therefore, you will have a chance to admire the majestic views of the limestone mountains and mysterious caves; take a dip in the emerald waters of Lan Ha Bay; and enjoy sports activities.
Why Mon Cheri Cruise
5-star cruise with luxury design 

All the rooms have a balcony with sea view

Sauna, massage services, and gym are offered

There are 2 options for you: 2 nights on Mon Chéri cruise or 1 night on Mon Chéri cruise and 1 night on a hotel in Cat Ba

Serve special-meal requests

Dedicated and professional service staff

Private room service (upon request)
>> Click here for more information about Mon Cheri Cruise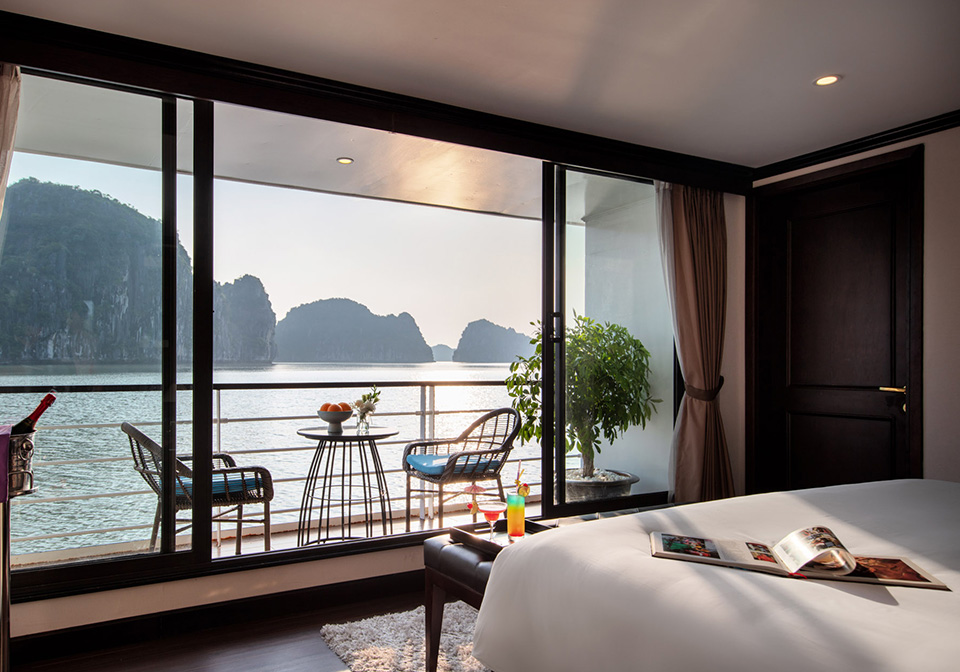 Indochine Cruise
As of June 2019, Indochine Cruise is the largest and newest overnight cruise on Lan Ha Bay. The cruise offers a unique and completely flexible itinerary in order that travelers can fully immerse themselves in the natural landscape of Lan Ha Bay. You can choose to visit famous destinations such as Van Boi Fishing Village, Viet Hai Fishing Village, Dark Night Cave; or take part in sea activities such as kayaking, swimming, bathing, etc.
Indochine Cruise's signature
The largest and newest 5-star cruise in Lan Ha Bay as of June 2019.
Unique and flexible itineraries with beautiful and unspoiled destinations.
Outdoor jacuzzi with length up to 12 meters.
All rooms are luxurious and have large balconies.
High-class restaurant on cruise.
>> Click here for more information about Indochine Cruise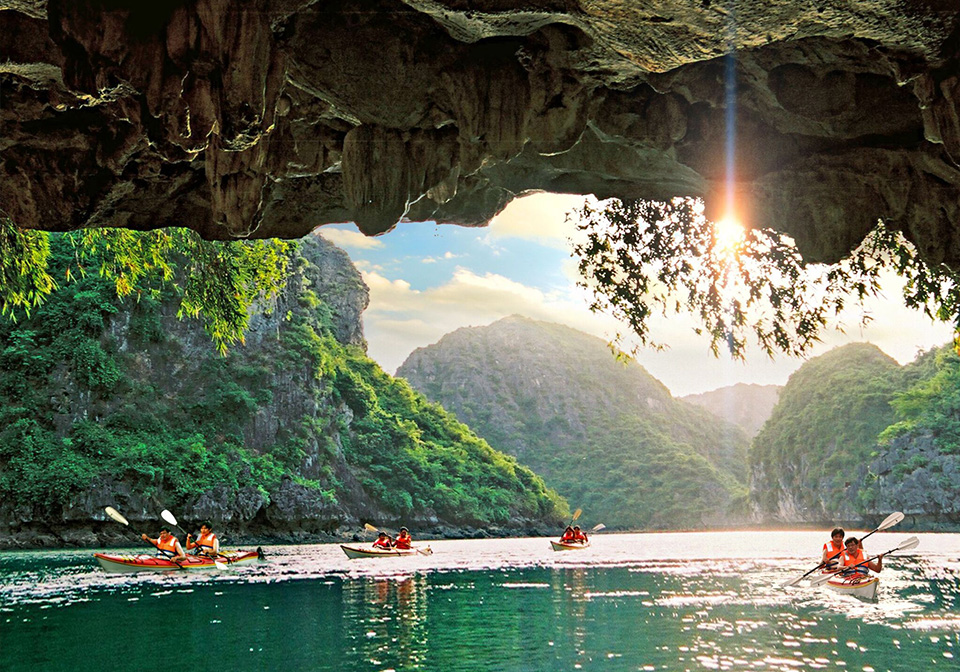 Orchid Cruise
Orchid Cruise is also one of the first 5-star cruises operating on Lan Ha Bay. With great customer service and 14 luxurious cabins, it will be sure to exceed your highest expectations during your trip to Halong Bay. 
Moreover, Orchid Cruises with an attractive itinerary through the beautiful Lan Ha Bay will allow travelers to relax and explore the unspoiled areas. 
>> Click here for more information about Orchid Cruise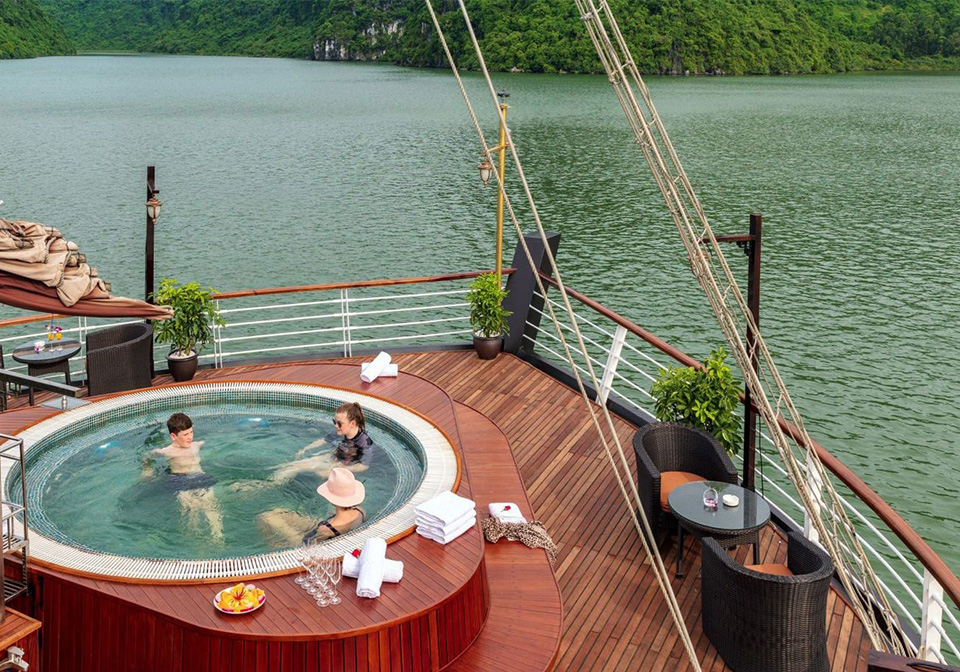 Azalea Cruise
With the route Halong Bay – Bai Tu Long Bay – Lan Ha Bay, Azalea Cruise, a 5-star cruise will surely bring you the most wonderful experience on Halong Bay.
Azalea Cruise is designed in a modern style with gentle decorative colors. Rooms are equipped with modern facilities. Each room has a private balcony for travelers to sunbathe and relax. Moreover, you will enjoy traditional Vietnamese dishes prepared by talented chefs of Azalea Cruise.
>> Click here for more information about Azalea Cruise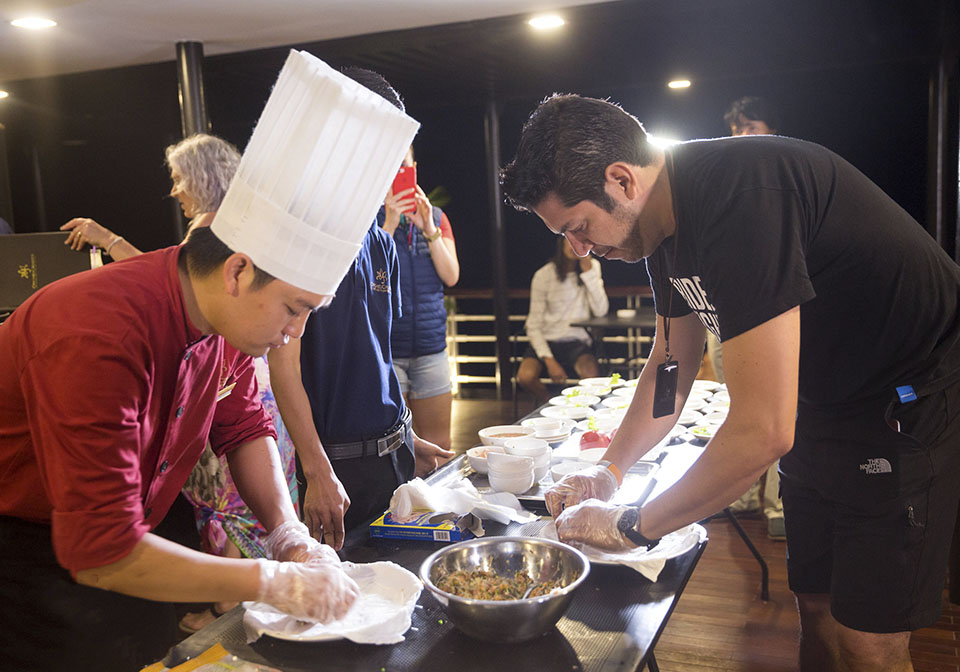 All those Lan Ha Cruises above have 2 options of 2-day 1 night and 3-day 2-night itinerary. To get more information about the cruise facilities or available date, do not hesitate to contact us now, then be ready for Halong Bay tours 2020!
Yen Nghiem – Travel Specialist