After nearly 100-year development, Hanoi still preserves the value of the stunning architecture and incredibly exquisite charm of the most ancient churches which make the beauty of the capital city more outstanding. Indochina tours Vietnam
St Joseph's Cathedral, Hanoi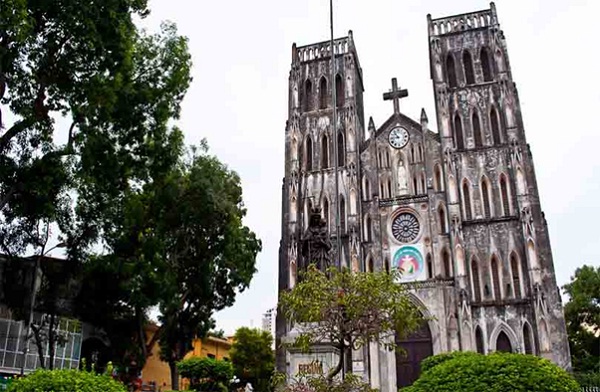 St Joseph's Cathedral, whose construction was completed by Monseigneur Pigneau de Hehaine in 1887, was closed upon the reunification of Vietnam in 1975 and until 1985 was it reopened. Although being built in what is thought to be the French quarter of the city, the cathedral has a neo-gothic style looks somehow out of place in the bustling streets of the capital city.
With colorful window glass, to the religious painting for decoration equivalent to Western style, the major interior part is adorned in Vietnamese style with two popular colors of yellow and red, the enormous space of the church is highly appreciated as one of the most ancient and spectacular churches in Vietnam. Coming outside of the cathedral, you can see the statue of Mother Maria right in front of the cathedral. Travel to Vietnam
Cua Bac church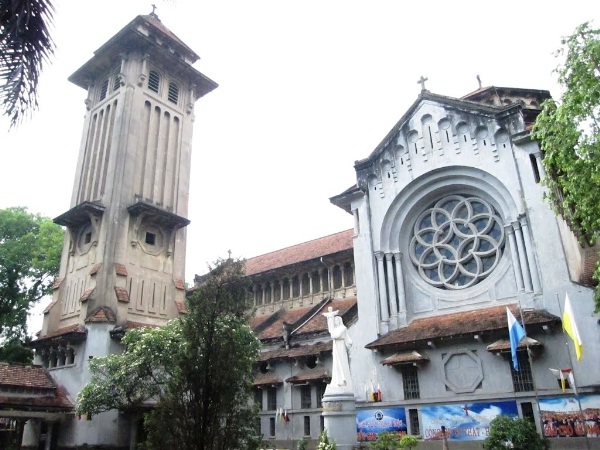 Completed in 1932 by the French priest cum architect, Cua Bac church which was originally called as Church of Martyrs is a Roman Catholic church in Hanoi, blending the Asian with European style. Not following the common rules of symmetry, it has a high bell tower to the right side and in balance with the dome in the center. Situated in Ba Dinh District, Cua Bac Cathedral that is not only a religious place but also an architectural work having many unique features, is regarded as one of the most beautiful churches in Hanoi.
Ham Long church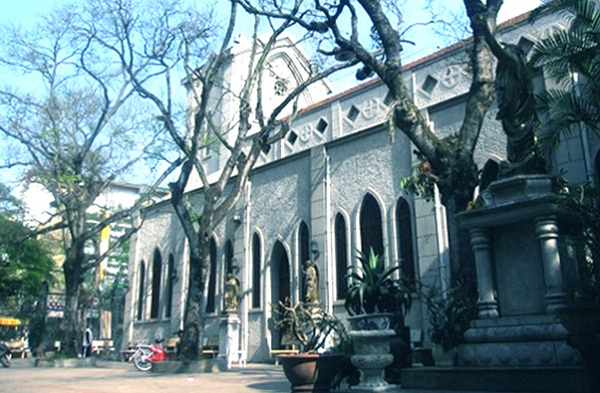 Located in the center district Hoan Kiem of Hanoi, Vietnam, Ham Long, which was constructed near an old street named Ham Long (from which Ham Long church was named) at the end of the 19th century, is a Roman Catholic Church. The work of the 17-meter high church was designed by a Vietnamese architect and was completed in December 1934. They decorate the columns and altars with rope styles like those on the tunic of the Francis order. St. Anthony of Padua is the patron saint of the church.
Phung Khoang church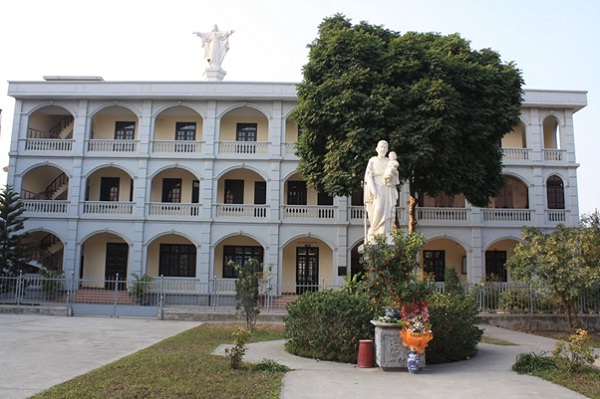 Situated about 10 km from the Sword Lake, in the village of Phung Khoang in Trung Van commune and close to Hanoi – Ha Dong road, Phung Khoang Church which was built in in French neoclassical architecture 1910 has typical space for a tranquil rural Vietnam.
Thinh Liet church
Located in Thinh Liet village, Hai Ba Trung district, Thinh Liet Church which is also known as the Lang Tam, was designed by Doctor Than and built in 1911 on a wide and spacious area. The church was on the ground of the family temple of the Bui family. During the five centuries from the early 15th century to the early 20th century, this is a famous family that contributed many famous writers for Vietnam as well as many important figures for the Vietnamese dynasties. This family was granted with a horizontal lacquered board with four letters "Son Nam Vong Toc" (A big family in Son Nam) by the King Le Hien Tong.
Travel lovers.
Read more: