Have you ever thought of planning a tour from Halong Bay to Sapa? This will be a special tour from the sea to the forest. You can just experience a windy and sunny bay, right after that is an immense, cool mountain forest. Let's take some time with your loved ones to make the best trip to these two most beautiful places in North Vietnam.
Best time to visit Halong Bay and Sapa
Spring and autumn are probably the best time for you to make an attractive trip to Halong Bay and Sapa. You will be immersed in the blue sea and white sand as well as take part in many exciting activities in Halong Bay. Then coming to Sapa, you will have chances to admire the beauty of the blooming flowers in spring and the yellow rice terraces in autumn.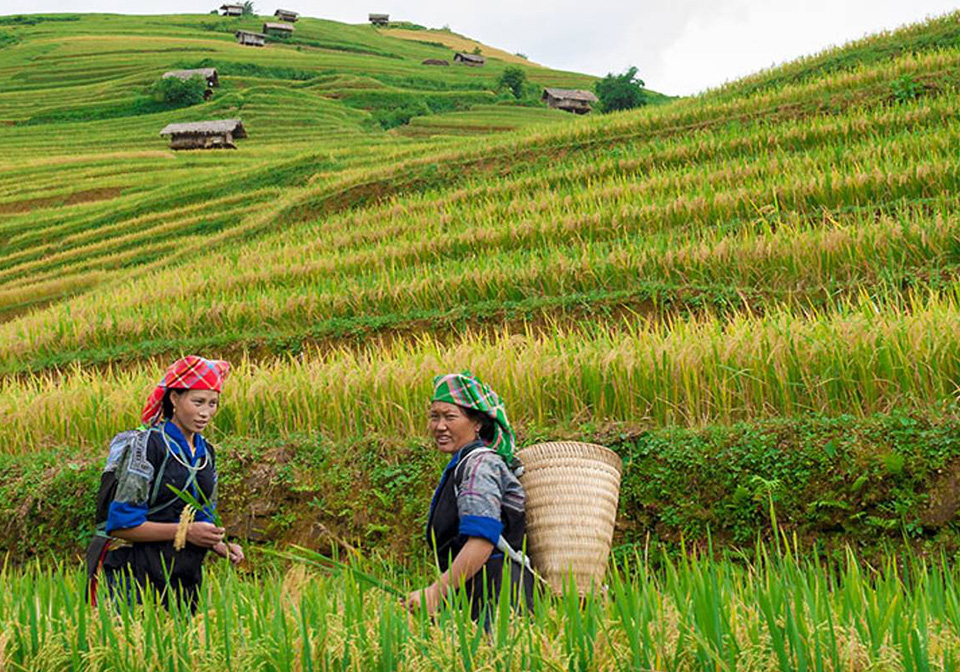 March to May
From March to May, the weather is extremely dry, cool, and pleasant. Therefore, it is time to admire the most beautiful scenery of Sapa. On the hillsides, along the roads of Sapa town, there are full of spring flowers.
This is also the right time to visit Halong Bay. In these months, the weather is dry, the sky is clear and blue, convenient for travelers to visit and explore.
September to November
September to November is a beautiful season to travel to Sapa. The terraced fields are in the harvest season dyed in brilliant yellow. Besides, there are many things to do in Sapa in autumn such as admiring the Muong Hoa valley, trekking down to Ta Phin village, etc.
Meanwhile, autumn in Halong Bay is very beautiful, too. The time from September to November in Halong Bay is always sunny. It is suitable for almost outdoor activities in Halong Bay such as visiting Halong bay caves, Halong Bay kayaking, swimming, climbing, etc. In addition, you do not have to worry about service canceling due to storms during this time.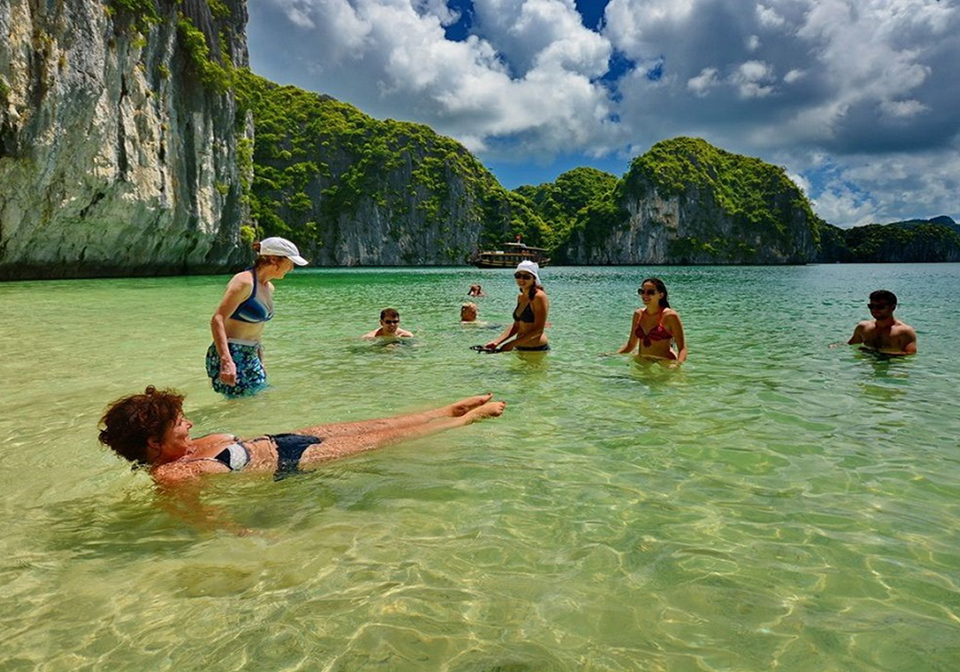 How to get from Halong Bay to Sapa
The distance of Halong Bay and Sapa is about 400 km. Below are some suggestions for transportation to get from Halong Bay to Sapa.
By shuttle bus
Phuc Xuyen is the first bus company to run the route Quang Ninh – Halong Bay – Sapa. It connects the two regions of the Northeast and Northwest, the two most famous tourist destinations of North Vietnam, Sapa and Halong Bay. It is also the only bus company that runs directly from Halong Bay to Sapa and vice versa, creating extremely convenient journeys for passengers.
The shuttle bus is a 42-seat luxury sleeping bus with full services and necessary amenities such as air conditioning, blankets, LCD screens, wifi, drinking water, and free cold towels, etc. All is to assure your comfort on the whole journey.
The bus price is VND 400,000 (approx. US$17.5).
By train
If you would like to get Sapa by the Reunification Express train, you have to get from Halong Bay to Hanoi to catch the train.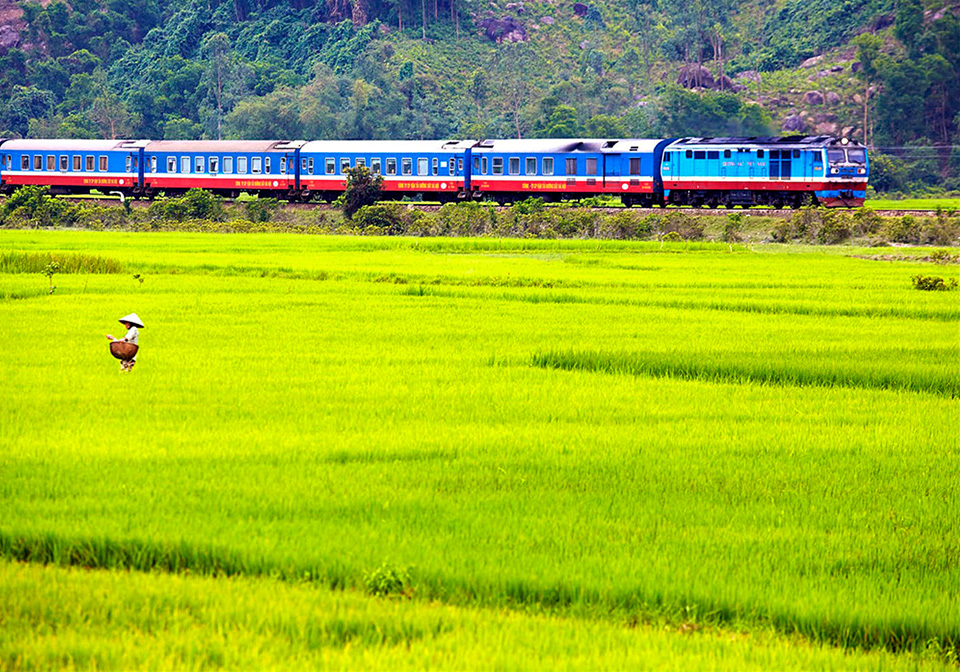 There are many types from affordable to high-end beds for you to choose from. Trains from Hanoi to Sapa usually run from 21:00 to 22:00 daily and arrive in Sapa early the next morning. The ticket price of the train is from VND 500,000 – 1,000,000 (approx. US$ 22 – 45).
It is the most recommended transportation to get from Halong Bay to Sapa due to its comfort and safety. The reason is that the distance between Halong Bay and Sapa is quite far, it takes you normally 8 hours by bus. However, you can spend only 2.5 hours from Halong Bay to Hanoi through the new highway then relax on the night train to Sapa. If you are planning Halong Bay tours to Sapa, you can ask your travel consultant for the best arrangement.
Suggested Halong to Sapa itinerary in 6 days
Day 1: Hanoi
If Hanoi is the very first in your list of Vietnam holiday destinations, you should take a rest and get ready for the exciting journey ahead.
Day 2: Hanoi – Halong Bay
After breakfast, the driver will pick you up at the hotel to get to Halong Bay. Overnight on a Halong bay cruise is a great experience to explore the bay. The most popular is a 1-night cruise which is enough to enjoy the beauty of Halong Bay with lots of interesting attractions.
Here are top things to do in Halong bay, to name a few.
Activities onboard: cruise experience, enjoying food and drinks, spa and wellness treatments, cooking class, Vietnamese afternoon tea, Tai Chi exercise, bathing, sightseeing, squid fishing, watching movies, etc.
Other activities: visiting Halong bay islands, Halong bay caves, Halong bay kayaking, meeting the locals, visiting fishing villages, swimming, etc.
Day 3: Halong Bay – Hanoi – Night train to Sapa
You will take part in some last activities in the morning before arriving at the harbor. The driver will pick you up to come back to Hanoi. After dinner, you will get on the night train to Sapa.
Day 4, 5: Explore Sapa – Night train to Hanoi
Arriving at Lao Cai station, the driver will pick you up and transfer to Sapa hotel. You will then have 2 days to explore Sapa. There are many activities making you interested such as  Sapa wet market, Sapa villages, Sapa trekking, etc. It is a good chance for you to get to know more about ethnic minorities and admire the beautiful landscape of Sapa.
In the afternoon, you will catch the night train again back to Hanoi.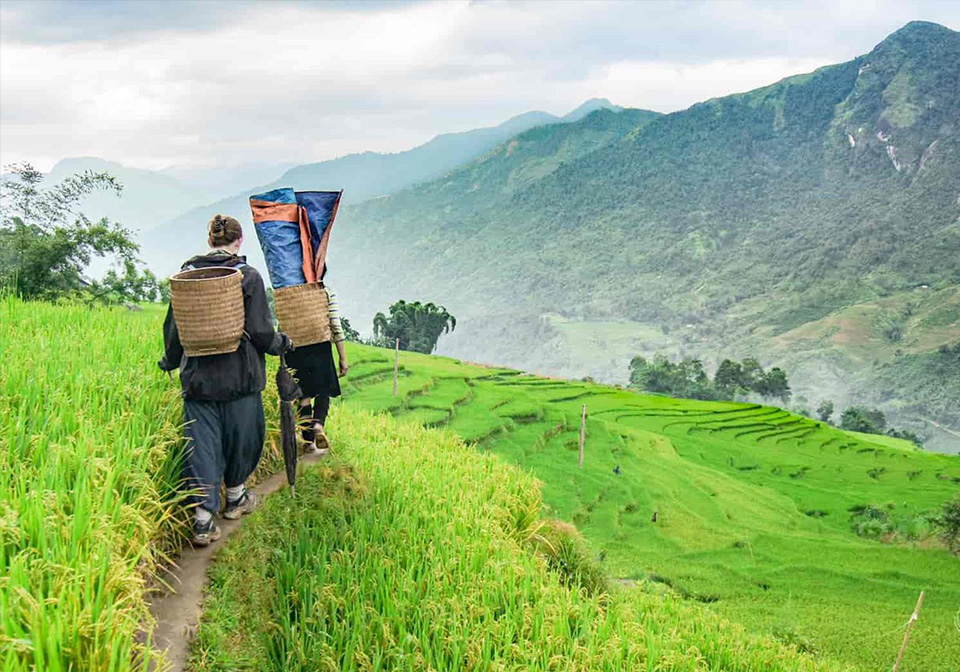 Day 6: Hanoi
Getting off the train, you will have breakfast then spend a half-day going around Hanoi. You will have a chance to visit all the highlights of Hanoi such as the Ho Chi Minh Complex, Temple of Literature – the first university in Vietnam, or Vietnamese Women's Museum to learn about the traditional culture, and the women's role, etc.
Tour ends. You are ready for the next destination or flying home.
>>Please click here for leave your inquiry: Essence Of North Vietnam 6 Days
In conclusion, I hope that all the information about those 2 famous holiday destinations will be helpful for you to plan your Vietnam tours 2021. Halong Bay to Sapa tour will surely bring you the best experience ever.
Yen Nghiem – Travel Specialist