If you want to spend your precious time on exploring and experiencing the exciting strange land of Halong Bay, it is advisable to choose a Halong Bay cruise for the unforgettable impression. What an exceptional landmark!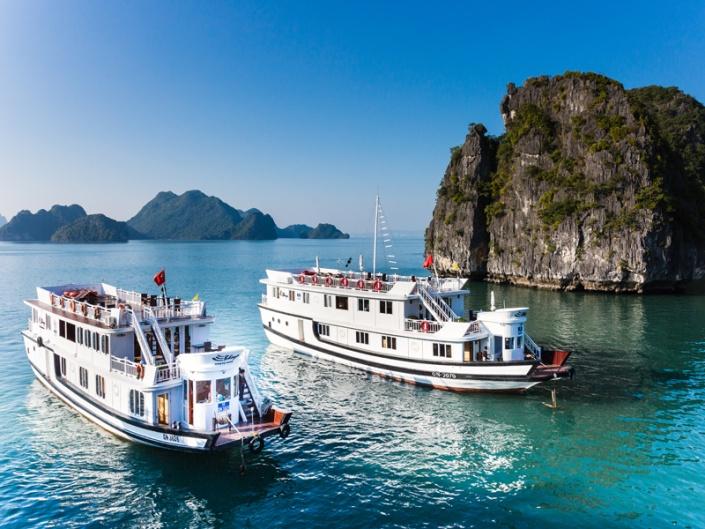 On boarding the boat of floating journey, travelers are likely to be overwhelmed by aweome natural charm where lakes and great mountains are closely integrating. That is why for travelers to travel in Vietnam, Halong Bay cruise has increasingly become a great option. halong bay luxury cruise
Travelling by boat, travelers will easily and comfortably admire the incredible beauty of the world wonders. That way, you will easily grasp, immerse and discover the pristine and essence of this charming bay. Although this land is associated with the legendary of dragon, in fact, dragon never appears. Dragon also symbolizes the immortality, eternity and sacredness of Vietnam's traditional culture.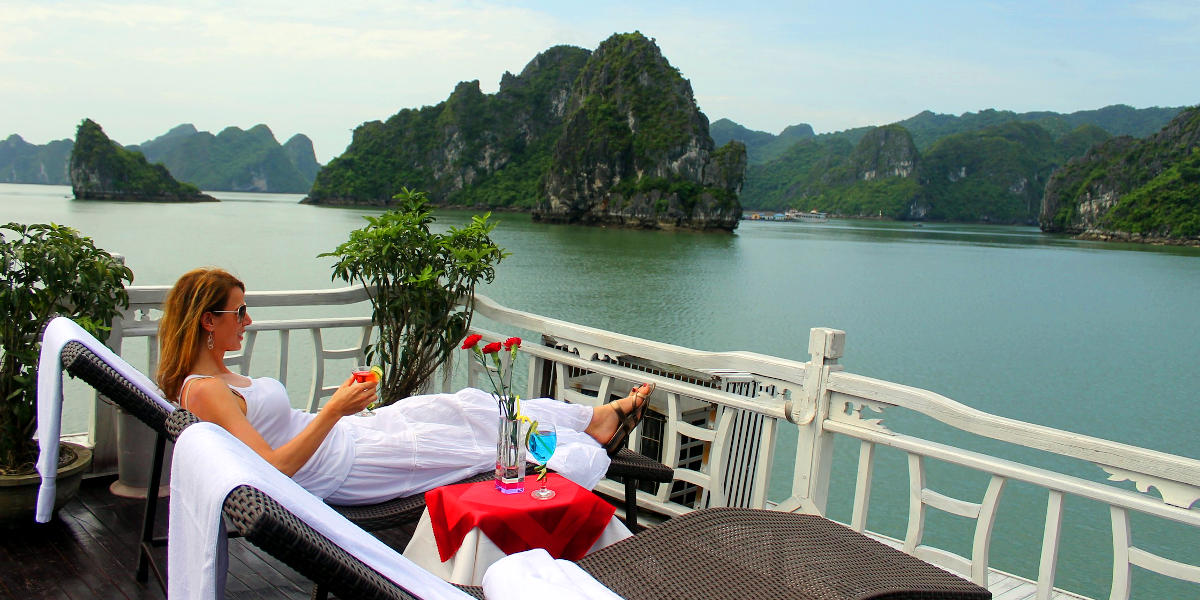 Exploring the beauty of Halong Bay on a cruise, travelers can opt for different cruise terminals. Among of these wharves are Bai Chay, Hon Gai and Tuan Chau. Travelers will complete check- in procedures on board then check in, enjoy relaxing time and begin discovering the natural landscape.
Halong Bay has the karst cave topography, about 2000 limestone islets and islands, the enormous majestic mountains surrounding the emerald Gulf countries. The stones own the exclusive shape of which characteristics are associated with primitive homely names from truly physical origins or characteristics. Leaving the cruise terminal, you will travel 4km to go to Thien Cung Cave, which is situated on the island of Wood Head. A naturally aesthetic architecture, bringing the charming beauty of nature lies inside cave.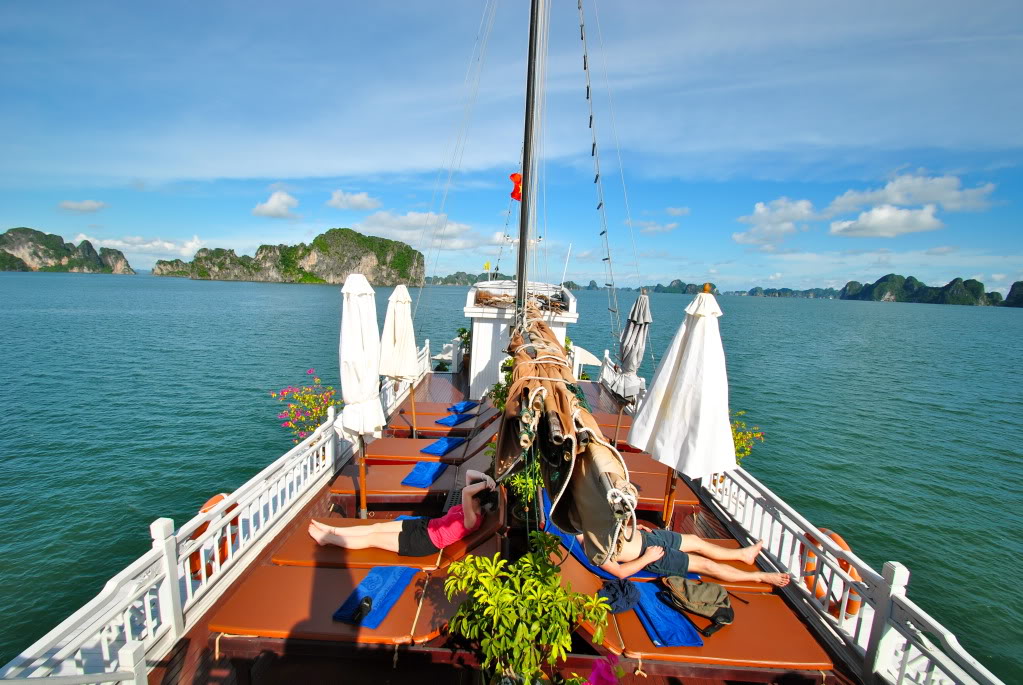 Sitting across the middle of the Bay, Dinh Huong Stone looks like leaf shield. Once the tide is out, the stone appears like 4 foot meandering censer. Passing by Dinh Huong Rock, roughly 1 km, you will definitely see two stones similar to the shape of 2 chicken wings lifted together on the sea stone, locally called as Fighting Cock.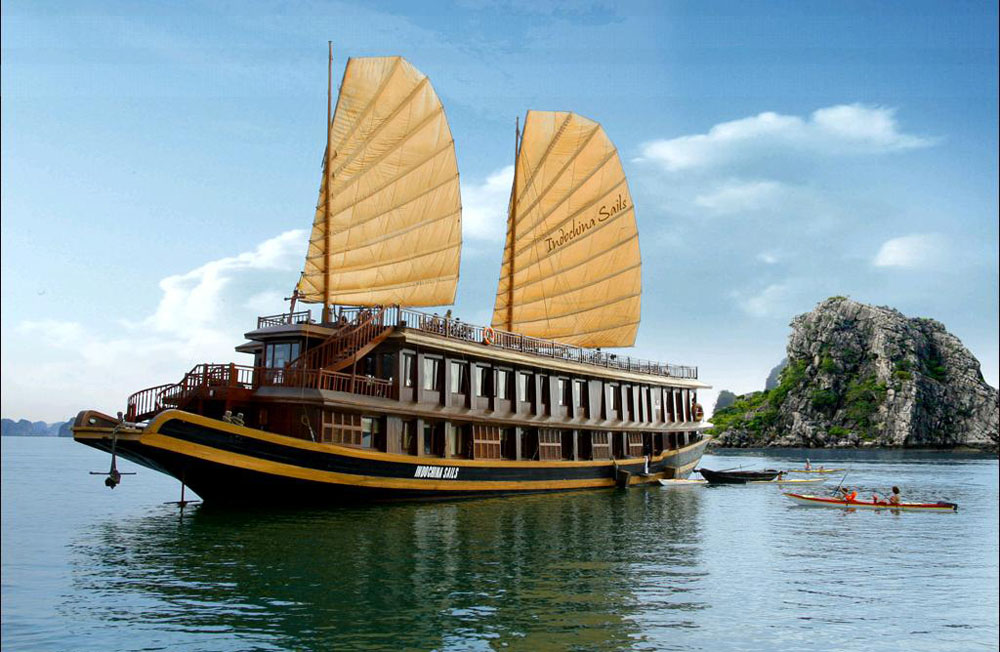 Situated on Bo Hon Island, in the center of the World Heritage, Halong Bay, Grotto des Surprise Cave (Sung Sot cave) is another must see site. Not only being a large cave, this is also the most magnificent one of Halong Bay. On the other hand, in the tourist center of Halong Bay (Sung Sot Cave – Luon Cave – Me Cung Cave – Bo Nau Cave – Ti Top beach), which are home to many rocky islands with distinctive shapes nowhere have been, there are many traveling activities. Alova Gold cruises
Normally, there are 2 kinds of cruise: wooden and iron cruises. Wooden ones are more preferred by foreign travelers. The cruise can feature many cabins, sometimes up to 66 cabins. If you do not like to share with everyone else, it is possible to use private boat. On these cruises, the amenity and facility are well, fully and beautifully equipped and displayed.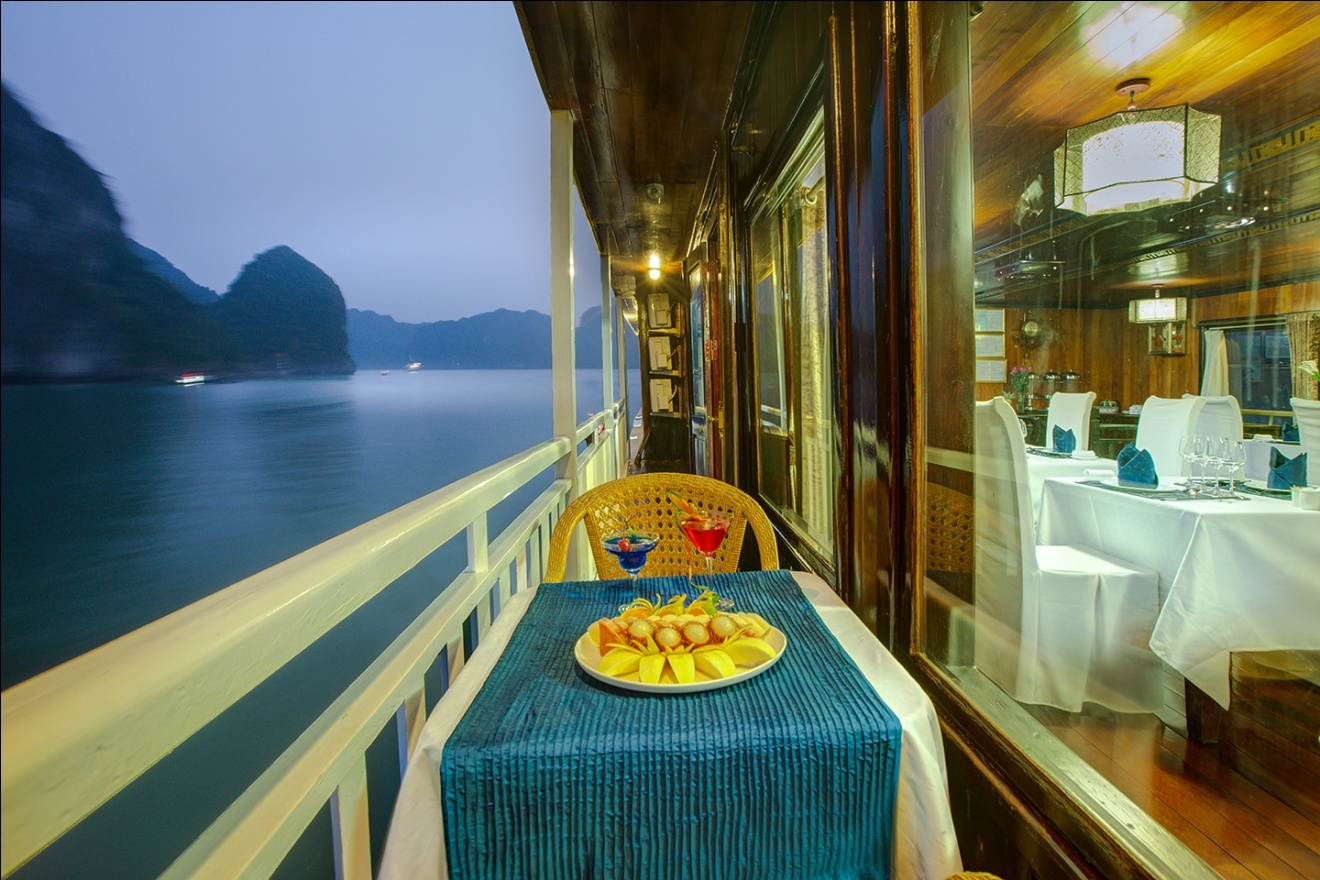 On board, there are Tai Chi Yoga Exercises on Sundeck, Karaoke or movie provided with full amenities, restaurant and bar, beauty care services (foot or body massage & sauna). Moreover, you can also take advantage of the outdoor recreation services. If you want to explore the rent of caves and the peaceful lives of the fishermen, kayaking is for you. Besides, to have unforgettable experiences with locals and other tourists here, you might spend time on fish or squid fishing at night. Riding a bike to explore the beauty of nature in the national forest or going swimming at the beach are also interesting activities.
See more:
Asia Travel Lover