If you are planning to visit Halong Pelican cruise, which is ranked as one of the best Vietnam's destinations, but still do not know "Is Halong Bay beautiful all year round?", the following tips may be useful for you.
Low season from May – September
May, when the temperatures start to rise and there are many days with light rain, marks the beginning of summer in the Northern Vietnam as well as the beginning of low season in Halong Bay. It also means that you can find some good cruise deals. However, you should not choose to visit during the Liberation Day (on the 30th April) and Labor Day (on the 1st May).
From June to August, it can be sunny and even extremely hot with the high chance of showers and unexpected typhoon. Generally, August is the hottest as well as the wettest time of the year. From June to early September, Halong Bay welcomes a large number of domestic visitors; tourist sites, especially beaches, are crammed with travelers.
The summer months, from July to August are the high season to visit Halong Bay for native Vietnamese. It is the easiest time for a family to enjoy their holiday time together as children and students are also out of school.
Pros: many interesting activities to enjoy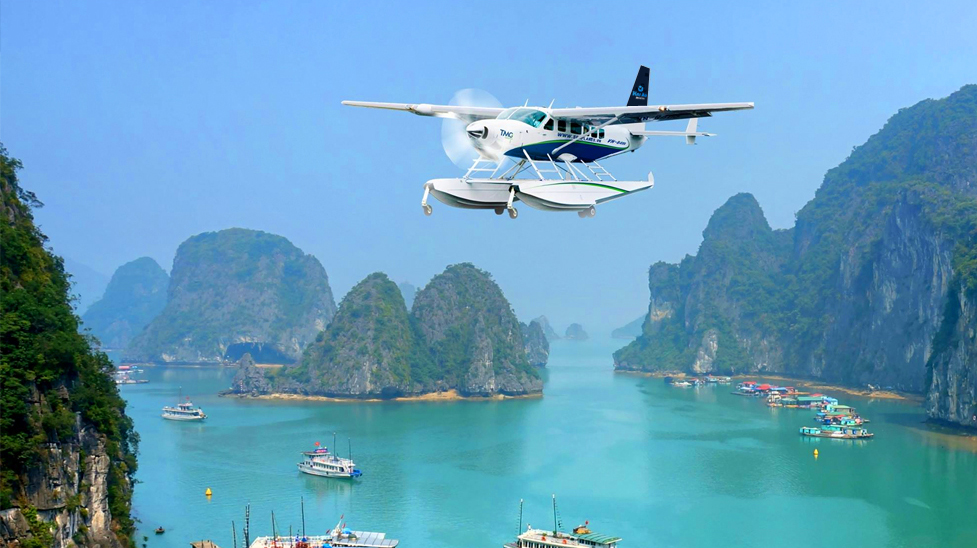 If coming to Halong Bay during that period, you can take part in a lot of interesting activities such as discover the Limestone Caves on Bo Hun Island or immerse in the magnificent seaplane view of the terrain below. What is more amazing than the stunning panoramic view you could see while soaring through the skies in a Hai Au Aviation Seaplane in these beautiful days with golden sunsets? There is no better ways to admire the impressive sceneries and gorgeous sights than seaplanes. Jasmine cruises halong bay
Cons: high price and unexpected weather
Due to the high number of domestic tourists, the costs of accommodation and various excursions will also be high at that time, making getting a good deal for your entire family much trickier. During these summer months, you may experience a typhoon that might ultimately cancel your tour.
Traveling tips
What to pack: insect repellent, sun screen, sunglasses, swim-suit and changes, one wide-brimmed sun hat or baseball hat, flip-flops/waterproof sandals, and a light sweater/sweatshirt for chilly mornings and evenings.
Safety: the season of jellyfish, which can cause popular symptoms such as rashes and hives, is also in summer, so before going swimming, remember to ask your guide or captain for advice.
High season from October – April
It is hot and humid summer in Halong Bay. So these months from March to May with the chance of sunshine, clear and blue sky, pleasant weather, light rain are the best time to visit Halong Bay. If the weather permits, you can take a tour of the area; go out in the bay on a junk or a boat and go swimming and kayaking to explore the beauty of the bay.
Pros: nice weather
You will not have to experience severe hot weather in Halong Bay as it seems dry, cold from November to March and gets colder in January and February. However, it is not perfect time for swimming.
Cons: the high cruise price
The high season from October to April is not the best time for budget travelers, who want to get the best deal. At the period, the prices can be 10 – 20% higher than that of the low season from May to September. Smart travelers are those who will look for last-minute holiday deals.
Traveling tips
If you plan to visit Halong Bay in these months, it is advisable to pack a waterproof jacket in case of rain and enough warm clothing. Otherwise, you can purchase them at the low rate in Vietnam.
See more:
Asia Travel Lover