Not only a rich culture and history, a wonderful and tasty cuisine is also the pride of Hanoi capital city. Hanoi foods are so popular and famous that no tourists coming to Hanoi without enjoying some of the most delicious local dishes in a Hanoi local food tour. And it is these narrow alleyways in Hanoi Old Quarter that you can find the best Hanoi dishes. Enjoy  Hanoi food tours with: Indochina tour packages
1. Chả Cá Lã Vọng (Grilled Fish with Dill and Tumeric)
First served Hanoian gourmets since French colonial time by Đoàn family, Cha Ca La Vong has been one of the symbols of the capital city, the pride of Hanoi citizens and one of the most favorite dishes of Vietnamese.
Cha Ca La Vong is kept really hot in a vegetable oil pan and it gives its best taste when it is still boiling. This special dish is best eaten with rice vermicelli, dill, spiced fresh onion, coriander, peanuts and an indispensable ingredient called mắm tôm (fish sauce). And you are required some techniques for the best enjoyment: grasp a piece of chả cá and then spoon some boiling oil in the pan to pour onto it.
Where to go for Chả Cá Lã Vọng
Address: No 14 Cha Ca, Hang Dao, Hoan Kiem District, Hanoi.
Price: VND 150,000 (USD $6.6)/portion
Bún Chả – Barbecued Pork with Rice Vermicelli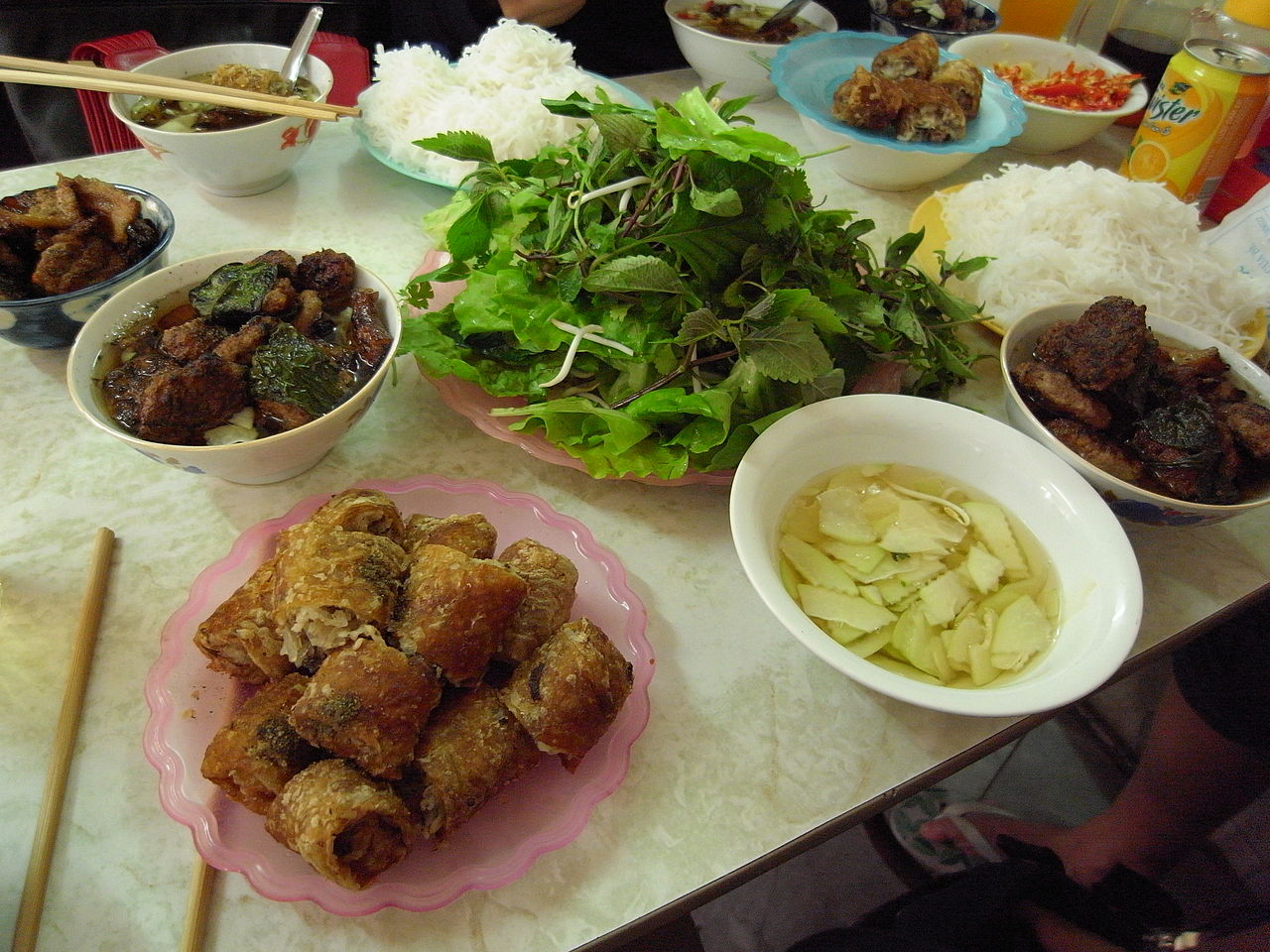 Consisting of grilled pork strips and chả or balls served over a bed of bún – rice vermicelli noodles, bún chả is a specialty of the capital city that no one should miss. Typically coming with a plate of fresh herbs, vegetables and a bowl of dipping sauce, this Northern Vietnamese food will win your heart right from the first time trying. The dipping sauce is made of nước mắm – the famous Vietnamese fish sauce combined with sugar, lime or vinegar, chili and garlic. Moreover, served with additional meatballs on the side are pickled vegetables, like carrots, green papaya, cabbage or onion. Alova Gold cruises halong
Where to go for Bún chả
Bún Chả Hàng Mành – Đắc Kim
Address: No 1 Hang Manh Street, Hoan Kiem District, Hanoi.
Hours: Everyday from 10:00 AM to 9:00 PM
Prices: About VND 60,000 ($2.6 USD)
Bánh cuốn (Steamed Rice Rolls)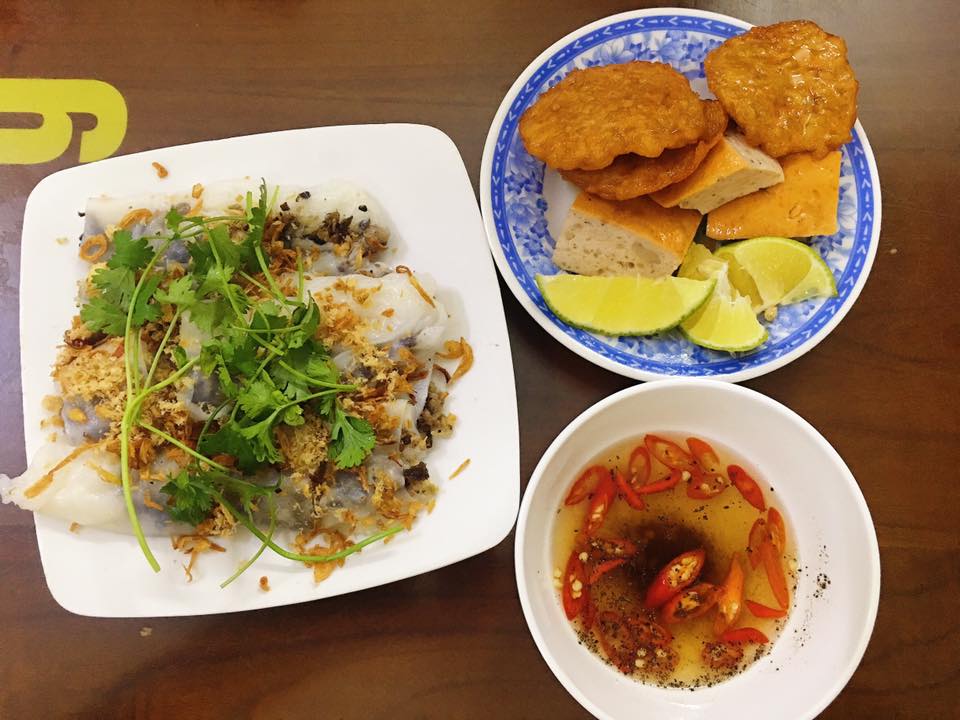 Looking like soft spring rolls, stuffed with a mixture of pork, wood ear mushrooms and onions, and served with fish sauce, bánh cuốn, which is made of these common ingredients, tastes really delicious. Having its own attractive feature, from the appearance to the special taste, Bánh Cuốn has been a favorite breakfast for Hanoians. Once tasting it, you will be attracted by its flavor.
Going to a bánh cuốn stall, you can see how skillful the masters of Bánh cuốn are! Firstly, they ladle fermented rice batter and stretch it onto the surface of the steamer. After that, they cover the steamer with a lid it for just a few seconds. Then, they carefully take the super thin and delicate sheets out, place it with a stick onto a table and fill them with a mixture of minced mushrooms, cooked meat and shallots.
Not only thin as being spread meticulously, bánh cuốn Thanh Vân also has so sweet scent. Here, depending on eaters' preference, they also serve bánh cuốn tôm (steamed rice rolled with shrimp) or bánh cuốn gà (steamed rice rolls with chicken) instead of the traditional minced pork. In addition, there are two options of dipping sauce: ca cuong sauce and traditional fish sauce.
Where to go for bánh cuốn?
Bánh cuốn Thanh Vân Hàng Gà
Address: No14 Hang Ga, Hoan Kiem District, Hanoi
Prices: VND 35,000 – 50,000 (USD $1.5-2.2) for a full set of bánh cuốn
Cà phê trứng (Egg Coffee)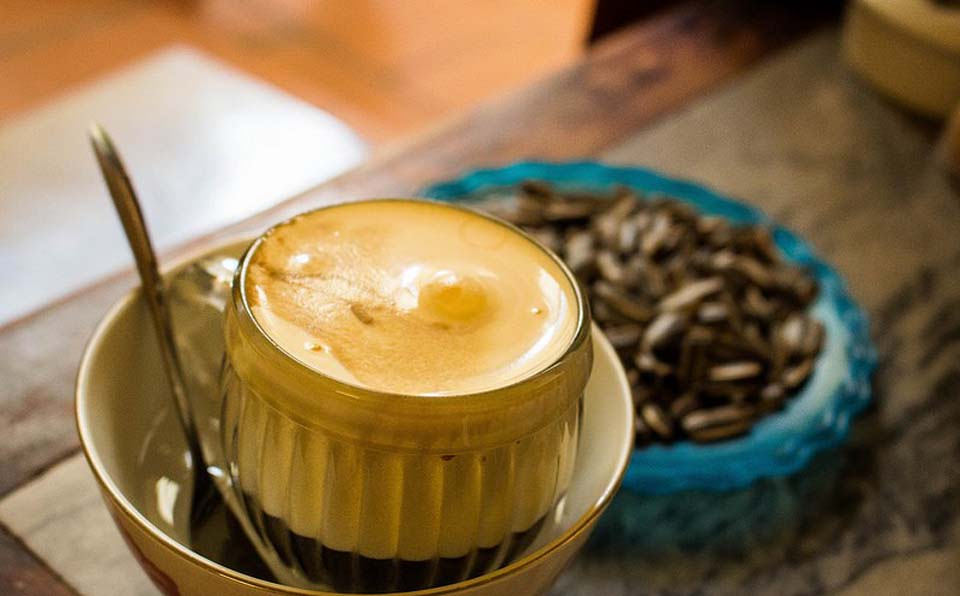 Described as liquid tiramisu, egg coffee, which will impress you for its sweetness from the great combination of the rich taste of the egg yolk, the strong taste of dark coffee and the sweet taste of condensed milk, is worth drinking.
Where to go for egg coffee?
Cà phê Giảng – Giang coffee
Address: No 39 Nguyen Huu Huan Street, Old Quarter, Hanoi.
Price: VND 17.000 (~80 cents)
Cà phê Đinh – Dinh coffee
Address: No 13 Dinh Tien Hoang Street, Old Quarter, Hanoi
Price: VND 15.000 (~70 cents)