Newly launched in Feb, 2013, Huong Hai Sealife Cruise with 26 luxury guest rooms at 4 star- level is the best choice for travellers to Halong bay with the expectation of high-end facilities, professional services.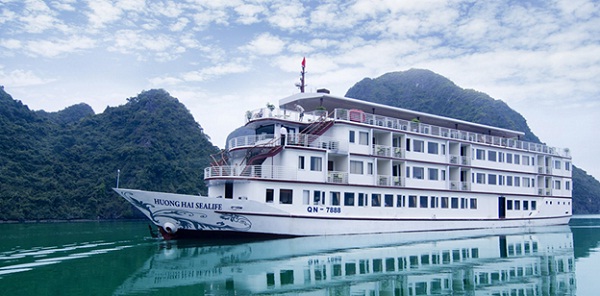 Huong Hai Sealife is 56,8m in length, 10,5m in width with 26 luxury cabins. All of the cabins are designed and fitted to international standards, featuring a rich wooden decor, with large windows from which to enjoy the spectacular scenery of Halong Bay. All cabins are well equipped with air conditioning, private bathroom with shower and hot water, and other facilities. Visit Halong with Indochina tours Vietnam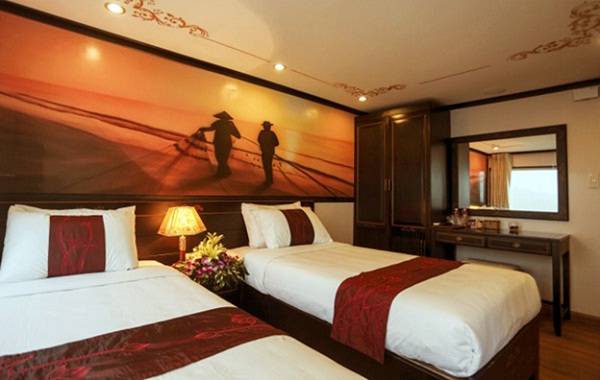 With the spacious and inviting atmosphere, the Sea Flora restaurant on Huong Hai Sealife Cruise provides customers the perfect dining experience. The seasonal menus use the best fresh local ingredients. The atmosphere is intimate and the service is always attentive and personalized.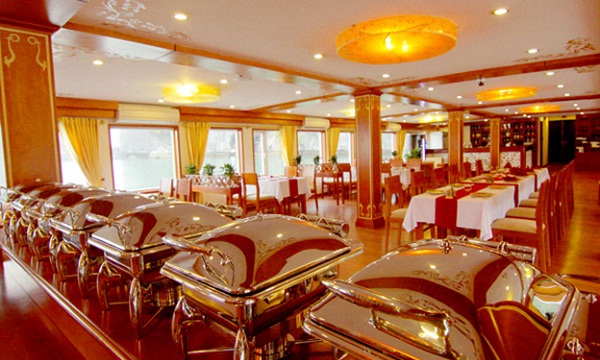 The Sea Flora restaurant includes a bar where customers can enjoy cocktails and wine. You will be charmed and appreciate the warm ambiance and flavorsome cuisine accompanied by stunning views over the beauty of Halong Bay.
Being on Huong Hai Sealife Cruise Halong, you will join a wide range of interesting and entertaining activities such as on-boat fishing, Tai Chi practicing, and tea/coffee tasting. Importantly, the cruise gives you genuine Halong Bay discoveries through trips to floating fishing villages, natural islets and caves, snorkeling and kayaking through various beautiful tunnels; joining squid fishing at night…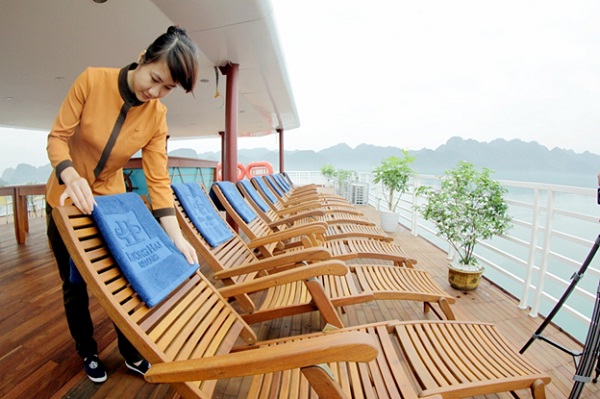 Moreover, this cruise brings you a good chance to meet fishing villagers and discover truly natural beauty of the world wonder Halong bay. To guarantee the most fantastic trip for you, all of the services from the dining room, guest room, bar, sundeck, massage room and many other recreational facilities are at the highest level of luxury and offered by all friendly, well trained crew.
To have a well-rounded view on Halong Bay's beauty, the itinerary of Huong Hai Sealife Cruise covers not only famous but also untouched sites of Halong Bay, such as Sung Sot Cave, Ti Top Island, Ba Ham Lake, and more. All of these will bring memorable memories for you, as you look back to the adventure on the legendary bay of descending dragon.
Cruise Lovers.