Without visiting Kissing Rocks Islet of Halong Bay, Vietnam, your trip to this splendid limestone formations area wouldn't be perfect. Kissing Rocks attracts travelers' attention not only by its own latent beauty but it also represents for something special people are searching for: eternal love. Natural fantastic scene combined with glorious meaning would never disappoint travelers once taking cruise boat offshore to get there.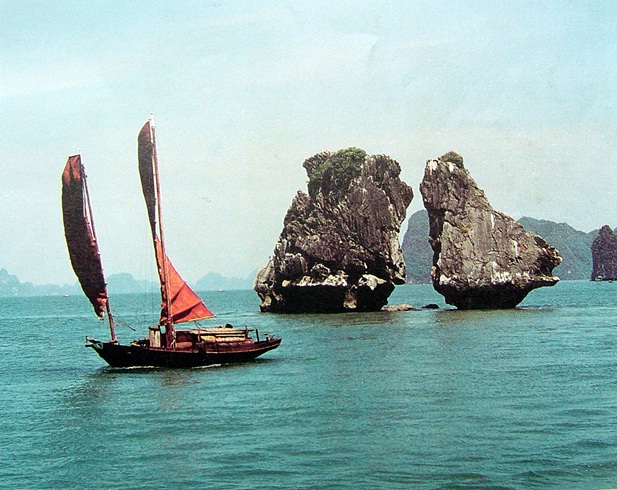 Among those all beautiful islets, two most special chicken shaped rocks should be reminded as its unique shape: one rooster and one hen facing each other more than hundred thousand years in the middle of blue water and gentle wind of Halong Bay. No one can deny the beauty of those glittering pictures on air of this couple every time Halong Bay appears on commercials. Rising about 10 meters high above the sea level, Kissing Rocks can be observed just about 5 kilometers from Bai Chay Wharf. We may mention three exact words "passionate", "faithful", "eternal" to depict this wonderful love created by Mother Nature – as local residents reported. Especially when the beautiful dawn is falling, the sun shedding the first shine of a day and lighting up the cock couple turns the whole panorama into a picturesque heaven.
Let's take time to immerse yourself in gentle winds together with fresh air for a round tour of Kissing Rocks and just feeling it by your own way – the shape of the rocky couples may remain unchanged in your mind, a great story and image of love created by the nature.
The Indochina Voyages team.