Paradise Peak is Paradise Cruises' latest masterpiece, a sumptuous floating hotel that has redefined the boundaries of Five Star cruising by providing a supreme level of luxury to its prestigious passengers in their most memorable Halong Bay Tours.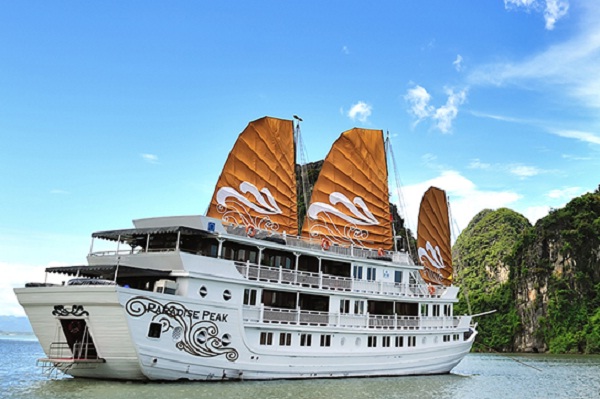 Similar to the Paradise Luxury vessels in appearance, Paradise Peak offers in total 8 stately suites for an infinite comfort and care. All facilities have been designed with the utmost elegance and the crew composed to ensure a guest service worthy of the most remarkable grand hotels.
Eight extremely spacious suites compose the majestic Paradise Peak cruise. Two are located on the first deck, four on the second deck and two on the third deck. From 38 m² to 42 m², they all feature a bedroom, a large en-suite bathroom and a private dining area.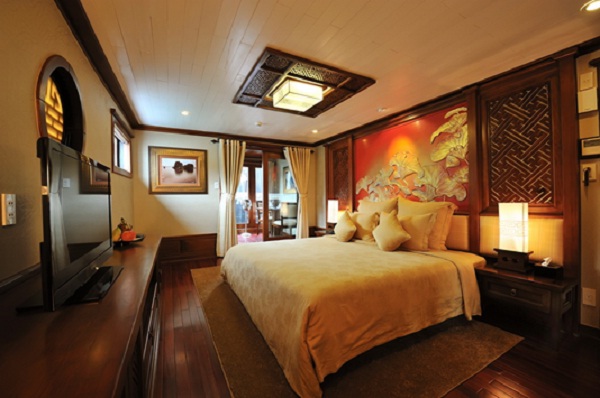 Paradise Peak has created the first onboard A la carte menu for you to choose according to your tastes and desires among a selection of refined dishes artistically blending Vietnamese flavors and international delicacies.
A list of the finest vintages in the world together with an exquisite array of cocktails and beverages will accompany your meals and be available any time thanks to an in-cabin service. Tours Indochina Vietnam

Located on the third deck, the lavish restaurant is surrounded by large windows for you not to miss anything of the nature performance unfolding around you as the boat sails through the bay. It can host up to 16 people and meals can also be arranged to be taken outdoors.
The first deck features spa and fitness facilities as well as a cozy library which displays an interesting selection of books and magazines. Intended as a relaxation area, it is furnished with lounge chairs and sofas. In this homely atmosphere, you will be offered complimentary tea and coffee as you wish.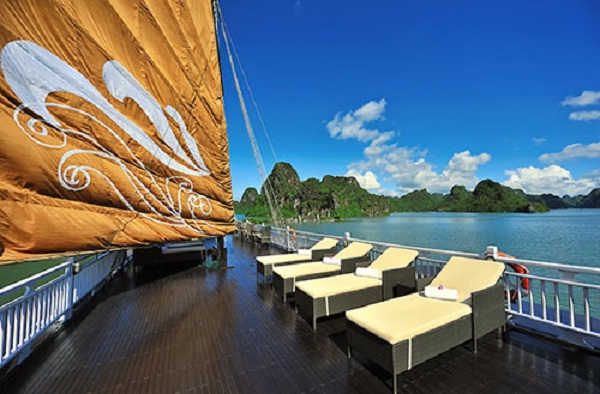 The sundeck of Paradise Peak is the largest of our entire fleet. You can laze in the sun and enjoy a priceless 360°C view onto the beauties of Halong Bay. Paradise Peak features extremely spacious spa facilities, framed by large bay windows that include sauna, steam room, Jacuzzis and massage rooms. Paradise Peak is besides the very first and only vessel of Halong Bay to dispose of a fitness room with the ultimate heavenly touch of offering wonderful views onto Ha Long Bay while enjoying the exercise equipment.