Lying at the top notch among the mid-range cruises in Halong Bay, Red Dragon Cruise promises to bring you authentic experience when travelling around the World Heritage Site. Having operated by Indochina Junk since 2008, this luxury boat is ready to cruise for your extraordinary journey in Halong. If you are seeking for a unique and distinctive cruise, the Red Dragon Junk is highly recommended. Halong bay cruise
Red Dragon Cruise Halong Bay, named and designed after an authentic Chinese junk, the original Red Dragon Cruise plied the rivers, seas and harbours of the Far East, from Singapore to northern China.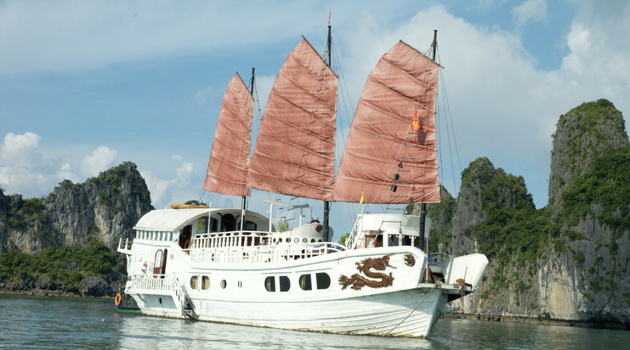 Red Dragon Cruise is complete with 05 deluxe cabins and designed to resonate with superior class and grandeur. Larger than The Prince and Princess cruise, Red Dragon Cruise is still small enough to get up close to the natural wonders, pocket lagoons and small fishing communities of Halong and Bai Tu Long bay. Visit Halong with Indochina tours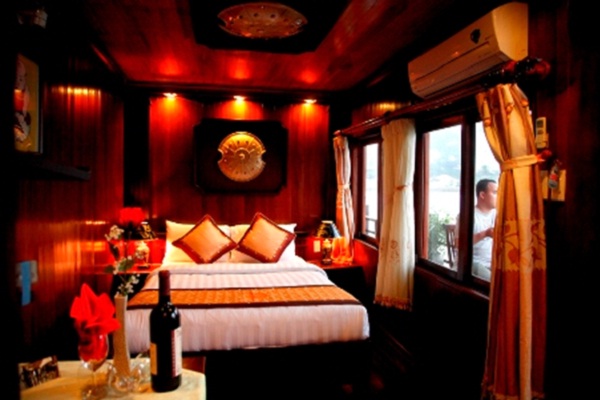 Based on the Ancient Halong Sail-Boat Style, the Red Dragon Junk is designed perfectly by wood, stone and bronze in harmony between tradition and luxury. With a fully-equipped dining room, a deluxe cabin with en-suite bathroom, sunbathing and relaxing area, a professional kitchen, a captain cabin and a separate Staff 'area.
Made by the sophisticated woodworkers, the Red Dragon Junk offers an unforgettable masterpiece of art inside the boat. In addition, other Asian decorations proudly bring you a transient gleam of Asian culture. Even there are only 5 deluxe cabins (3 double, 1 twin, and 1 triple room) and 2 spacious sundecks with a capacity of up to 11 passengers, the Red Dragon Junk have set a focus on quality over quantity.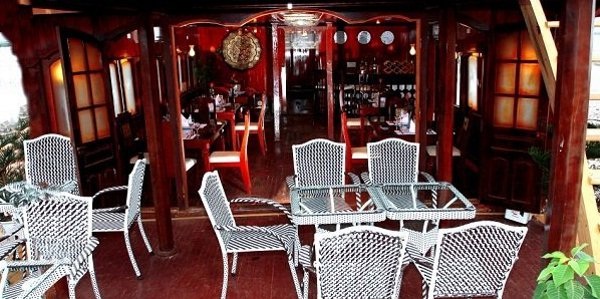 Customer satisfaction is always the highest priority in the Red Dragon Cruise. Passengers will be served by well-trained and caring staff. As soon as you travel with Red Dragon Cruise, please enjoy a warm welcome from the crew on board and afterwards, you will be treated like royalty. Red Dragon Cruise operates 2 restaurants, one inside and one outside. Outdoor lounge will definitely indulge yourself that enables passengers' souls to blend with nature. Besides, the cruise offers traditional music and dance, wedding, birthday anniversary, beach party and inside cave party upon requests. Other activities that should not be missed are bamboo rowboat, kayaking, caving and fishing.
The Indochina Voyages team.