Celebrated on October 31st every year, Halloween is a well-known festival in Western countries with the origin from the ancient Celtic festival Samhain. It is unexplainably believed that on this day the boundary between living and dead is not separated clearly and the skeleton and the head become the symbols of this festival. Therefore, the festival always offers people the weird but exciting feeling.
After a long time, Halloween has been warmly welcomed by many young people in Hanoi. To go through unforgettable Halloween season, in addition to necessary activities such as makeup, trying cuisine, putting ghostly accessories on, many Hanoians themselves gather together in impressive and exciting destinations to welcome Halloween. Let's join with them to see how Hanoi is on Halloween and how different Halloween in Vietnam is from one in your own country! Explore with: Indochina travel packages
A visit to The Old Quarter and Ma Street is highly recommended.
Before, Ma Street is full of the eerie items, which are sold and bought by many Hanoians to prepare for a memorable day.  The visible items related to ghostly Halloween include evil masks, black clothes, witch hat, pumpkin lantern or something like that. Ma Street suddenly dips itself into the weird color of black and orange. In addition, sellers and buyers all are hustling with their work to make careful preparation for Halloween with family or friends.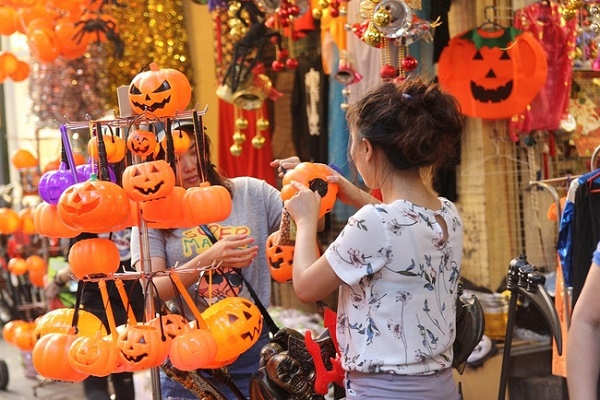 At the exact day – 31st October, do not miss the Old Quarter, especially Walking Streets. The vast and spacious place here is where many Halloween activities occur. Coming here, both domestic and foreign people make up and wear eerie clothes. The Old Quarter is overwhelmed with the ghosts, witches or cosplay characters walking along the streets to immerse themselves into the atmosphere. It is funny that you have a chance to see some ghosts are sitting together and drinking beers in Ta Hien Street.  Bring a camera to take photo of the exciting moments here.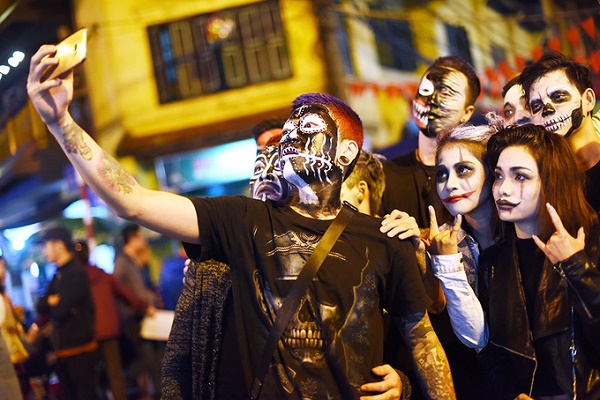 A quick stop in West Lake Water Park
West Lake Water Park is situated in Lac Long Quan Street, Tay Ho, Ha Noi. On every Halloween, West Lake Water Park is considered as one of the must-visit destinations, which is favored by both Hanoians and foreign guests. The highlights of Water Park on Halloween are decoration and activities related to ghosts or evil. It is decorated by the mysterious huge pumpkin lantern or weird items of ghosts and maybe Water Park turns itself into the eerie hell.  When reaching here, it is believed that West Lake Water Park from decoration to activities does a good job at offering you the unforgettable feeling about ghostly Halloween. Let's see what to do here. Making a trip through the ghost houses, taking photos with the devils, visiting ghost market, participating in death ring and enjoying the music of the famous DJ, singers or dance groups are what you should not miss when arriving at Water Park. See more: Halong Bay junk cruise
How about experiencing the ghostly atmosphere in Cinema?
If you do not like a noisy and crowded place to go through Halloween in Hanoi, ghost movies in Hanoi cinemas are the wise choice. Indeed, October is the month spent for the weird ghost movies or horror films, which captures more and more young Hanoians. Let's try bringing popcorn and a cup of coca cola to come in the cinema to experience ghostly atmosphere!
Hope with the above suggestion, you will undergo the unforgettable experience in Halloween in the capital of S-shaped land.
See more:
I Love Vietnam