Many tourists can not help but throw themselves head-first into shopping while in Vietnam. Why? Probably the variety of quality goods and the tempting prices have a lot to do with it.
SAND PAINTING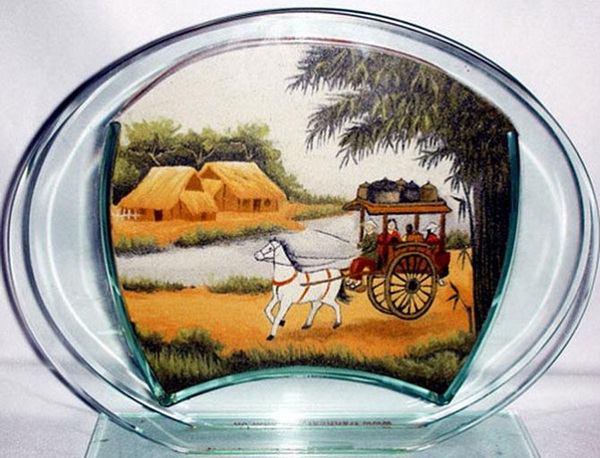 Sand painting is the art of pouring coloured sand, powdered pigments from minerals or crystals, and other natural or synthetic sources onto a sticky surface and fixating it later with spray, so it does not come off again to make a lively picture. Vietnamese sand picture comprises of four categories – landscapes, portraits, labourers and calligraphy. There are several kinds of Sand Painting: Sand Painting on the glass, on the flat surface or even on the paper which kids usually play with. These are beautifully done artworks which will adorn the fireplace or side table in most Vietnamese houses. The pictures made of sand are usually about Vietnamese lives. It can be a house in a country side with coconut trees, the rivers, the fields with cows and buffaloes. It could be a day of working on a field of the farmers or pictures of beautiful girls dressed in white ao dai which gives you the feeling of peaceful and cute. Tours Indochina Vietnam
HANDICRAFT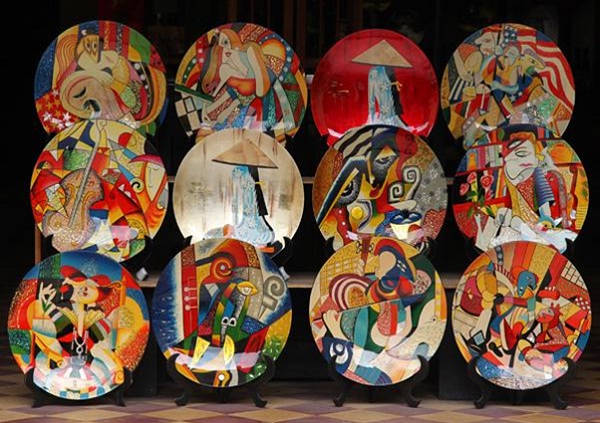 Vietnam is a country rich in handicraft products, thanks to the hard-working, dexterous, and creative qualities of the Vietnamese people. For a very long time, handicraft products have been a source of cultural pride and a source of income for the people. Handicrafts are popular gifts readily available in Ho Chi Minh City as well as in Vietnam. There are many different kinds of handicrafts such as embroidery, lacquer ware, vases, trays, rosewood boxes, wood-block prints, oil or watercolor paintings, blinds made from bamboo, reed mats, carpets, ceramics and leather work which are high quality and much cheaper than anywhere else in the world. Besides, there is a wide range of array of silver and horn and many other products. They are made by the skillful hands of the Vietnamese artists. The patterns are usually about Vietnamese people's life so it is attractive to foreign people who are always curious about the life of an agricultural country. tours in Vietnam
LACQUER WARE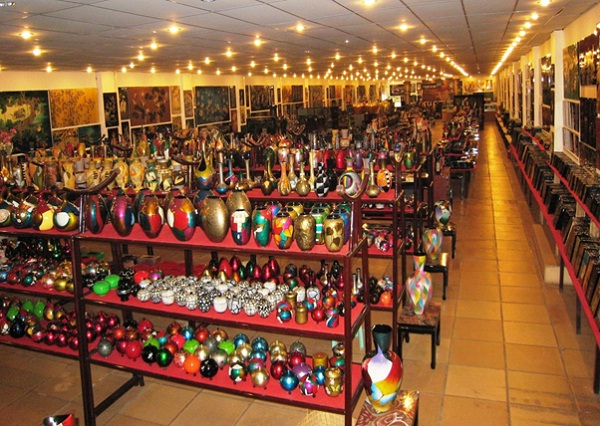 Lacquer ware is one of those items that I would strongly recommend that you buy in Vietnam. You can find many kind of lacquer wares from small to big, from simple to high quality ones at most souvenir shops in Hanoi, Hoi An and Ho Chi Minh City. They come in all forms – plates and dishes, coasters, wine holders, jewellery boxes, etc.  Although bulky, they are pretty lightweight and easy to carry back home.  It makes for a great gift or as decorative pieces for a modern home. Every Vietnamese lacquerware bears the feelings of its creator: flexibility, complexity and variety. Lacquer products were originally produced in basic colors like red, black, green, yellow and brown. With the development of the new techniques, manufacture lacquer products, today cover a whole range of colors to the choice. These enhancements add to the natural beauty and variety of the Vietnamese lacquer ware.
Sand painting, handicraft and lacquer ware are suitable souvenirs for your family and friends.
I Love Vietnam.