Halong Bay – the UNESCO World heritage site – is not only famous for the beautiful beaches with blue sea and white sand beach, but also the limestone mountains and the stalactite caves formed million years ago. Have you been any of them? Let's explore top 5 most beautiful Halong bay caves!
Sung Sot Cave
Sung Sot cave, located on Bo Hon Island, is one of the most spectacular and largest Halong Bay caves and one of 10 most beautiful ones in the world. The name of Sung Sot cave means "Surprised Cave" or "Amazing Cave" in English, because of its huge space with incredible natural points. Therefore, it will make visitors surprised from their very first moment setting foot inside.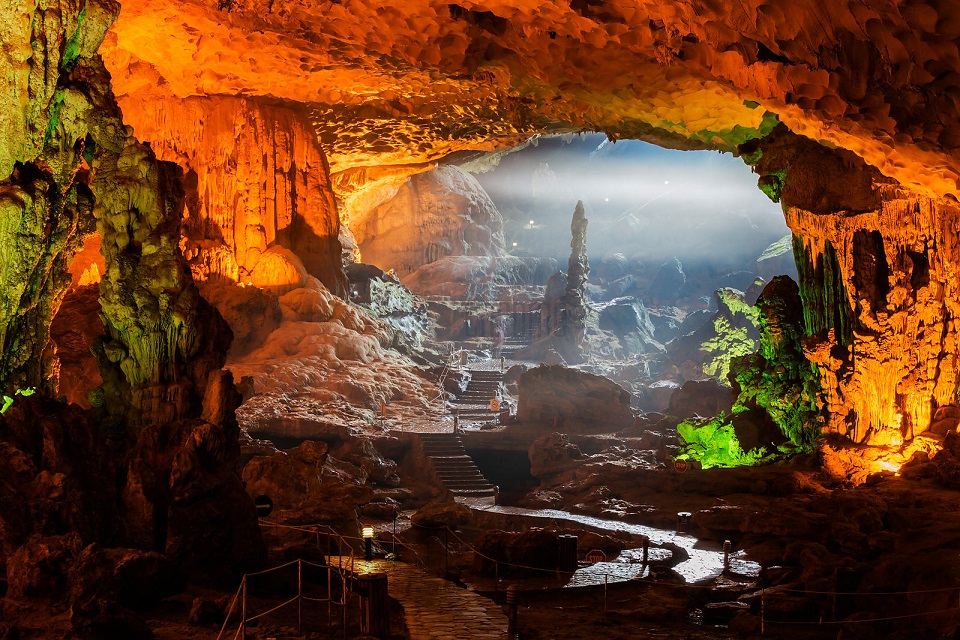 Sung Sot cave comprises two main chambers. The first partition is similar to a theater hall with various shapes of stalagmites and stalactites hanging from the wide and high ceiling. Entering the second one through a narrow passage, you can see natural light bathes the surfaces. There is a large opening which is also the exit from the cave will surprise you with a ray of light filtering from that gate creating a natural skylight.
Sung Sot cave is about 10,000 m2 large. There are thousands of stalactites and stalagmites growing up and down from the floor and ceiling along the paved passage. The passage line is illuminated by colorful lights; and the chambers are decorated as amazing scenery. Some of stalagmites and stalactites even seem to be shining thanks to their chemical composition. Spotlights of varied colors are placed in such a way to be in obscure and add to the amazement of the grotto.
Sung Sot cave is approximately 30 meters high with a very long process of spectacular natural creation. When you walk through the cave, your imagination can run wild from numerous kinds of spectacular creatures. According to the local tour guide, you can stretch out your imagination with various similar shapes as a stone elephant, a shade banyan-tree, and a huge dinosaur, etc.
Halong bay cruises to Sung Sot cave
Thien Cung Cave
Thanks to a unique system of stalactites and stalagmites, Thien Cung Cave is widely known in Halong Bay for its splendid beauty.  This Halong bay cave makes the visitors the impression of being in a heavenly world indeed like its name.
The opening entrance to Thien Cung Cave is perched in the middle of the mountain; which requires the visitors extra efforts hiking up here. The original inhabitants of Halong Bay have also told an ancient story about Thien Cung Grotto over many generations. It is widely understood that Dragon Prince was fallen in love with "Nang May" – Ms. Cloud. A lavish wedding party had already been organized inside the grotto for 7 days and 7 nights. Wedding celebration was wonderful and bustling like on the real heaven. Therefore, the cave's center stands four large pillars propping against the "roof of heaven". Walking around the grotto, travelers will feel like visiting an art museum with variety of sophisticated statues and reliefs.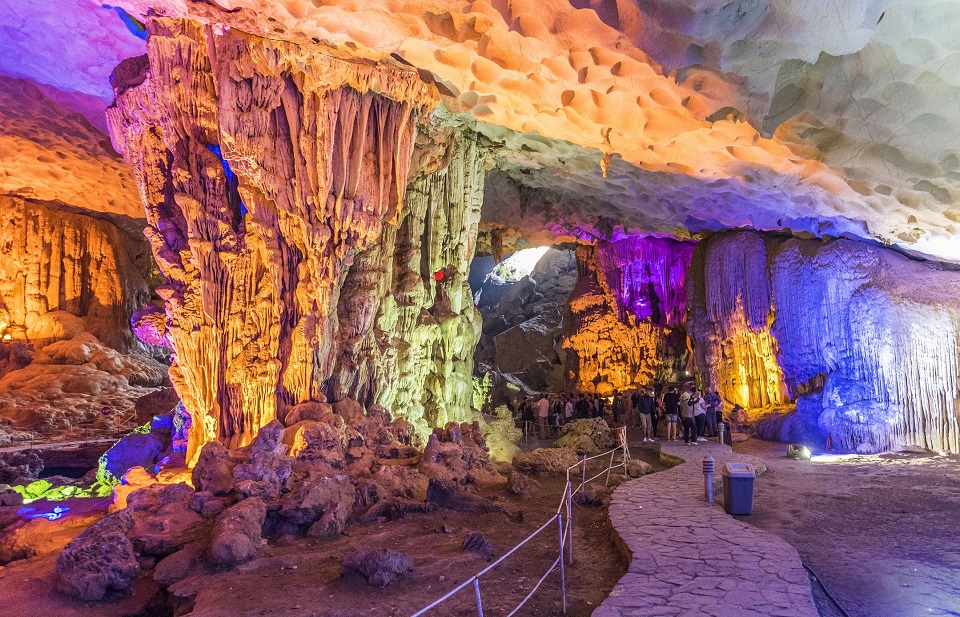 Dau Go Cave
Several versions of historical stories about Halong Bay caves were told by local residents; in which one of them linked to the historic battle against Mongolian invaders under Tran dynasty in 13th century. Dau Go Cave was said to hide wooden stakes before they were driven into Bach Dang River, resulting in glorious victory of a very famous sea battle. By creating a trap to destroy the enemy's ships, the cave then is widely called "Dau Go", that means "wooden stakes". While Thien Cung possesses a modern, monumental beauty, Dau Go Cave is unique by its own way for a majestic and serene one.
Seen from afar, the entrance to the grotto appears to be blue with a special jellyfish shape. The outer chamber is full of colorful stalactites: such as elephant herds, bewildered giraffes, sleeping lions, etc. We would immerse ourselves in sparkling natural light in the vault-shaped chamber inside; then feeling it like an indeed impressive castle. Suddenly, we turn our head upwards facing the vaporous light, an ancient wall and a scuffle petrified fighting elephants, hustling people, horses and swords. It is such an amazing experience! Let's come and enjoy the very astonishing ethereal beauty of the Creation.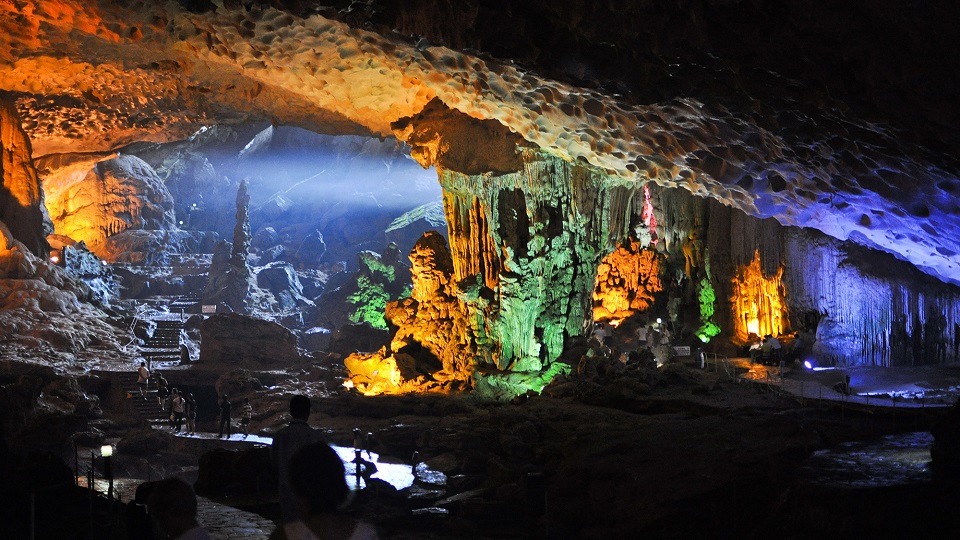 Tien Ong Cave
If you are a person who likes to explore and study the history of ancient cultures, the archaeological site of Tien Ong Cave will be an interesting and unique destination for your Halong Bay tours.
Tien Ong Cave is located on Cai Tai Island, near Cua Van fishing village, in the south of Halong Bay. The cave is 4-5m above the sea level, under a bow-shaped cliff with a corridor about 100 meters long. The cave arch is about 10 meters high sloping from outside to inside. About 30 meters from the cave door, there is a stalactite system that forms a curtain of stone at the end of the cave. There is a large mass of mollusk sediment shells outside.
Seven years ago, in November 2007,  Tien Ong cave was excavated. As a result, Tien Ong cave was where the old men in Halong Bay settled down about 10,000 years ago. Tien Ong Cave is Duc Cave, discovered by Swedish archaeologist Anderson in 1938.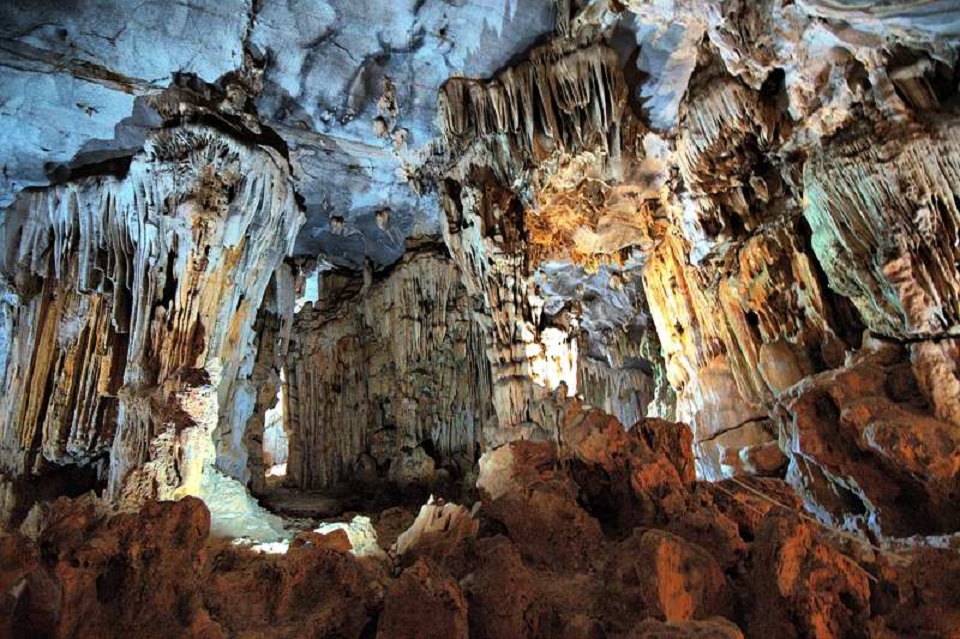 Halong bay cruises to Tien Ong cave
Thien Canh Son Cave
Thien Canh Son cave is located in Bai Tu Long Bay and in the Cong Do Area. It attracts foreign travelers thanks to its beautiful landscape and pristine stalactites and stalagmites which formed thousands of years ago. Despite of being smaller than Sung Sot Cave, Thien Canh Son Cave still has an amazing beauty; especially the cave is not too touristic, helping travelers enjoy this experience to the fullest. Inside the cave, you can see the image of a stone lotus or a stone elephant. They are all for your imagination.
To reach the cave, travelers will have to climb about 100 stone steps; but it is worth enjoying the poetic natural scenery of Bai Tu Long bay and the fresh and cool atmosphere of the bay from above. Just below Thien Canh Son Cave, there is a smooth, long white sandy beach for taking photo and swimming.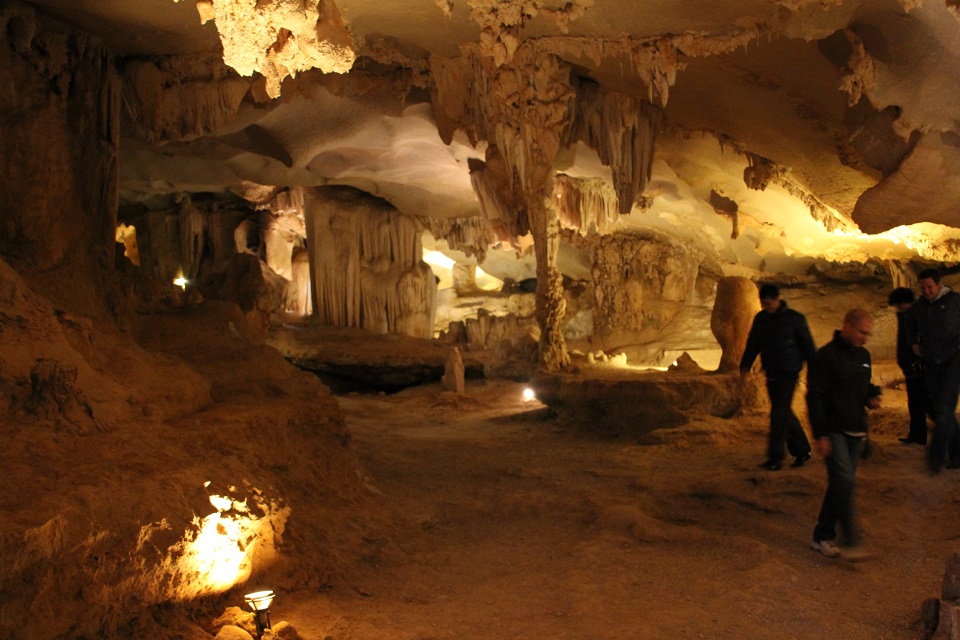 Halong bay cruises to Thien Canh Son cave
In conclusion, make sure that you're fully using your imagination to create pictures from a giant naturally sculptured rock pillar when visiting Halong bay caves. The further you walk, the more beautiful formation of stalactites comes to your eyes. Let's come and enjoy the best heaven ever that Halong Bay has to offer.
Yen Nghiem – Travel Specialist