Enjoying an interesting walking tour around Hoan Kiem Lake – the heart of Hanoi – on weekend nights, you will easily notice an extremely crowed night market, also known as Dong Xuan Night Market. Due to its recent expansion, Walking Street in Hanoi's Old Quarter (formerly Hang Dao – Dong Xuan walking street) is the biggest walking street in the capital city and a wonderful site for both Vietnamese and foreign tourists to discover and enjoy Vietnamese culture. Travel Vietnam and Indochina
Hanoi walking streets – new hotspot for cultural activities and entertainment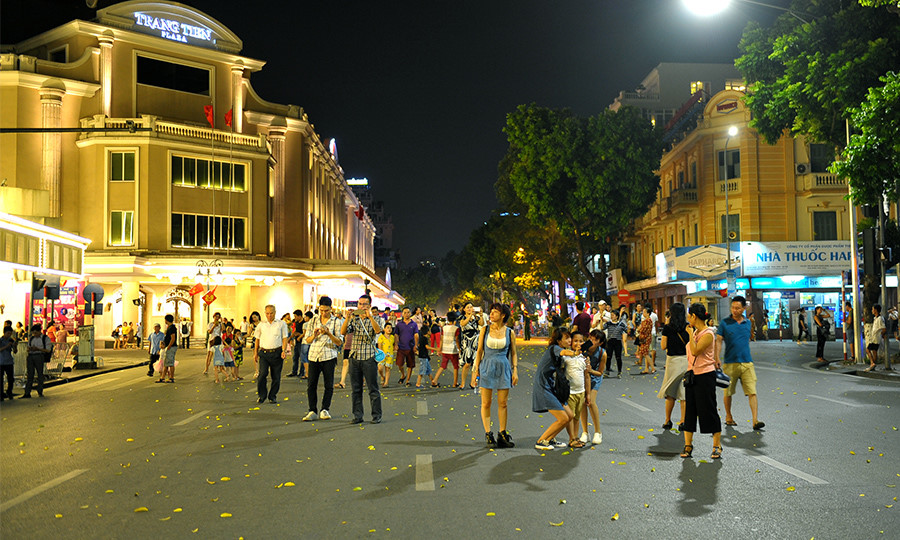 Having opened for more than a decade, Dong Xuan Night Market has a 3- kilometer long pedestrian street running from Hang Dao Street. The night market, with the aim of promoting Vietnamese culture in international travelers' eyes and Vietnamese new generation, represents Hanoi's cultural and traditional life and activities. Opening from 7p.m until 11p.m on Friday, Saturday and Sunday nights, this walking street consists of over 3000 stalls from many small traders selling souvenirs, accessories, daily goods, foods, clothes and handicrafts.
You can easily find many artists sitting along the street and have them sketch your portrait. Waiting for only a few minutes, you will receive a perfect picture of yourself drawn by a street artist, at a reasonable price. Moreover, while having fun in the market, you can also have a great opportunity to taste several kinds of Vietnamese street food along the street and enjoy fascinating cultural activities. It is no surprised to meet foreigners and locals from all ages in this crowded market as they all come there to experience real Hanoi's sense with the subtle taste of delicious food, the atmosphere of Hanoi's old market, the sounds of Vietnamese folk music and the images of antique architecture.
Dong Xuan Pedestrian Street has recently been expanded to Level 1 reservation area in Hanoi's old quarter street, namely Ma May, Luong Ngoc Quyen, Hang Giay, Hang Buom and Ta Hien. Especially, Hang Buon food street is where you can find about 40 food stalls selling many kinds of traditional Vietnamese food: from Hanoi street food to other provinces' specialties. Popular choices are spring rolls (nem cuon), Vietnamese salad (nom), fresh juices, sweet rice cake and sweet soup (che). Halong bay Jasmine cruise
Taking part in a food tour in Hanoi Vietnam, tourists will have a chance to enjoy all street foods, which can only be found in Hanoi. Other international cuisines, which are popular in Vietnam, such as Taiwanese bubble tea, kebab, Korean food and French cakes, are also available. Hanoi walking street stretching around Sword Lake including Dinh Tien Hoang, Le Thai To, Hang Khay streets makes Sword lake become a favorite place to go of all tourists.
Vietnamese folk games – specialties of Hanoi walking streets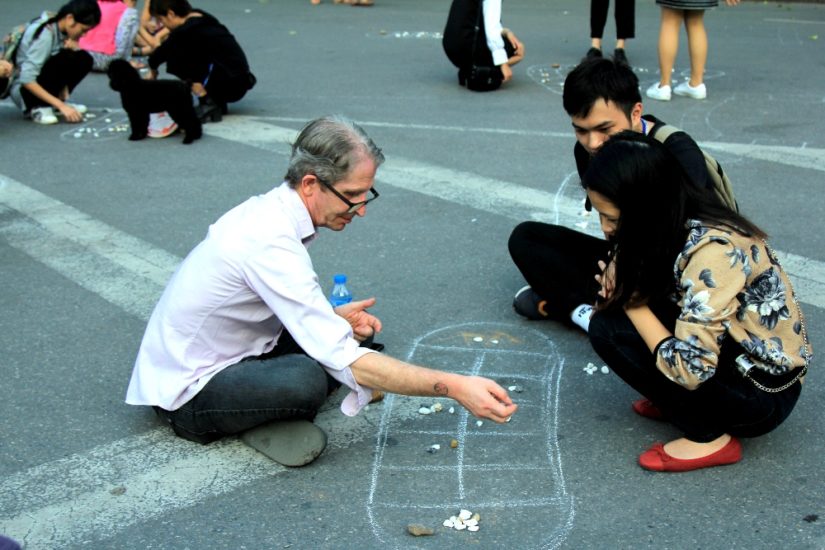 The traditional Vietnamese folk games reproduced around Hoan Kiem Lake and in front of the Cam Tu (Self-sacrifice) Monument are specialties of the walking streets. A variety of games, such as rope skipping, stilt walking, mandarin square capturing and tug of war, bring back participants their childhood memories and attract visitors to this walking space.
Hanoi walking streets – outdoor art space
At walking street, travelers also can see Vietnamese traditional music concerts. Along the street and in front of small temples, Ca tru, which is on the list of Intangible Cultural Heritage in need of Urgent Safeguarding, Chau van Hat xam and Cheo are performed by professional artists. It is a great opportunity for both Vietnamese, especially youngsters and international travelers who like to discover the country's traditional folk music, to experience various types of Vietnamese traditional art while enjoying a package tour in Vietnam and all of these concerts are free.
Ta Hien Street – place to explore the modern world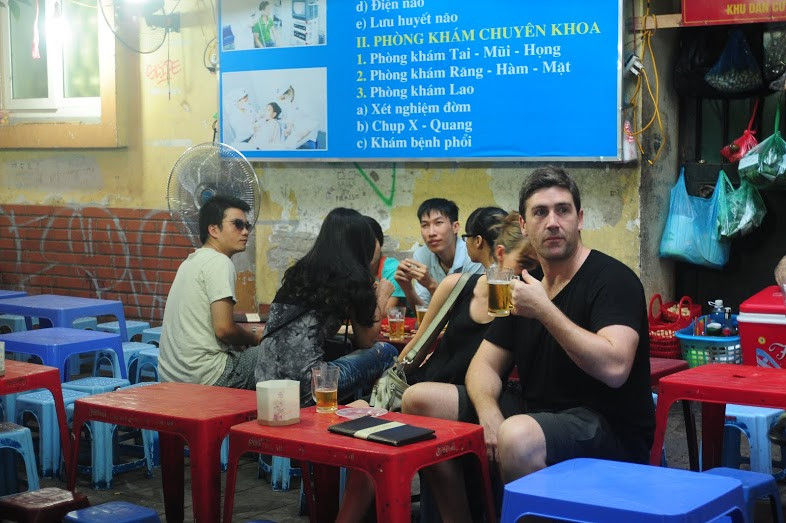 If you want to explore the modern world, it's time to move to Ta Hien Street, which is also known as Western street. In the central square of this street, there are live performances from Vietnamese latest songs, the popular US – UK songs to European classical music played by instrumental music bands. Even though crowded, Ta Hien Street is not like the atmosphere in the market. This street is covered by many groups of youngsters sitting around small table, chatting around while eating street/ junk foods, drinking lemon tea/tea and enjoying the music. In other corners, somewhere, you can see foreign tourists sitting next to plastic table, holding beer glasses, smiling and saying 'Cheers' or even "Dô" like a real Vietnamese. Even though it might seem to be a modern place, travelers still can feel the sense of an old Hanoi there. It may be something that only Hanoi capital city owns!
See more:
Asia Travel Lover