Not only owning a huge source of minerals, but Quang Ninh is also blessed with many beautiful natural landscapes. In the past, people used to know Quang Ninh for Halong Bay. However, now it is popular with many more spectacular sites such as Co To, Halong Park, Quan Lan, etc. Recently, there is a place that attracts a lot of travelers in Quang Ninh that is Bai Tu Long Bay. In this article, you can find the most necessary travel experiences for your Bai Tu Long Bay tour.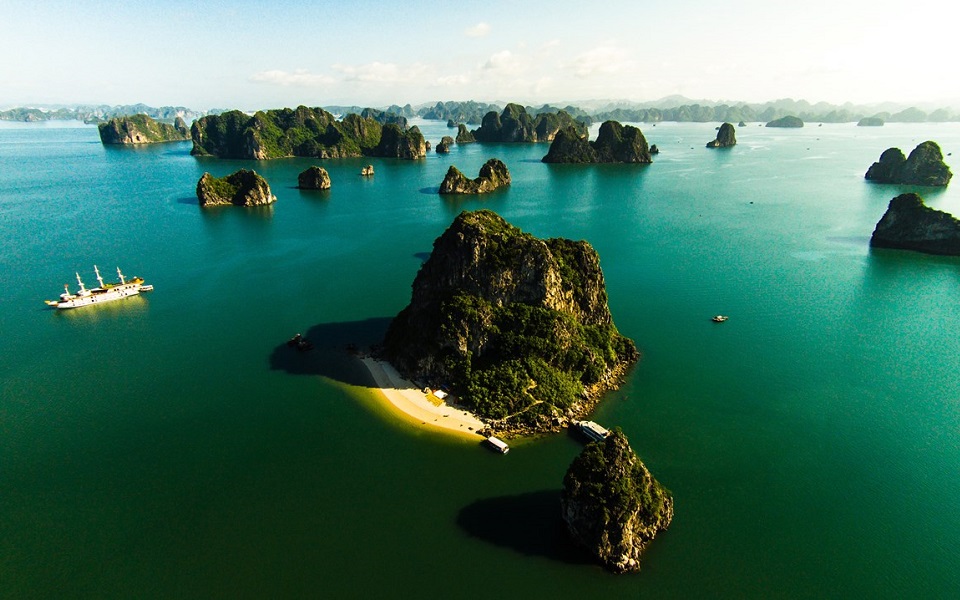 Where is Bai Tu Long Bay located?
Bai Tu Long is a bay with a beautiful natural setting located in the Gulf of Tonkin region, Northeast Vietnam. If you are wondering where you should go to: Bai Tu Long Bay or Halong Bay, you need not worry as Bai Tu Long Bay is right on the southwest of Halong Bay. Bai Tu Long Bay has an area that spans many different regions. One area belongs to Halong city, one part belongs to Cam Pha city and the rest belongs to Van Don island district. Same as Halong Bay, Bai Tu Long Bay consists of hundreds of islands of different sizes. Many of them are currently inhabited. With that many similarities, Bai Tu Long Bay is like a less famous twin brother of the Halong Bay.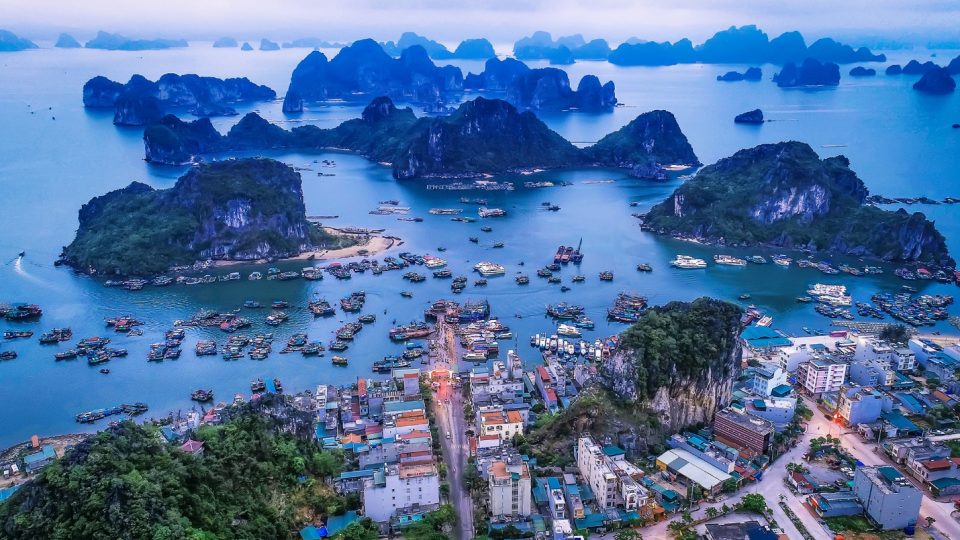 When should you travel to Bai Tu Long Bay?
Bai Tu Long Bay has quite mild and comfortable weather. Similar to Halong Bay weather, Bai Tu Long Bay weather changes during the year. Summer usually takes place from April to October with hot and humid weather. Winter takes place from November to March next year. Besides, yearly rainfall in Bai Tu Long Bay is large and its average temperature falls between 15 and 25 degrees Celsius.
Summer is an ideal time to visit Bai Tu Long Bay for Vietnamese people. On the other hand, foreign travelers prefer to come here in winter. From my Bai Tu Long Bay travel experience, you should not come from June to August because this time there are often rain storms. 
How to get to Bai Tu Long Bay from Hanoi
Bus
It takes about 4 to 5 hours to travel from Hanoi to Bai Tu Long Bay. Bus is a fairly popular option to get from Hanoi to Bai Tu Long Bay because there are many buses running this route every day. You can take these buses from My Dinh station, they will drop you off at either Cam Pha station or Cua Ong station.  Tickets are quite cheap at only about US$5 to US$10/person/way.
Private Car
Another option is private car via Vietnam travel companies. This option is perfectly fit for groups of travelers from 3 to 7 people. Private car companies often offer round-trip packages of which prices vary from US$100 to US$110. In this case, private car can get as cheap as community bus. Since if you go in a group of 4 people, it only costs about US$12.5/person/way.
Shuttle Bus
If you decide to do a cruise tour, you can also take a shuttle bus to Bai Tu Long Bay. These shuttle bus are often operated by cruise company themselves. Normally, they will pick you up in Hanoi Old Quarter and take you directly to your booked cruise, which is convenient. Please remember to request shuttle bus service in advance. It costs about US$30 to US$35 per person /round trip; price is not included in tour package.
Ever since the launch of a new Halong – Hai Phong expressway and Bach Dang bridge, driving to Bai Tu Long Bay takes only about 2 hours. However, please note that choosing expressway adds extra highway fee.
Suggested Bai Tu Long Bay cruise
Not every cruise in the area takes a route to Bai Tu Long Bay. So here's our list of Bai Tu Long Bay cruises. All of them are luxury cruises that can give you the most refined experience. 
Renea cruise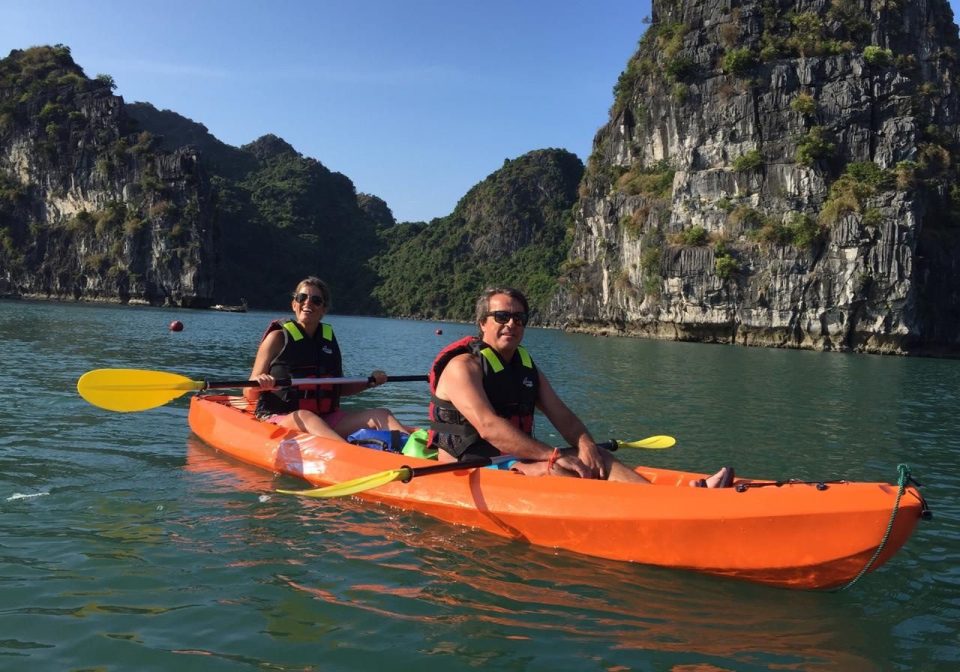 This is a new cruise line launched in September 2018 and located in Hon Gai ward in Halong City. The cruises are opt for who're in love with classic style. It is a traditional wooden boat with 11 cabins with unique architecture and decoration.
This cruise will take you from the hustle and bustle of Halong Bay to the quiet and peaceful of Bai Tu Long Bay.
Other than that, food here is cooked to suit the taste of most travelers. Also, you can join a cooking class. It is one of the fun activities that people often enjoy in cruise. The cooking class is specially perfect for who want to experience how to cook traditional Vietnamese dishes. Chefs will not only introduce the history of traditional dishes but also teach you how to cook according to its taste.
Staffs there are reviewed as friendly and supporting. All the more, the cruise arranges an exceptionally relaxing schedule in Bai Tu Long Bay. With these reasons, Renea cruise is a good option for leisure travelers. 
>> Click here or more information about Renea Cruise
Dragon's Pearl Junk
Launched in May 2010, The yacht's design has took inspiration from the ancient China. It has a length of 32 meters and 8 meters in width built with the best quality materials, created by the hands of skilled artisans.
The cruise is built with 11 cabins within 3 floors. Each cabin is decorated in a traditional style but still modern with contemporary designed windows and equipment. It has 9m2 bedrooms with luxurious wooden furniture, air-condition a soft mattress, a private bathroom with a heater, shower, etc.
Dragon Pearl's restaurant and bar have an area of 36 m2 with luxurious and cozy wooden cladding. Here is a wonderful place for you to enjoy warm, romantic meals with friends or family. Also, nature lovers can choose to sit in the outdoor dining area in front of the boat and enjoy light snacks and cool drinks.
Dragon Pearl Junk with bar, outdoor dining area, sunbathing area, open space, and the system of wooden stairs is convenient for you to move at every location on the cruise, and admire the breathtaking scenery of Bai Tu Long Bay.
Try a tour in Dragon's Pearl Junk, you will be happy with the services and the beautiful giant picture of nature in Bai Tu Long.
>> Click here for more information about Dragon's Pearl Junk
Bhaya Legend Cruise
Currently, the fleet consists of 8 yatches: one has 1 restroom, 2 has with 2 rooms, 4 has 3 rooms and 1 has  4 rooms. Therefore, Bhaya is suitable to both group, couple or solo visitor(s).  
It can be said that Bhaya Legend Cruise is the ideal choice if you want to enjoy a unique service, with a completely private space. The comfort of the yacht also comes from the details of comfortable furniture designed in luxurious style. Besides, the itinerary is  the unique requirements of each customer group. Therefore, you are free to create your adventure.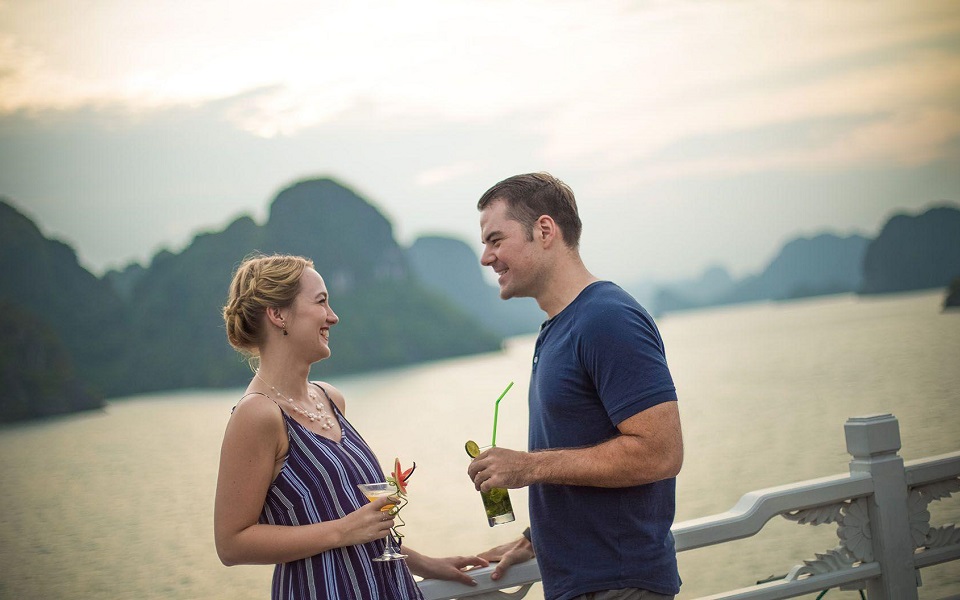 What is better than being with relatives and friends to relax while admiring the spectacular natural scenery of Bai Tu Long Bay. Besides, Bhaya Legend Cruise also has many attractive activities suitable for travelers on family holiday like Tai Chi exercise, Kayaking, and visiting many destinations during the tour. This can make your holiday with your loved ones memorable. 
>> Click here for more information about Bhaya Cruise
That is all you need for a wonderful journey in Bai Tu Long Bay. Let's pack your bag now and start your Vietnam tours.
Phuong Dao – Travel Lover
You can also see our top-picks for Halong Bay Cruise