Known as a UNESCO World Heritage Site, Halong Bay, covers an area of over 1,500 sqm with over 1,600 limestone islands and islets varying in sizes and shapes. When visiting this famous destination, you will be impressed by the beauty of nature; as well as the wide range of biodiversity. As a part of Northern Vietnam, Halong Bay weather in different period bears similar weather features with this area. There are 4 seasons in a year, hot in summer, cold in winter and cool in spring and fall. Since each course of time has its own weather characters, you should know all about them to choose the best time to visit Halong bay.
Halong Bay weather in the tourism high season
Halong bay weather in December
In December, when the winter starts, the temperature drops slightly, ranging from 18 degrees Celsius to 24 degrees Celsius. With 8 hours of sunshine every day, you can still have much time outdoor for sunbathing. Halong Bay weather in December can be described as mild and dry with pleasant humidity 70% compared with summer months. Being the second driest month in the year, the rainfall level of this month goes down significantly. For those who love the beach, the sea temperature is quite ideal, at about 28 degrees Celsius.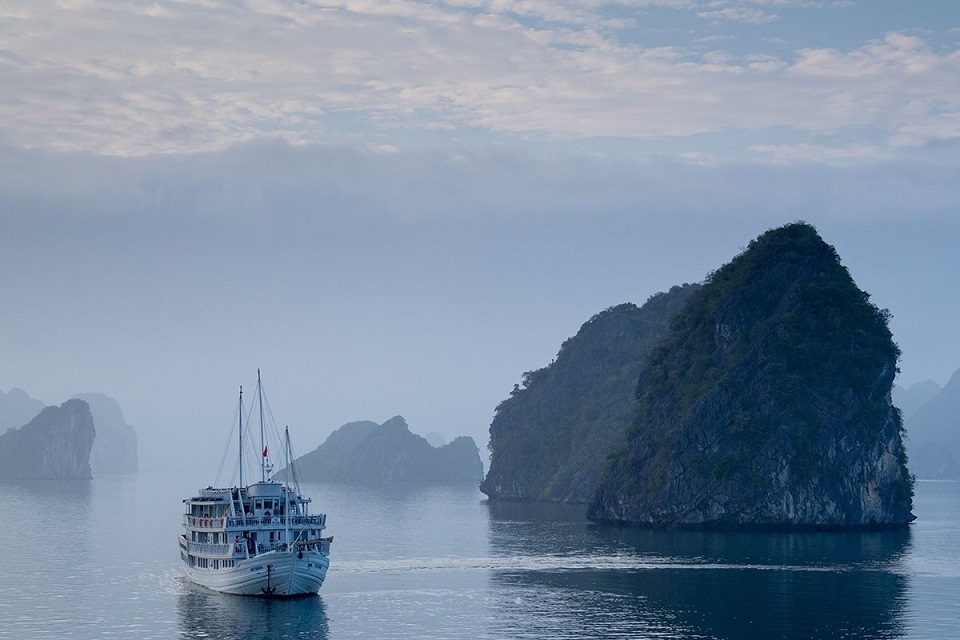 Over the last month of the year, the temperature continues to fall, varying from 15 degrees Celsius to 21 degrees Celsius; which makes it become the second coldest stage of the year. Although the temperature is quite low, Halong Bay weather in December is still reasonable for Westerners; who are used to a colder winter. Besides, a Halong Bay in fog with little or no rain will satisfy your thirst for a mysterious nature. About humidity, you can be sure that it is even lower than that in December (under 70%). This ending month of the whole year is expected to experience a slight rise in the rainfall level. The sea temperature of this time is about 29 degrees, which is suitable for water activities.
Visiting Halong Bay in December, travelers from Western countries are given an opportunity to taste Christmas and New Year in an Eastern nation. Moreover, the fear for cancelling your cruise because of storms or typhoons no longer exists; as there wouldn't be such weather phenomena in this stage of time. Also, during your trip, you can take part in outdoor activities, relaxing on the beach; as well as watching the local catching fish. With the information about weather conditions of Halong in the last month of the year above, it is recommended that you should bring along with a jacket or cardigan in case of chilly weather.
Halong Bay weather from January to March
January is a true winter month, which means both the temperature and the rainfall level go on declining. The average temperature of this month is about 17 degrees, with the highest of 20 degrees and the lowest of 14 degrees. The rainfall level decreases 5mm, compared to that of the previous month. Although the amount of sunshine time and the sea temperature fall to 4 hours and 21 degrees respectively, swimming and kayaking are not impossible. If the weather conditions of the bay in January do not allow you to join water activities, having a barbecue or cruising on a ship are the things that you can think of. One disadvantage during this time is that services are expensive as January is among the months attracting most foreign travelers.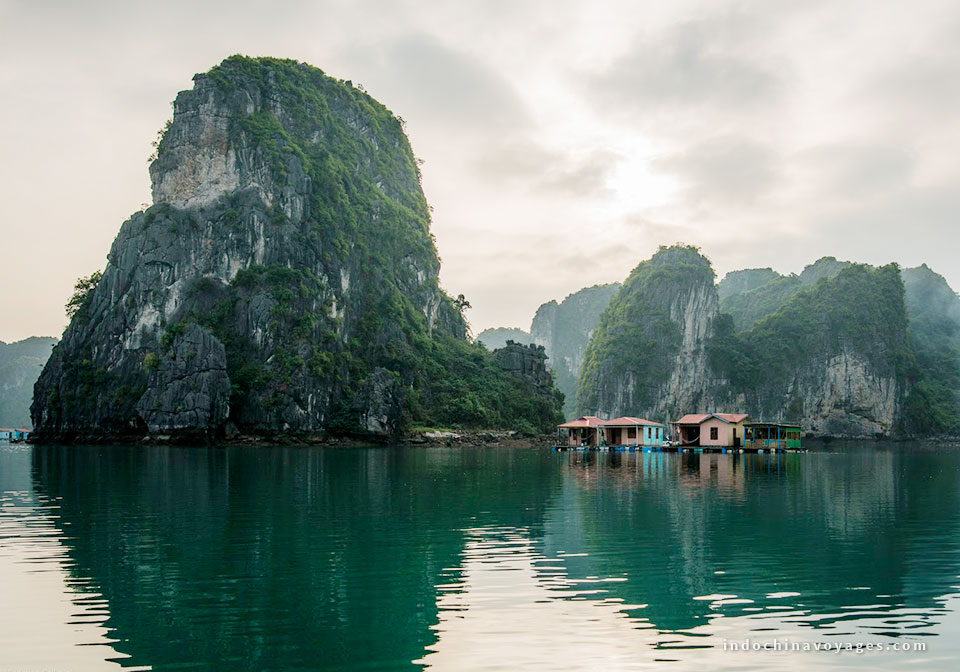 For ones who are not accustomed to cold weather, discovering Halong Bay in the next two months can be a good choice. The weather in February and March is getting warmer; the average temperature, the rainfall level, the sunshine hours and the sea temperature increase significantly. Along with the warmer weather, the chance for a cloudy day is quite high (nearly 80%). Therefore, the rate that some of your activities are affected is very low. In the day with a clear sky, you'd better take a seaplane trip to enjoy the breathtaking view of the bay.
One plus point for this stage is that many festivals are held, which is a good chance for you to know more about Vietnamese culture. However, if you are planning for your Halong bay tour, you should ask Vietnam tour companies for their advice; it is due to some unavailable services during Lunar New Year.
Halong Bay in summer time
Contrast to international travelers, the local ones tend to set off their cruise around Halong Bay from June to August as a way to escape from scorching weather of summer months. As a result, the number of domestic excursionists reaches the peak. Therefore, if you want to enjoy your trip without so much noise, that is really an impossible thing.
Notwithstanding, for people who get used to with tropical climate, Halong Bay weather in summer time is good to explore the beach. This is because the sea temperature is very warm, at 27 degrees; and the number of sunshine hours is also high, 8 hours per day. While the chance for a cloudy day is around 60%, the possibility for storms or typhoons to occur is much higher, compared to that of winter months.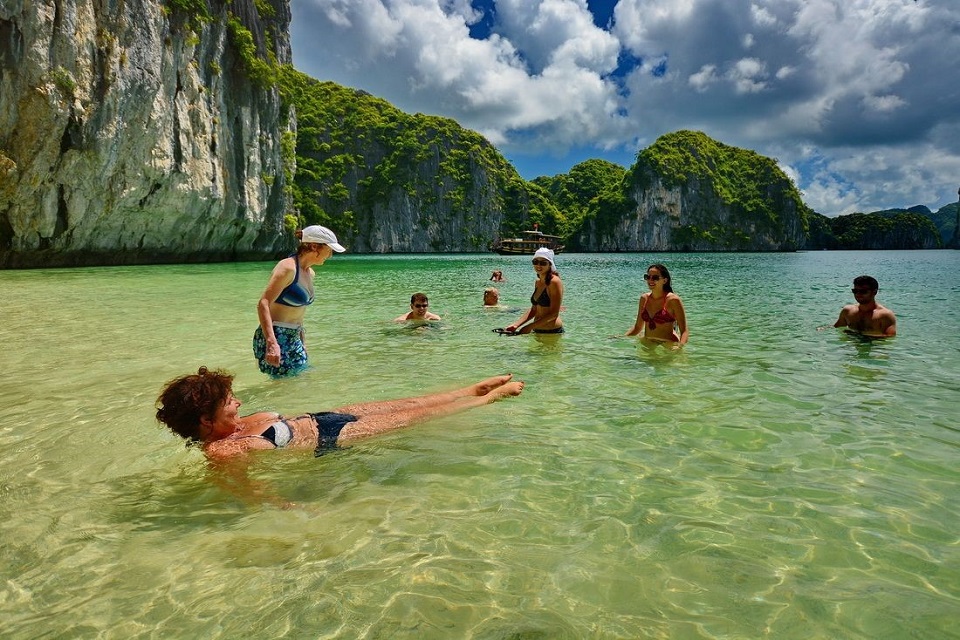 Some Halong cruise summer promotions
Things to do in Halong Bay
Depending on the Halong bay weather when you arrive, you can take part in one of these recommended activities:
Take a cruise: On a cloudy day, just with an excursion on a ship, you can explore the beauty of many islands of the bay. A good news is that there is a wide range of options for you about which islands to visit.
Try a seaplane tour: Another way to discover the bay is to take a seaplane tour on a sunny day. A tour like this will give you a good overview of Halong from above.
Go diving: This is the way for you to enjoy the world under the water of Halong Bay; in case the weather is nice. This is also one of the most popular activities among travelers.
Go night squid fishing: Don't spend all your night just sleeping, use it to join this interesting activity; and it is likely that you can have a barbecue with the fish you have caught.
Go shopping: If you are interested in shopping, Cat Ba island market and Bai Chay market is the answer for you.
Taste local food: Since the site is located by the sea, seafood can be seen everywhere. So if you are a big fan of seafood, your thirsts will surely be satisfied!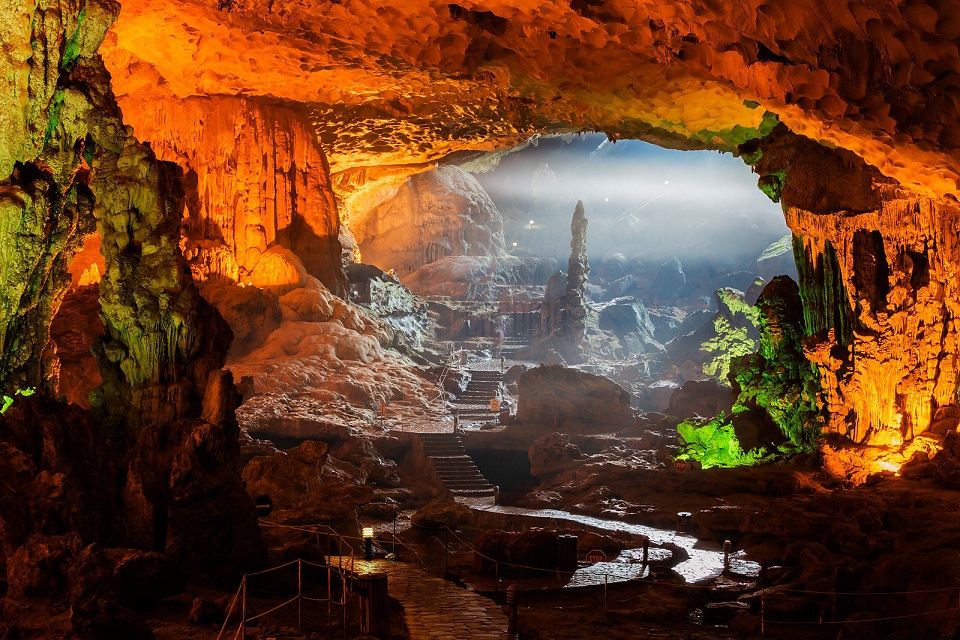 When stepping foot on Halong Bay, you will be offered many other entertainment activities. With the information about Halong bay weather in different stages and major activities, we hope that you will have a suitable plan for your trip.
Toan Do – Travel Lover