Calypso Cruise is a Vietnamese junk boat sailing down beautiful Halong Bay. Decorated in an Oriental style, the air-conditioned guestrooms all come with carpeted flooring and views of the sea. The myth of Calypso has been inspirited into the Calypso Cruiser. "Glamour" and "Grandeur" are best to characterize Calypso.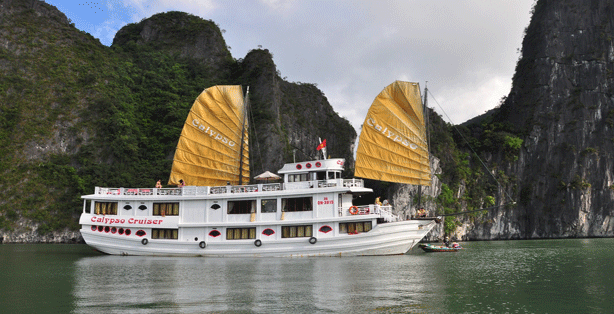 Calypso boat is designed and constructed parallel to sea tide system and Halong typical tide diurnal system and seasonal weather of Halong Bay. Sized from 12.5m2 (134.5ft2), all Calypso cabins are selectively equipped to confine fine bedding, and are well recognized with expansive windows to be exposed to the widest views of the bay. Acknowledging the views are constantly changing, the bathroom is also widely exposed to the views to ensure every moment of yours counts. Halong bay tours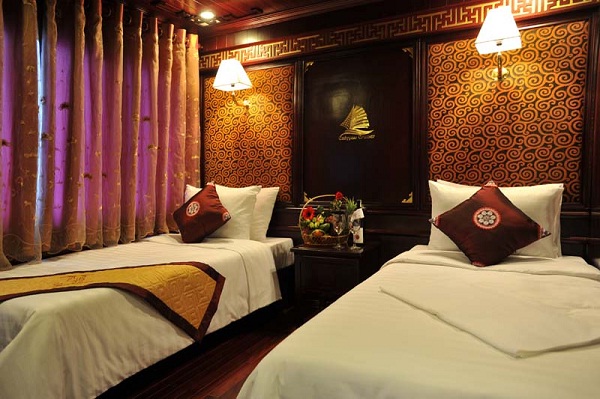 The Calypso restaurant offers freshly-caught delicious seafood and other specialties to celebrate the fullest enjoyment of your sail-away. Fine cuisine mingles with friendly staffs, calm water, X-breeze and stunning view of thousands of islets around for a truly unforgettable experience. All meals are provided on board, and consist of Vietnamese and international cuisines. Special diet meals, like vegetarian food, are available upon request. Wine and cocktails are available at the bar. Visit Halong with Indochina tours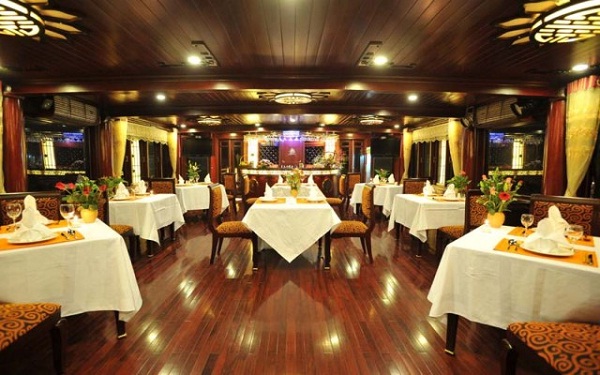 There's properly no better else in the world, as the views from the Sundeck are breath-taking, panoramic and constant-changing. The Sundeck offers ideal space and atmosphere to enjoy sunbath, to socialize, to snap great pictures of Halong Bay, to sip a refreshing cocktail while gazing at the rock formations reflected in the crystal clear water of the bay, or just simply lazing as the sun starts to set.
Swimming and kayaking in the crystal waters of Halong Bay are integral experience during your time with Calypso.
Regular events like guest's birthdays, honeymoon celebrations, Halloween, National days, Christmas, New Year and like such are well attended to ensure your fullest enjoyment and excitement during your valuable time onboard.
Calypso Cruise Halong boards guests at Halong Quay, which is a 5-minute drive from Halong Market. Halong Quay is a 3-hour, 30-minute drive from Hanoi. Noi Bai International Airport is 120 km away.
The Indochina Voyages team.
Read more: