Whenever you come to Ha Long Bay, do not forget to pay a visit to Titop (or Titov) island, only 2km from Surprise Cave and about 7 – 8 km from Bai Chay Wharf. Leaning against the Cua Luc bay, Titop Island comprises a gorgeous view with Bo Hon Island in front and Dam Nam Island in the right. Located in Ha Long area, the crescent-shaped island is becoming well-known not only for its breath-taking seascape but a variety of beach activities as well.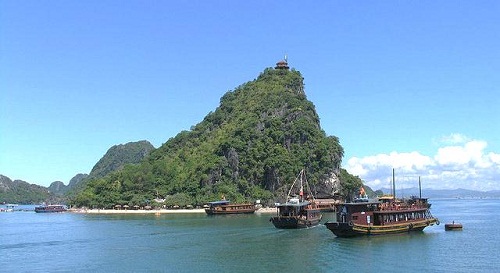 The name 'Titop' itself has a story behind. In 19th century, the island is called "Cat Nang". In 1962, President Ho Chi Minh and a former Soviet Union astronaut had an unexpected trip there. Dedicated to friendly relationship between two countries, the island is named after his companion, Gherman Titov.
 Small though it might be, the crescent-shaped island wins tourists' hearts for quiet and airy atmosphere, crystal and warm water, as well as spectacular panoramic view captured when you are at the peak. The winding snow white sandbank encompassing the island even makes it more special.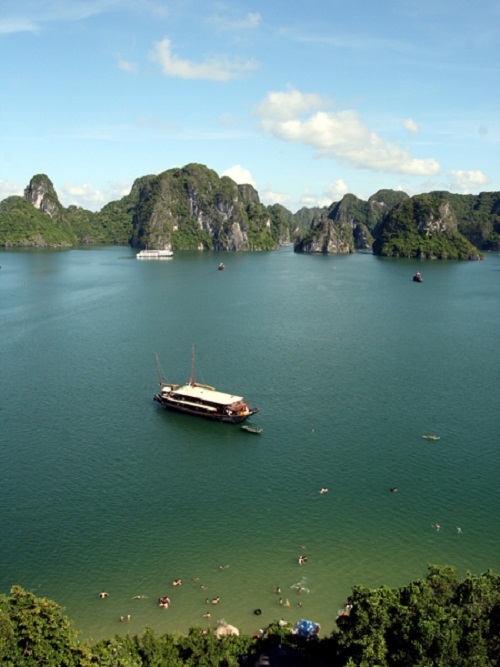 The beach boasts pristine white sand, clear water and small waves, which make it ideal for some adventurous sea sports besides swimming such as: parachuting, diving, sea motorcycle, etc.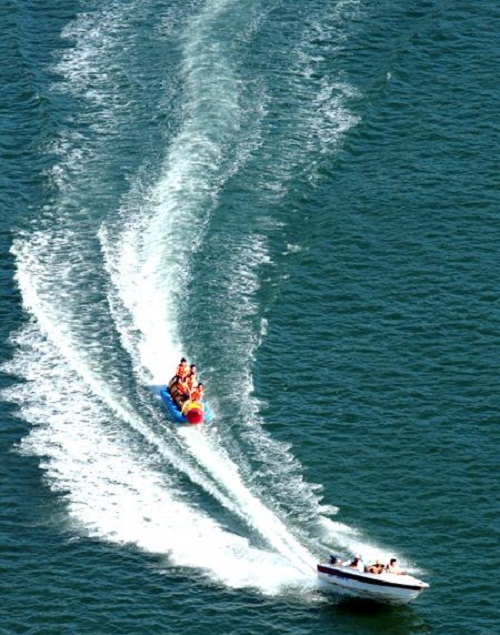 Titop island has coast with one side being abrupt and another side being smooth sands slopping gently to the sea. For that reason, tourists have the chance to enjoy relaxing moment not only when lying down at the beach but when climbing to the highest spot of the island and taking a panoramic view of cruises Ha Long Bay at the height of 100m from the sea.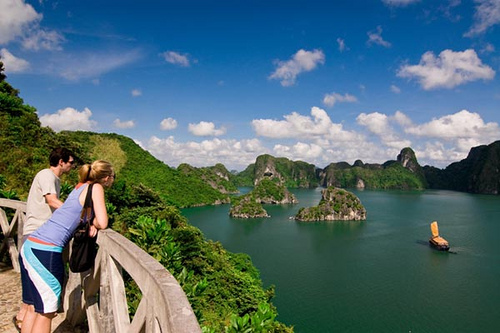 Titop island with complex of beauty is on the way to become one of the highlighted spots which is must-see in Ha Long Bay. Thanks to the prominent advantages, Ti top island becomes an ideal destination that attracts thousands of tourists to visit every year, especially international tourists.
To visit this wonderful island besides enjoying Ha Long Bay, if you are a fan of backpacking, you can easily book ticket, bus, hotels by yourself there. Otherwise if you love to enjoy a better comprehensive vacation, you can book a tour via a traveling agency online or in Hanoi for a cruise such as Indochina Sails cruise, Violet cruise, or Jasmine cruise, etc. Titop Island welcomes tourists for all seasons to come and enjoy its scenic beauty and interesting outdoor activities.
The Indochina Voyages Team.
Read more: