Trong Grotto is located opposite to Trinh Nu Grotto on Bo Hon Island, Halong Cruises. It's about 8 kilometers from Bai Chay Tourist Wharf to the south. In the cave, there is a large stone statue of the man with his face turned towards the Trinh Nu grotto. Trong Grotto is associated with the legend story of the Trinh Nu grotto.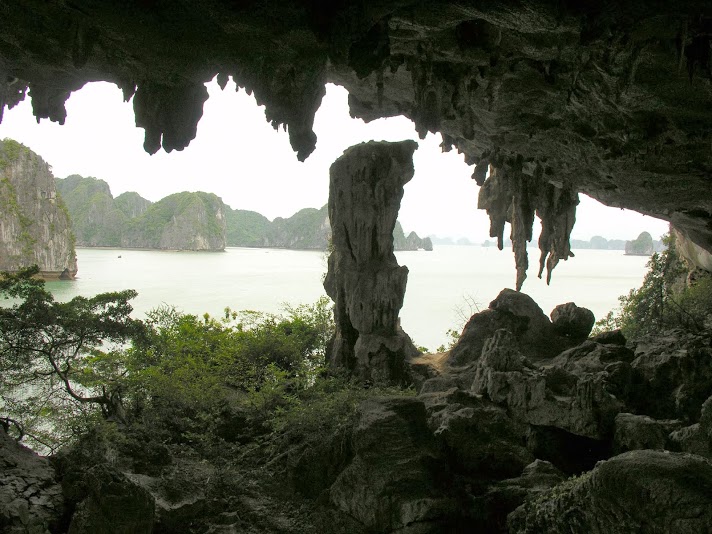 People said that there once was a beautiful fisherman's daughter, whose family was so poor that they were in service of the rich administrator of the fishing zone, who forced the family to give him their daughter as a concubine. However, the fisherman's daughter already had a lover and refused to marry the administrator. The administrator got angry and exiled her to a wild island where she suffered from hunger and exhaustion. One frightful night she turned to stone. On this same night, her lover, knowing of her danger, rowed his boat in search of her. However, a tempest destroyed his boat, and he floated to a nearby island. In a flash of lightening, he saw his lover in the distance, but his calls were driven away by the wind. In his final exhaustion, he also turned to stone (today's Male Grotto).
The cave is also named as "Drum" because the wind blowing through its stalactites and stalagmites resembles the sound of distant drumbeats.
Entering the grotto, visitors will see spectacular scenery of stalactites hung down from the ceiling. Inside the grotto, there is the sound like the sound of drum as wind blows through the grotto. In Trong grotto, archaeologists found a relic of Soi Nhu Culture dating back to 18.000 – 7.000 years ago.
Read more: