Halong Bay is spectacular, we all agree. Lying on a sundeck or dipping yourself in the lush water while being surrounded by towering limestone pillars is such an unforgettable experience. However, it may be harder for vegan to plan a Halong Bay boat tour, especially when worries about vegan food on cruises arise. Do they have options for vegans? What if they serve us eggs and milk? How is the food quality? Will we be eating solely rice? While there is a lot of tasty vegan/vegetarian food in Hanoi, are there any vegan cruises in Halong Bay? We understand the worries as we have received a lot of similar inquiries from our clients. Also, since vegan is awesome, here are some suggestions for best vegan cruises in Halong Bay.
But first, let's talk a bit about vegan in Vietnam.
Is vegan food popular in Vietnam?
"If it moves, they eat it"
What French people talk about Vietnamese Cuisine perfectly captures its uniqueness. From pig blood to monkey brain, Vietnamese food has a reputation for not being animal-friendly. However, to most people's surprise, there is a vast majority of Vietnamese people who savor veggie dishes. To be specific, the number of people who practice vegetarianism is increasing in recent years, which accounts for 10% of the population. Reasons can be varied from health benefit to environmental protection to helping animals. Nevertheless, the most prominent purpose is for religious purposes. Since a lot of Vietnamese people are Buddhism, they often practice vegetarianism on the first and the 15th monthly.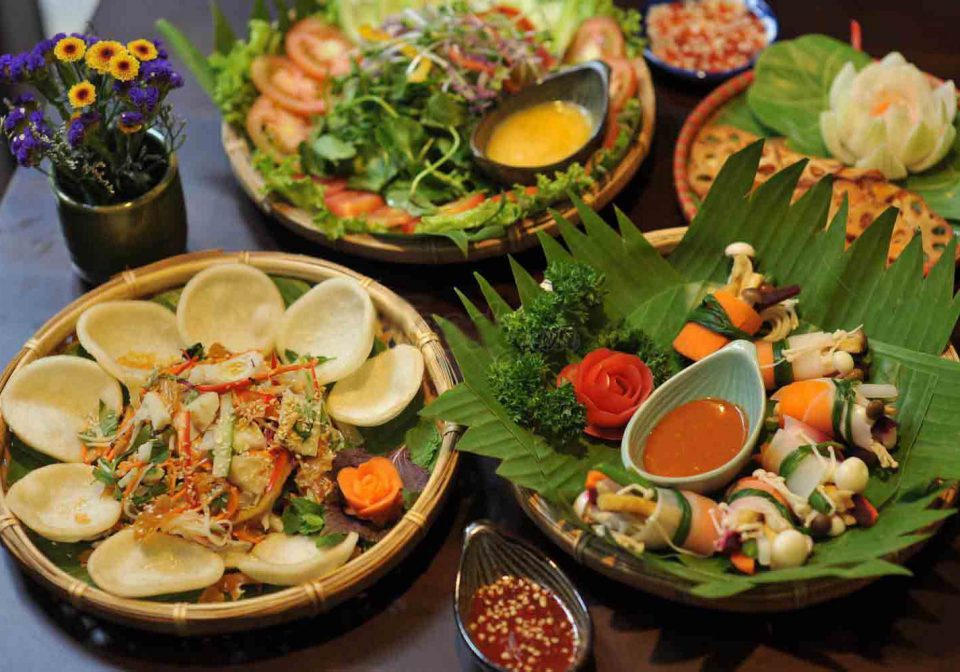 That being said, the lifestyle that says "NO" to animal meat is common in Vietnam. However, the term "vegan" is not. In Vietnamese, the phrase "Tôi Ăn Chay" generally means "I do not eat meat", therefore, it can be used for both vegan and vegetarian. To put it another way, most Vietnamese people can not tell the difference between vegan and vegetarian. Therefore, it is crucial to explain your diet preference specifically so that they do not mistakenly put mayonnaise in your salad or fish sauce in your soup.
By the way, we have some cute designs of vegan phrases in Vietnamese here. Show them to your hosts, your local food store owners or anyone whom you need to explain your diet preference to without having to use google translate. And you can pin them to your Pinterest board at your convenience.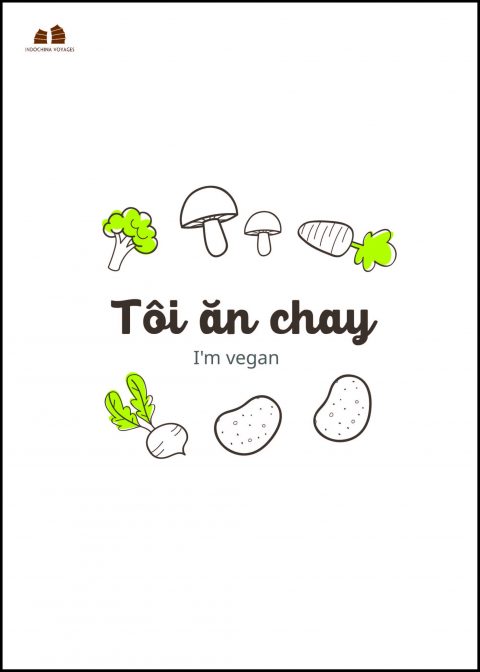 Common Vietnamese phrases for vegan
And now, coming back to your Halong Bay trip
Is there vegan food on cruise?
Yes, We are glad to inform you.
All cruises on Halong Bay have customized menus for different diet preferences including vegan, vegetarian, Islamic dietary and so on. But remember to request at least 48 hours in advance so that chefs can prepare your best delicacies. Moreover, because of the aforementioned vagueness in vegan knowledge in Vietnam, it is best to explain your vegan diet specifically to cruise members. At this point, booking via Vietnam tour companies may be helpful, as all of your requests will be executed by a team of tourism professionals. They will make sure you are served the right food without any inconvenience.
This lets us to the second question:
How good is vegan food on cruise?
It depends.
While most of the cruises have options for vegan, some cruises are better at making vegan-friendly food. They can get playful with the ingredients, deliver flavorful taste and stir up your expectations for the next meal. The others are duller as there might be a lack of food diversity and complexity.
All in all, these are dishes that you may expect when starting your herbivore life on Halong Bay cruise: Deep fried tofu, steamed white rice, sautéed potatoes, mushrooms with sesame seeds, spring rolls with soybean, braised tofu, spicy curry, caramelized pineapple, fried bananas, veggie spring rolls, creamy pumpkin soup, leafy green salads with sesame seeds and sweet radish dressings, and traditional rice and noodles.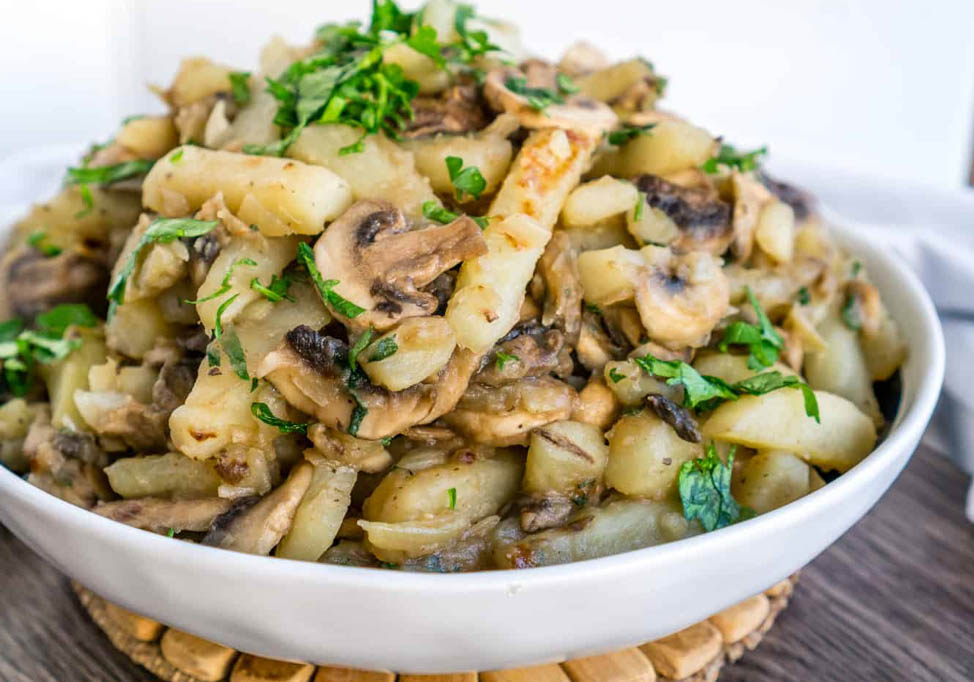 The more luxury cruise is, the more brilliant her vegan food is likely to be. Our advice is choosing a cruise based on how deep your pockets are. If you can afford a top-ranged cruise with excellent services, then Welcome on boat, you need not worry about anything anymore. But if a less pricey cruise is your option to avoid breaking the bank, it is wise to equip yourself with emergency snacks in case the food gets wrong. But don't be worried, our 20 years of experience in arranging cruise tours have told us that you will be just fine. Such experience has never occurred.
Best vegan cruises 2020 (and vegetarian cruises as well)
As choosing cruises to ensure your vegan way of life can be tricky, we have compiled a list of vegan cruises based on our knowledge and connection with various cruises' members. From Tier 1 to Tier 3, the list ranges from "Wow, this one is really good" to "Oh well, it did its job".
Of course, since vegetarians can be well-off with vegan food, and since most of our recommended cruises have vegetarian menus as well, this list could be helpful for vegetarians.
Tier 1
Bhaya Cruise
Bhaya Cruise has been famous for providing strict vegan food. Also, the food is well seasoned with the utilization of 5 elements (metal, wood, fire, water, earth) into traditional cuisine.
Here is their vegetarian menu for your references: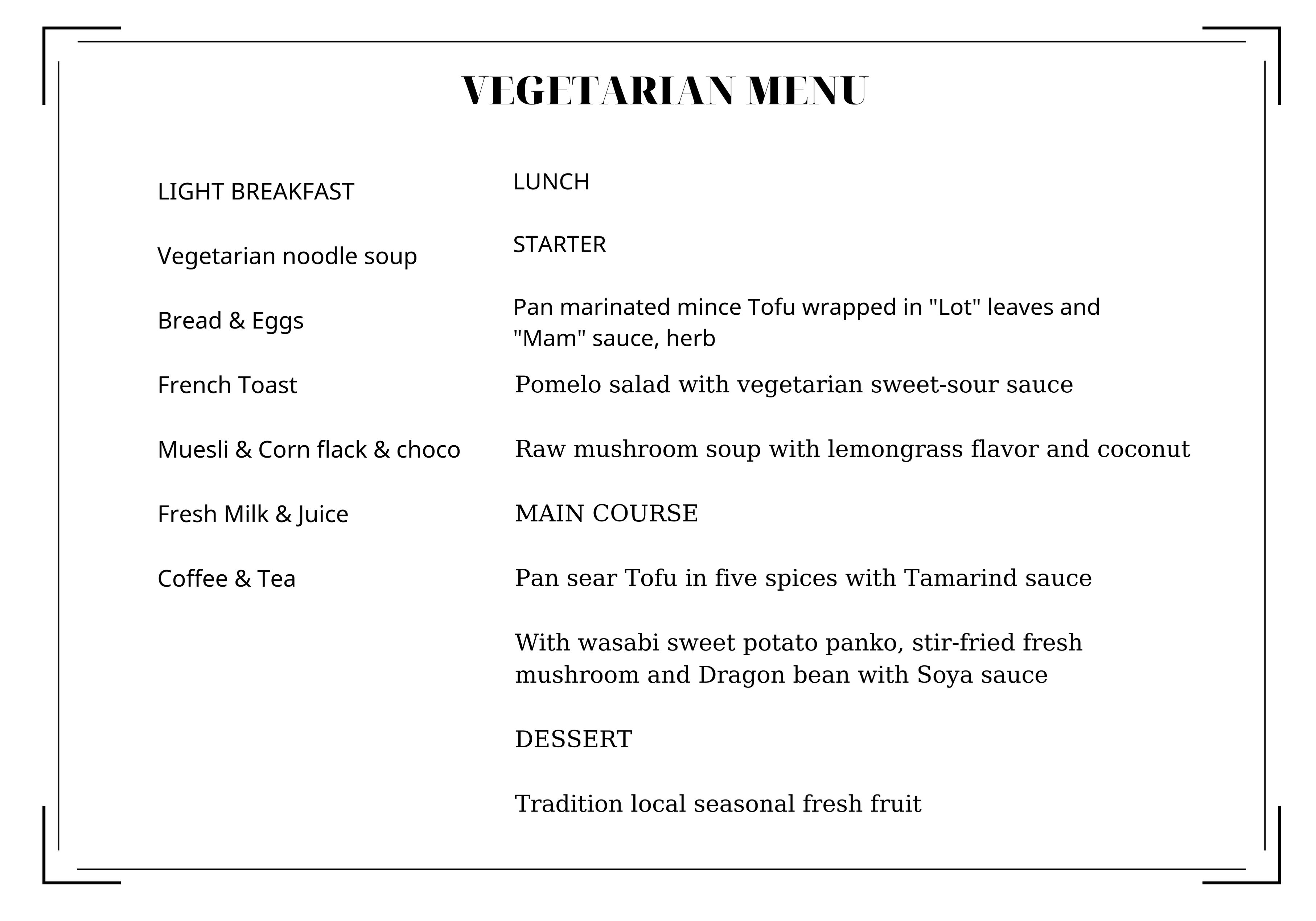 >> Click here for more information about Bhaya cruise
Paloma Cruise
Their dish features the innovative blend of European cuisine with an Asian twist. Also, they take pride in ultra-fresh ingredients supplied by local farmers.
Here's a sneak peak of their dish
And their vegan menu for your reference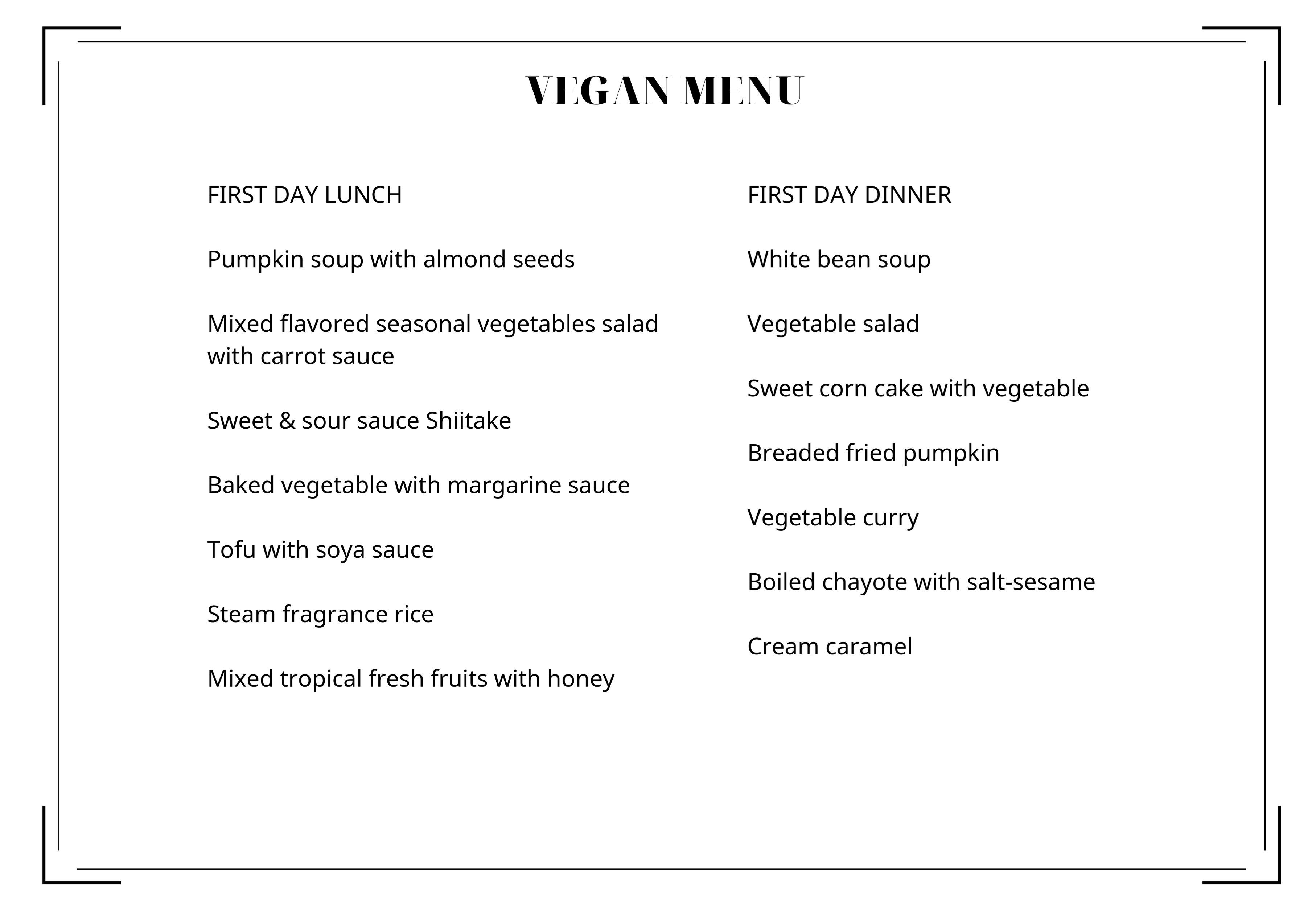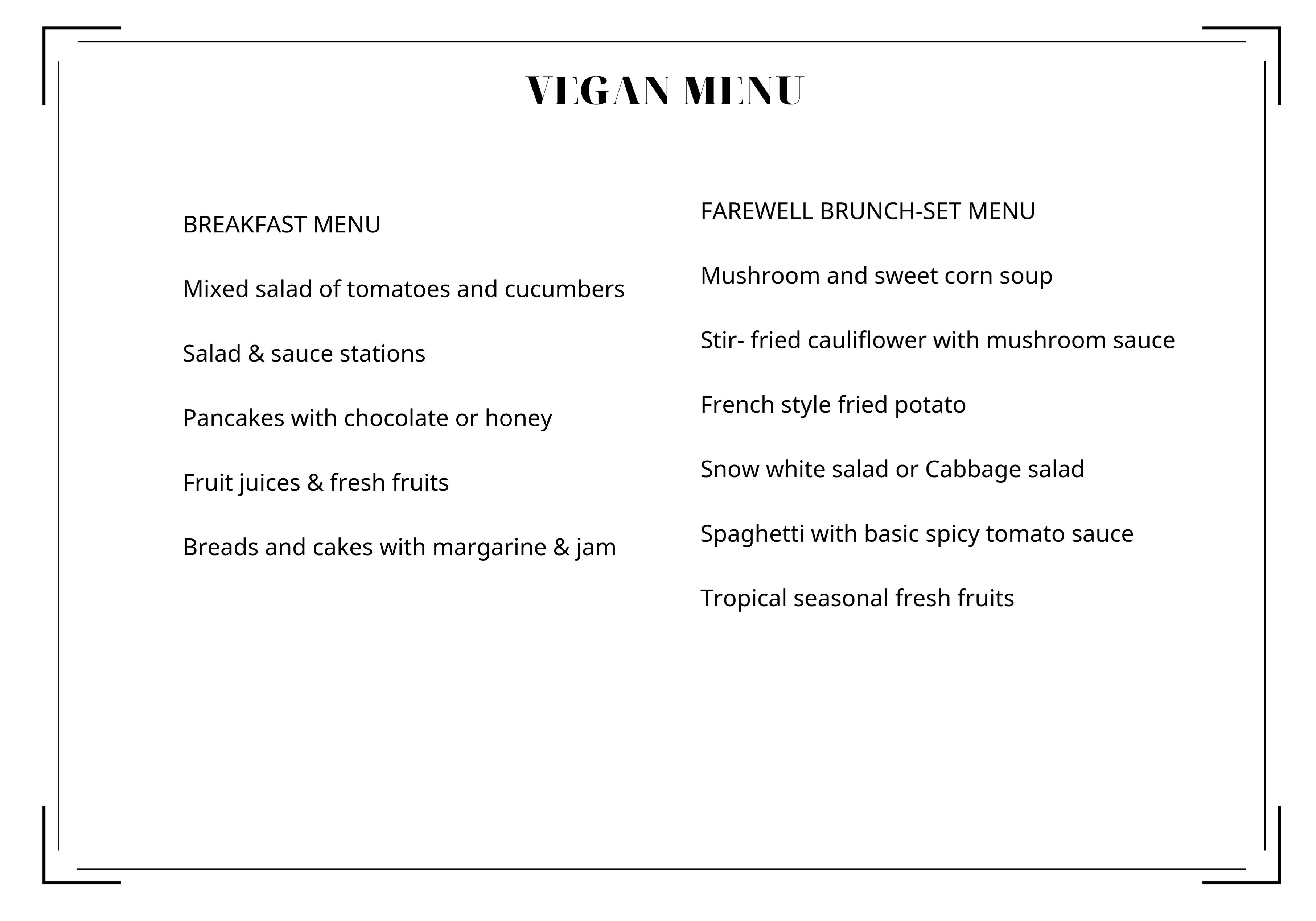 >> Click here for more information about Paloma cruise
Au Co Cruise
Au Co cruise is a different line of cruise from the same operation group as Bhaya Cruise, therefore, they can do it as good as Bhaya cruise. Beside healthy and delicious dishes, they enhance your dining experience with traditional monochord zither performance. For that reason, you can expect a more culturally-authentic dining experience.
>> Click here for more information about Au Co cruise
Paradise Elegance Cruise
Paradise Elegance Cruise has a diverse set of menus to accommodate all kinds of diets from pescatarian, kid's, and vegan. You can see one sample of their vegan delicacies in the picture: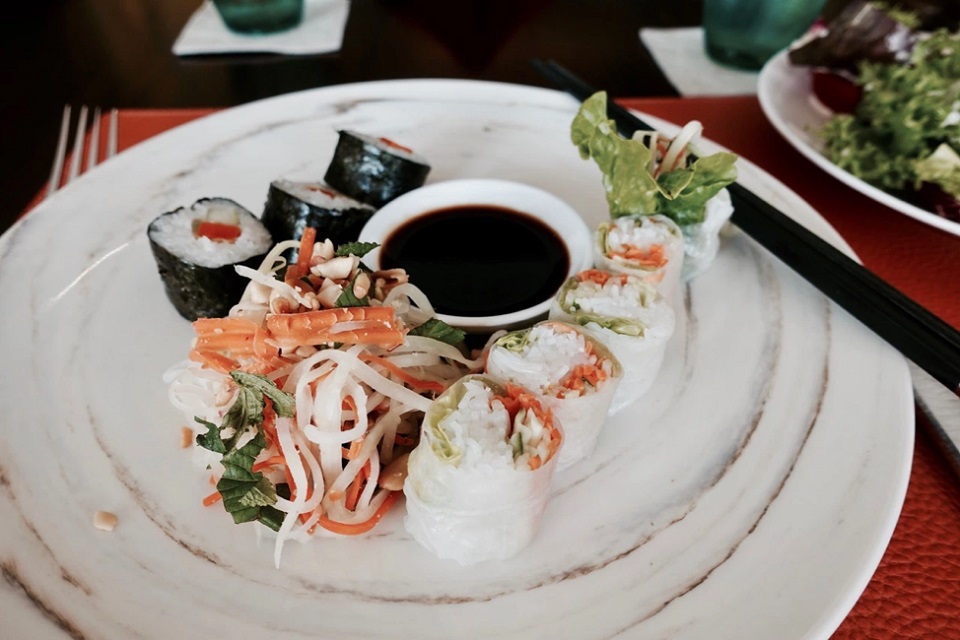 >> Click here for more information about Paradise Elegance Cruise
Tier 2
Era Cruise
It is by no doubt on the luxury range of cruise, so you have the right to expect good cruising experience in terms of service, safety and quality (food quality specifically).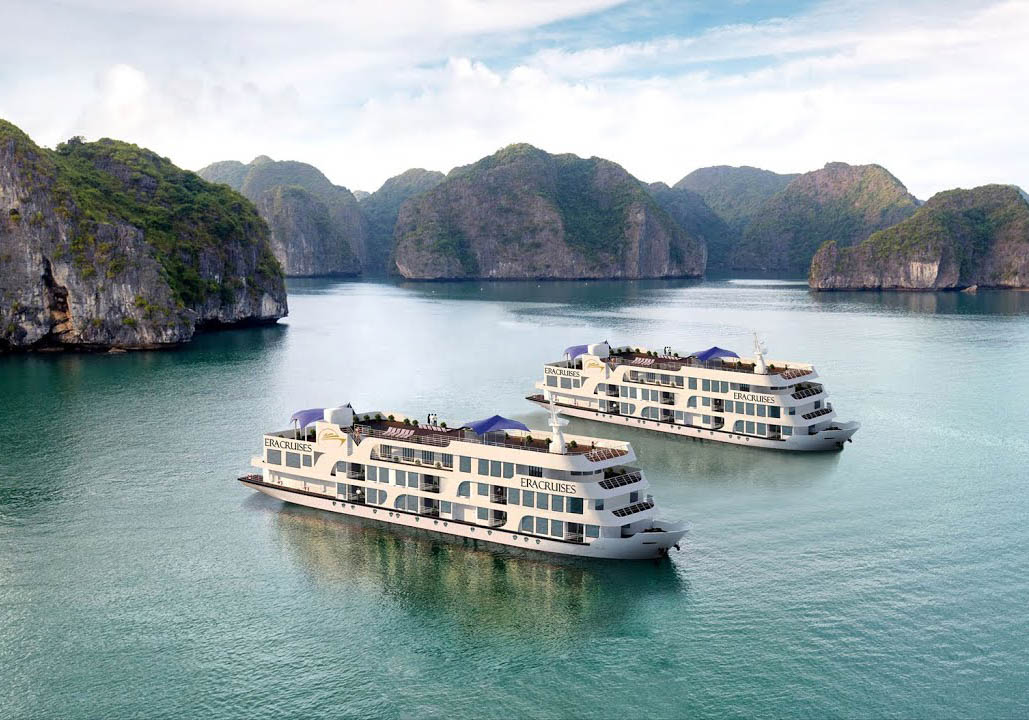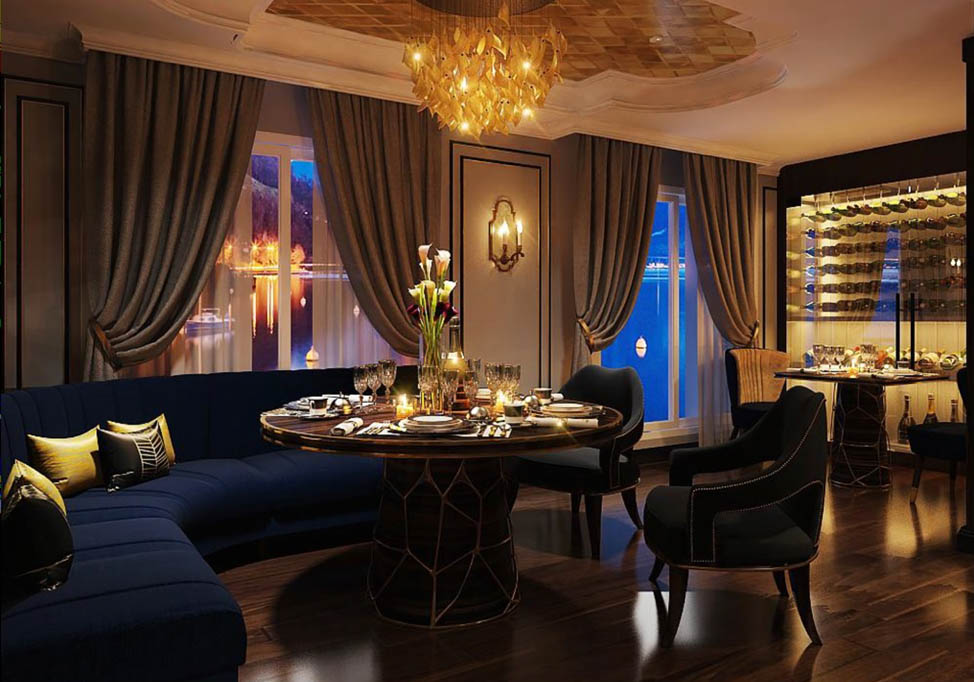 >> Click here for more information about Era Cruise
Tier 3
These vegan-friendly cruises have vegan options and they also receive a fair number of good food reviews on TripAdvisor.
Wrapping up
As now you feel relieved that your vegan way of life is safe and have some ideal vegan cruises in your mind, it's time to continue with your travel planning. You may think of Halong Bay caves to visit or things to do in Halong Bay, for example. Travel planning can be very exciting when all of the vivid imagination of your upcoming trip starts to thrive, but it can be a pain in the neck at the same time. If you have any troubles, please feel free to contact us. Our team of experienced travel agents is always willing to help.
Bon Voyages!
Chi Tran – Travel Specialist