Launched since 2013, Aphrodite Cruise will become a wonderful cruise for your holiday on Halong Bay. Spreading over 4 decks, the vessel is equipped with luxurious cabins and offers a range of appealing services. The nicely decorated interiors will definitely help you feel comfortable as being at home.
Aphrodite cruise Halong is 41m in length, 9m in width with 17 luxury cabins. Guests will be able to select one of 17 spacious cabins with modern facilities on 1st and 2nd deck. These high-quality cabins are fitted to international standards featuring rich Vietnamese hardwood with the comfort of guests in mind. There are 6 Luxury Cabins located on the 1st deck of the cruise and all these cabins are fixed Twin Beds. There are 02 Luxury Family Cabins located on the 1st deck without balcony. There are 6 Double Luxury Balcony Cabins and 01 Twin Luxury Balcony Cabin. All are located on the 2nd deck of the cruise. There are 02 Terrace Suites located on the 2nd deck of the cruise. Halong bay cruise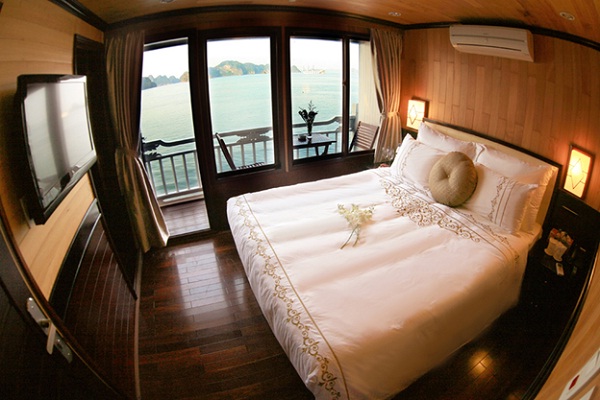 Aphrodite Cruise offers a choice of dining venues to suit your mood of the moment, and nearly all are open-seating, inviting you to dine where, when and with whom you wish. Enjoy a more casual indoor/outdoor venue, or savor the view and a perfectly BBQ under the stars on deck. Aphrodite restaurant is located on the 3rd deck, private Massage and Spa and Sauna area. Indochina Tours Vietnam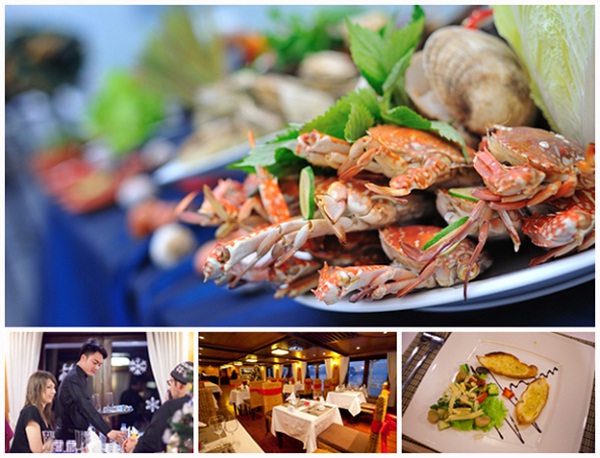 On the 4th deck guests can watch the sunrise, bathing under the sunlight of the dawn or watch as the sun sets on the horizon while relaxing and taking in the scenic wonders of the Bay. Guests can also take part in cooking class, game playing, sea-kayaking, reading, relaxing massage, spa and sauna, squid fishing. …
Furthermore, guests on request at time of booking can organize meetings, festivals, birthday party or conferences on the beach or in a cave. Aphrodite cruise crew can organize events to cater for your needs. Inspire your company's teamwork or conduct corporate business while relaxing and taking in the picturesque scenery. Aphrodite Cruises is the ideal place for honeymooners, small family or couples of friends who want to discover an exotic area while still enjoy the elegant comfort.
Cruise lovers.
Read more: