For all travellers who have chances to visit Vietnam, Ha Long Bay is always chosen as one of the best destinations. Meanwhile, in Ha Long Bay, you should never ignore to go to Sung Sot Cave, that is ready to be amazing you with what Mother Nature created here. Let the Indochina Voyages Team help you with details about this site.
Sung Sot cave is the most famous cave in Halong Bay which is a pride of Vietnamese tourism as a UNESCO World Heritage site. The cave is located on Bo Hon Island and is one of the most spectacular and largest grottoes of Ha Long Bay.
The name of Sung Sot cave means "Surprised Cave" or "Amazing Cave" in English, because of its huge space with incredible natural points. That is the reason why the first explorers from France named the cave "Grotte de la surprise".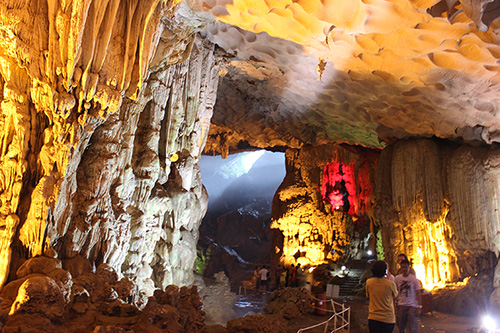 Sung Sot cave comprises two main chambers. The first partition is similar to a theater hall with various shapes of stalagmites and stalactites hanging from the wide and high ceiling. Entering the second one through a narrow passage, you can see natural light bathes the surfaces. There is a large opening which is also the exit from the cave will surprise you with a ray of light filtering from that gate creating a natural skylight.
Sung Sot cave is about 10,000 m2 large. There are thousands of stalactites and stalagmites growing up and down from the floor and ceiling along the paved passage. The passage line is illuminated by colorful lights and the chambers are decorated as amazing scenery. Some of stalagmites and stalactites even seem to be shining thanks to their chemical composition. Spotlights of varied colors are placed in such a way to be in obscure and add to the amazement of the grotto.
Sung Sot cave is approximately 30 meters high with a very long process of spectacular natural creation. When you walk through the cave, your imagination can run wild from numerous kinds of spectacular creatures. According to the local tour guide, you can stretch out your imagination with various similar shapes as a stone elephant, a shade banyan-tree, and a huge dinosaur, etc.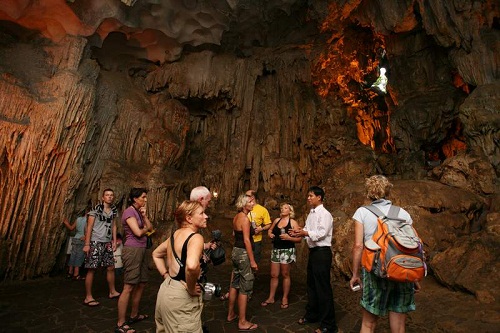 You can easy visit the cave when travelling Halong Bay, all tours in Halong serve a turn to get around Sung Sot Cave such as Halong bay trip or Halong bay tour, etc. Sung Sot Cave, along with other beautiful caves in Ha Long, altogether makes it a unique tourist site in Vietnam. Once you come here, you shall have some unforgettable memories stayed in "Amazing Cave".
The Indochina Voyages Team.
Read more: