Halong Bay is an awe-inspiring collection of looming limestone karsts and isles rising from the sea bed in the northeast of Vietnam. Besides the Halong islands, you can enjoy sandy beach escapes and explore caves in the bay. Boat cruises are great options for you to its beauty. But while the cruise will only take you to certain areas in her route, you can explore unknown caves, small corners on your own by kayaking in Halong Bay.
This guide will give you the necessary information to do a Halong Bay tour with kayaking.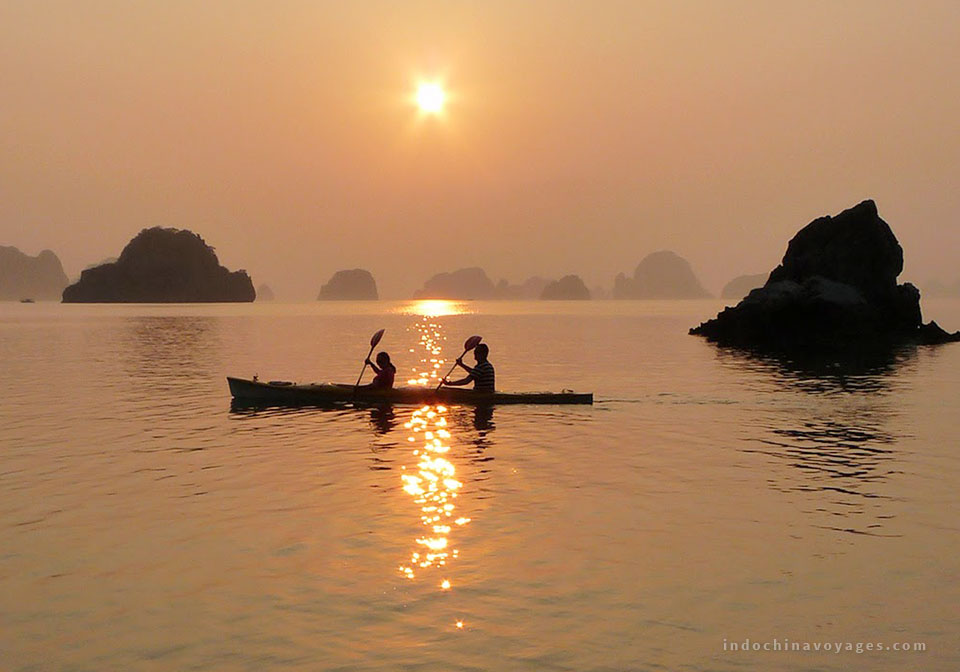 Why is Halong Bay kayaking a must?
The calming water in Halong Bay is ideal for kayaking. Because it allows you to smoothly paddle through caves and limestones shaped by Mother Nature.
Besides, if you are curious about the locals living in the bay, you can see how all activities happen in Halong Bay floating villages along the way. 
What is more exciting than paddling among breathtaking surroundings in the bay? Lucky enough, you can see sea species such as jellyfish under blue water of Halong Bay.
Therefore, kayaking is a unique and exciting way to feel all the grandeur of Halong nature with thousand-year-old stalactites.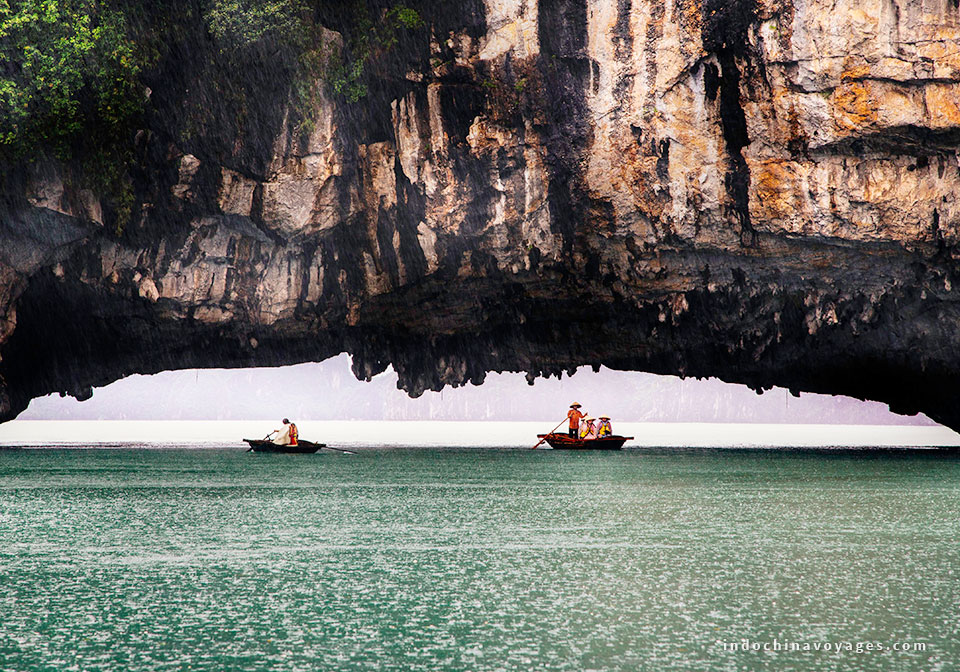 Kayaking areas in Halong Bay
The followings are a list of areas for your safety Kayaking in Halong Bay:
Luon Cave

Vung Vieng Fishing Village

Cap La Island & Cap La Fishing Village

Ba Hang Fishing Village

Tung Sau Area

Trinh Nu Cave

Cong Do Island

Hon Co Island
Safety rules for kayaking in Halong Bay
Although the water in Halong Bay is fairly calm throughout the year, there are some risks worth considering. Getting stuck in a cave, for example. But don't worry too much. With these safety rules, you can do the activities risk-free.
Always kayak with guides. It is safer to have someone know the local things and make sure you are on the right track while kayaking.

Prepare enough water to stay hydrated for the day.

Use waterproof bags for electronic devices you use, for example, mobile phones and cameras.

Wear running shoes. The shoes will help you paddle comfortably.

Make sure you know the phone number of the tour company or travel consultants you can contact in any emergency case.

When you paddle halfway, check the time to make sure that you can return back to the starting point on time.
Besides, It would be better if you can prepare a light jacket because you might get a cold when being exposed to winds for a long time. 
More importantly, stay away from rocks during kayaking. These rocks can be dangerous if you are not an expert with water sport. Thus, it is better to be safe rather than putting yourself at risk.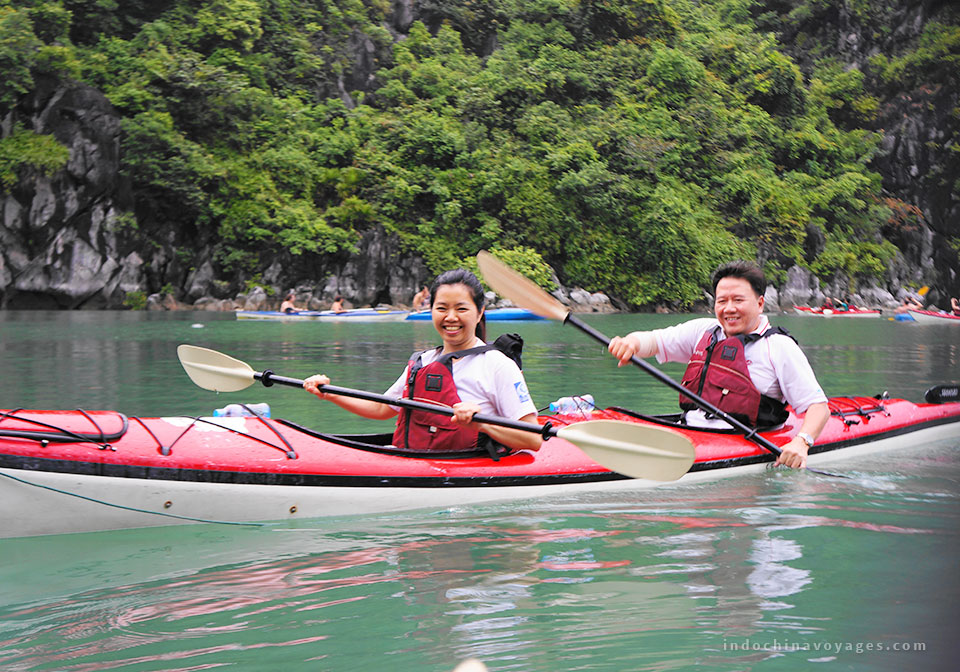 Best time for kayaking
There are two ideal periods Halong Bay kayaking.
In terms of weather, the best time to enjoy outdoor activities like kayaking is from March to June. Since this time, there is not much heavy rain. Also, Halong Bay weather in summer is not too hot to stay outside for a long time. However, please remember to apply sunscreen beforehand.
Alternatively, the period from October to December is also a good choice to consider, especially if you cannot plan your trip during summertime. The weather is colder than summer, around 10 degrees on average. But this does not seem to bother much since kayaking takes lots of effort and your body will sure to heat up after a couple of minutes.
In terms of fees, going on a Halong tour in winter will cost more money because of the high demand.
Tips to enjoy kayaking to the fullest
Normally, there are lots of cruises that include kayaking activity with no surcharge. All you have to do is to choose your perfect Halong Bay cruise with kayaking.
If you are culture lovers, you will love to learn about the local life of fishermen in the bay. And you can choose to kayak in areas that have the fishing village. A fishing village is an interesting place that's floating amid karst limestone of Halong Bay. Popular fishing villages are Cua Van fishing village, Vung Vieng fishing village, to name a few.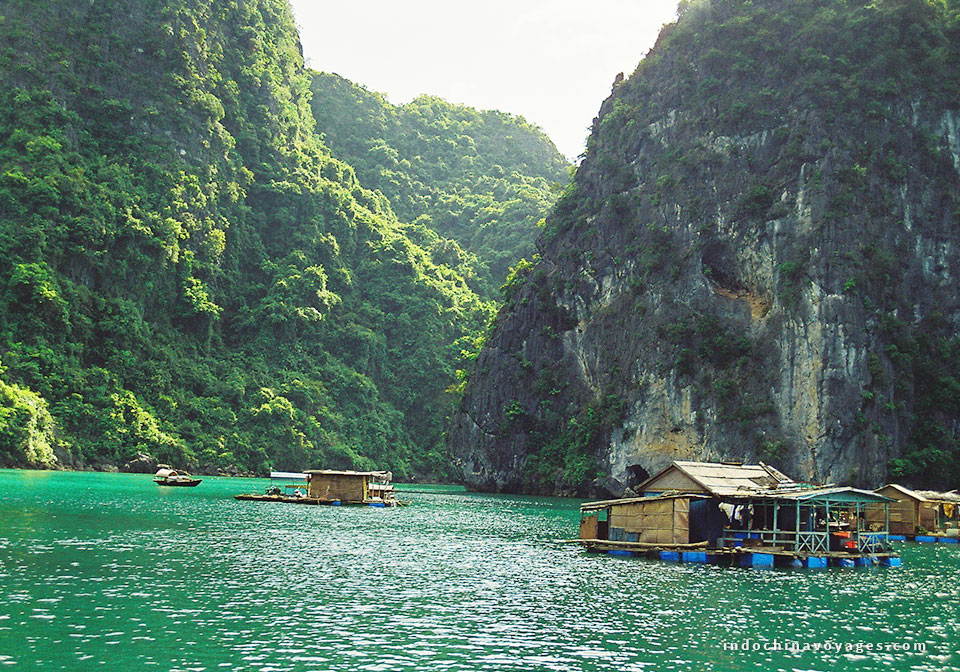 Perfect itinerary including kayaking
Kayaking is fun. And it's even more enjoyable if you combine the game with other things to do in Halong Bay and resting. Here is our suggested itinerary including kayaking to keep you energized throughout the day.
Start your day with Taichi exercise on the cruise. This has been shown that it is good for your health. 

After breakfast on the cruise, you can go to one of the popular caves in the bay to see how nature created gorgeous curves inside a thousand years ago.

Come back the cruise after the exploration, it is time for lunch. 

After lunch, you can take a nap for kayaking in the afternoon.

If you do not want to take a rest, the cooking class is another good option. Have you heard of Vietnam Spring Roll? After learning how to make spring rolls, you can enjoy it right away. That is a great experience for anyone who wants to learn more about Vietnamese cuisine.

In the afternoon, start to move to kayak places. Normally at the beginning of kayaking, guides will provide you with information about the place and the time to come back to the starting point. Make sure that you note all the details the guide mentions.

Dinner on the cruise after a long day is a perfect ending.

If you want more excitement, you can go fishing squids in Halong Bay at night with locals to get fresh squid right from the water at the bay. It would be awesome to have fresh squids you get on your own. 
Wrapping Up
I hope you get the information you need to do kayaking in Halong Bay and continue planning other parts of your trip to this natural wonder.
If you need some help in travel planning, we are willing to help by one click away!
Suggested Halong Bay cruise with kayaking activity:
Linh Nguyen – Travel Specialist